I'm super excited to share with you all you need to do to get employed in the establishment of your choice.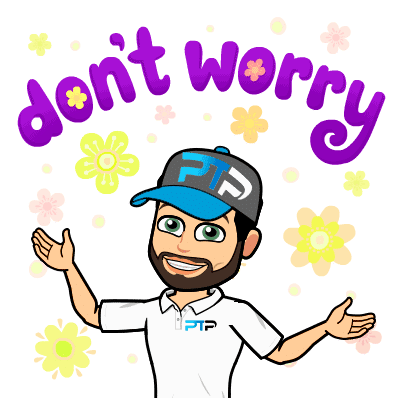 Let's get right to it, shall we?
A mistake often made by new personal trainers is to bash out a simple resume and expect it to do wonders in securing you that critical job interview.
What they don't often understand is that a resume can make or break their chances.
Why?
Well, there is a 99.9% chance that you are not the only person applying for that job.
Wait, scrap that.
There is a 100% chance.
Those selected to come in for an interview are chosen as a result of their resume.
Other personal trainers applying also might have far more experience to offer than you do, so your resume must be something that's going to draw attention to your skills and what you can offer.
How to write the perfect personal trainer resume
So let's get into the process of writing the perfect resume.
I want to start by saying that if you research online, there are many different guidelines for writing a resume.
And while they each have their own unique aspects, almost all of them follow a very simple format.
And that's what I want to look at in this section.
Start with your contact details
Well, that's easy enough.
Your contact details should be at the top of the first page of your resume and will appear under your name.
Remember to include all the necessary ways in which you can be reached, even your address, although, in our modern world, you most likely will be contacted by either a phone call or by email.
But you knew to include those, right?
There is no hard and fast rule as to how you would set these out or in what order, although most research seemed to suggest that all your details should be on one line, if possible as this saves space for more important information.
So here's an example. It's simple, neat and gets across the information it needs to.
John Doe
1 Rodeo Drive, Hollywood, California | Cell (123) 45679 | [email protected]
Next up is the summary, sometimes also called this profile.
This is the first part of your resume that's going to introduce you to the person reading it.
So it's the first impression that you make.
While you need to keep it relatively short, the summary should highlight your certifications, experience, achievements, and skill sets you offer.
This is how it should be broken down.
First up, your experience.
Now if you are starting out as a personal trainer, there isn't anything to put here, experience-wise.
Instead, put your background from an educational point of view but include any other experiences that you may have had.
For example, you worked at a boot camp as a helper or you ran a fitness club at the local recreation center.
Secondly, you add what you specialize in.
As a new personal trainer, there isn't anything to put here or is there?
Well, you can mention that your expertise lies in evaluating clients and drawing up unique programs that help them achieve their goals.
Thirdly, it's time to highlight your various skills.
For example, to achieve your certification, you would have completed a CPR/AED course.
Highlight it here.
There are several other skills you can mention here, even if you have no experience.
For example, consider some of the following that describe you: high-energy, friendly, dependable, self-motivated, determined, enthusiastic, accountable, punctual and multi-tasker.
Even without experience, these can immediately get across just what type of worker you are.
Lastly, it's time to list your achievements.
Again, you may not have that many to list as a newbie personal trainer but you could include your pass mark on your certification exam, especially if you have done extremely well.
Now let's look at an example of how a summary could look.
NASM certified personal trainer with 5 years of experience helping clients of all ages in both a gym and home setting.
Group exercise specialist holding a NASM certification capable of holding a variety of group exercise classes.
Certified CPR/AED, proficient with various gym client scheduling software applications, energetic, punctual, accountable and dependable who takes pride in helping clients achieve their goals
Excellent client retention rate in all previous employment positions. Personal trainer of the year – Joe's Gym (2017).

Ok, so this gives you a basic idea.
In truth, it's not that easy to write, especially if you are new to the game.
And the first draft will change significantly to your final summary.
The thing is, just stick to it, brainstorm ideas with others if you are stuck, remember that the summary should be adapted to each specific job you are applying for.
Up next it's the part of your resume that shows the experience you have gained throughout your career by listing the various positions you have held.
For a personal trainer that has spent time in the business, you would need to list every single job that you have worked including the duration that you were in the position as well as what it is you did.
For example, an entry could look like this: Joe's Gym | Personal Trainer | March 2015 to July 2017
Worked with up to 25 clients per week of varying ages, devising unique fitness programs for each based on individual assessment programs.
Achieved a success rate of 75% in helping clients achieve their goals
Achieved a rate of 30 new clients in 2016 through referrals alone
Lead a group fitness class once a week
Reached all revenue targets as set out by gym management
This gives you an excellent idea of getting the necessary information across while still keeping it concise.
But what do you put here if you have no experience?
Well, it's a tough one.
I would suggest that you include any experiences you have where you have gained practical knowledge in the fitness field.
So, have you ever helped out at a gym?
Have you ever job shadowed another personal trainer?
Did you perhaps run a fitness program in your community?
Or perhaps you helped a family member out with an assessment and devising an exercise program for them.
All of these count as experience.
Sure, you weren't paid but it's experience nonetheless.
And that's why it's important that while you are studying for your certification, or when you have just completed it, go make connections, hang out at the gym, ask if you can job shadow someone or help out at a fitness camp, for example.
Those experiences certainly count.
But how would you put them on your resume? Well, here's an example. Freelance Personal Trainer | July 2019 to present
Assessed a client and created an exercise program that saw them lose 20 pounds over 4 months, putting their BMI into a normal range for their age and height. (This could have been for your family member)
In charge of warm-up and cool-down sessions at Body Boot Camp, Los Angeles 2019.
Held daily exercise classes during the summer holidays at the Sunnyside Recreation Center, Los Angeles.
These are just examples, use what experiences you gained and highlight them on your resume.
Yes, it's important to include your educational history on your resume, even if it's just your high school years.
And it doesn't need to be boring either.
Highlight those things that show you love fitness and sport, for example: Barry High School | 2012 – 2017
Track athlete specializing in 100m and 200m sprints
Running back for the school football team
Starting pitcher for the school baseball team
Include any academic highlights that you would like to as well.
The final part that needs to appear on your resume is the courses and certifications that you have completed.
And hopefully, this will continue to grow as you travel your journey as a personal trainer.
This is a simple section to complete as per this example:
Certified NASM personal trainer (2013)
Certified NASM group exercise specialist (2015)
Up-to-date CPR/AED certification
Earlier, I mentioned the fact that you should tweak your resume for each application.
Now let's look at a few other tips that you can use to your advantage.
Highlight what the employer is looking for
So it's easy just to make a couple of changes to your resume and fire it off at prospective employers.
But did you take the time to study the employment advert to see what exactly they are looking for?
It might be worth your while to do so.
For example, a certain gym wants only an ACE certified personal trainer and that's the accreditation that you hold.
Make sure that you highlight that in your resume to make it stand out.
In fact, after your name and contact details, it should be the first point of your profile/summary.
You need your resume to get yourself noticed.
If that leads to an interview, you have a foot in the door and a chance to impress from that point on.
Don't be scared to highlight skills that help you stand out
In all probability, when you apply for a job, you can expect many other personal trainers to be trying out for the same position.
That means that you need to stand out.
While that's difficult to do on paper, especially if you have little experience to speak of, it's never a lost cause.
And the way that you can stand out is by listing skills and traits that you have that will serve a personal trainer well.
I already mentioned some of the above when talking about the summary/profile section.
While you should put all the skills that are relevant to you, don't go too overboard.
If you have around 10, that's a good number. Less is fine, as well. But don't go over that.
Strictly speaking, this is difficult to apply to a resume of a personal trainer with little or no experience but as your career goes along, upgrade your resume to include impressive targets that you may have reached.
This is something that will help land you that next dream job. For example:
Include the number of clients you work with every month
How many referrals you receive each month or year
The amount of body fat your clients altogether have lost over a year
How many classes you teach each week (if applicable).
Sometimes having numbers like these on your resume can help it to stand out from the rest.
Actions verbs showcase what you can do
I've already talked about showcasing your skills as a way to get across what it is you are all about.
You can further do this by using action verbs to highlight your skills.
For example, using words such as motivating, organizing, training, assessing, supporting, guiding and others visualizes you as being able to carry out key parts of a personal trainer's make-up.
And that creates a good impression and paints a certain picture of an excellent work ethic that might get you the foot in the door that you need.
So now you have the theory behind setting up your perfect resume, let's look at some of the common mistakes people make when doing so.
Avoid making these mistakes with your resume
Let's go over some of the most common mistakes that new personal trainers make with their resumes.
Don't let your resume be too long
For personal trainers with little experience, it's easy to get carried away trying to showcase your talents in another way. Soon, their resume just becomes too long, and often, these simply end up in the recycle trash can.
Always remember, even if you have all the experience in the world someday down the line, there is no reason for your resume to be more than a page long.
Short and sweet is what you are aiming for. In most cases, when a resume is too long, recruiters often just pass them by.
So you've produced what you feel is the perfect resume.
And then you send it to the local gym franchise that has a personal trainer position open.
But you also send it to the CrossFit studio in the next town and a home fitness company looking for a new personal trainer.
So what's wrong with that?
Well, each resume should have been slightly different, depending on the job you were applying for.
It's just minor tweaks here and there that fit in with the position.
Try to find out exactly what is needed for each position and change your resume to show that you have the skills necessary for what they are looking for.
Never lie, however.
While this probably doesn't apply to a new personal trainer, it's worth taking note of, especially as you apply for a new position as your career goes on.
And it's not only a problem for personal trainers but all careers.
It's so important to keep your resume up to date.
Study something new? Add it.
Help out at a boot camp? Add that, it's experience after all.
As soon as you do something that should appear on your resume, add it straight away.
A resume with a grammatical error is a serious no-no!
So once you have finished writing it, take the time to read through it SLOWLY.
You could even use a free grammar checker like Grammarly to check both spelling and grammar.
And when you have done that, give it to someone else to read through.
When they are done, have another set of eyes take a look at it.
The more people that check through your resume for errors the better.
Although you might not be applying for an English teacher's position at your local school, that doesn't mean that your resume shouldn't be error-free.
Keep it in an easy to edit format
The best format for your resume is in the form of a Microsoft Word document or any other word processor format.
It should be easy to format and change, even for a recruiter who is reading it.
Never make your resume into a PDF.
Do I need a cover letter to accompany my resume?
Yes!
Without a doubt.
A cover letter is the first thing a prospective employer sees, even before your resume.
It's a way of introducing yourself to them.
So, in my book, a cover letter is a must.
And it doesn't need to be an essay.
Again, short and to the point to get across the necessary information that you need to.
There are a few important aspects of a cover letter that you should follow.
One of the most important is who to address it to.
Say you find an open position for a personal trainer while browsing job sites online.
You have all the information you need to send in your resume.
But one thing is missing and that's who to send your cover letter and resume to.
DON'T ever just mail it to the address and say "To whom it may concern".
Take the time to find out the name of the gym manager or the person who will be receiving the applications to sort the best possible candidates.
It just makes it that much more personal.
All you need to do is make a simple phone call to the gym and ask.
If there is one major mistake that people applying for an employment position make, it's this.
Just don't do it.
So what should a cover letter say?
While I have already mentioned that it should remain pretty short, what exactly goes into a cover letter.
Gone are the days when you needed to list everything that was found in your resume anyway.
Whoever is going to read the letter already knows that you are looking to get employed in one of the positions they are advertising. So get to the point and lead them into your resume.
Here is an example of what I mean.
Dear George Although I am new to the fitness industry, I have always seen myself working at a market-leading gym franchise such as Planet Fitness. It's a company that helps people reach their fitness goals by putting individuals first and providing them with expert mentors. My skills and knowledge learned during my certification, as well as my eagerness to grow and be the best personal trainer I can be will make me credit to your staff compliment. I would love the chance to meet and discuss the position available and my compatibility with it in more detail.
What else should you add?
While a cover letter can be pretty short, you still need to cover the formalities.
So before you begin with the body of the letter, you need the following:
Your full name
Contact details (phone number and email address)
The current date
The full name of the person the cover letter is addressed to
Their title
The address of the company
Can you make the cover letter longer?
By all means.
If you feel you want to make your cover letter a little longer, that's not a problem.
Just don't make it boring.
Longer cover letters are going to serve personal trainers with more experience far better than someone just starting out.
It should never exceed a page, however.
Let's look at a quick breakdown of what an extended cover letter should include.
Other than your address, the address and title of the person you are sending it to and a greeting, a longer cover letter can include:
Introduction and the hook
This is a short paragraph where you butter up the company a little.
For example, as someone who loves making use of Planet Fitness gyms, I was happy to see your job placement…
Here you should also get the reader hooked by mentioning what you can offer the company.
Everyone is unique, so write what's pertinent to you.
Why you are a perfect fit
The second paragraph is going to include all the reasons as to why you are the candidate the company has been looking for.
Again, it's important to get across your unique strengths and convey them to the reader.
So you could say something like.
"While working as a personal trainer at Jerry's Fitness, I increased the overall client retention levels for the gym by 10%."
Why the company fits your goals
The third paragraph is all about highlighting why the company you are applying for is the perfect fit for your goals.
So here, you could mention something like, "I have long been an admirer of Planet Fitness especially with the dedication the company shows in turning lives around through exercise, fitness, and by promoting a healthy way of living."
Now that the reader knows a little more about you, it's important to not only direct them to your resume but to try to get them to act.
A closing paragraph could be similar to "My resume includes more information about my successes as a personal trainer but I would love to talk to you about them in person.
Should you wish to set up a meeting, please contact me."
So that gives you an idea as to what your cover letter and resume should say.
But we've got another sample for you to look at, especially for trainers with no experience.
Sample cover letter and resume
As part of our resources for this chapter, you will find a cover letter and resume that's perfect for inexperienced trainers looking for their first job. It's called Personal Trainer Resume and Cover Letter.
Preparing for your interview
So all the hard work in identifying potential employees, finding those who have positions and sending out your cover letter and resume has paid off.
And now you have a couple of interviews lined up.
For a new personal trainer trying to land their first job, this can be extremely stressful.
Even more so than writing your certification exam.
Luckily, you don't have to walk in blindly.
An interview is something that you can properly prepare for and in doing so, give yourself a head start over other candidates.
Gone are the days when an interview was all about the interviewer asking question after question.
Now, those running the interview expect the job candidate to ask questions of their own.
It shows a willingness to find out the information that they feel is important for them to know about the position they are applying for as well as the company itself.
And that's for your benefit as well because by asking questions, you are finding out if the gym is the right fit for you.
While an inexperienced personal trainer just wants to be employed and start their career, you still might have more than one job opportunity.
What if two gyms where you interview at both offer you a job?
It's by taking the time to prepare for your interview properly and by asking important questions that you will be able to find your best option.
And the winner isn't always the one that pays the most wages.
It's also important to remember that an interview is a perfect place to show just who you are.
It's where you can bring across your drive, energy, enthusiasm, overall knowledge as well as your personality.
That's one of the most important things you can get across.
While knowing all things personal training is important, it's your personality that often gets you the nod for the job.
So how can you make the interview process work in your favor to give yourself the best chance at landing the job?
Let's take a closer look.
Landing your first job, or any job for that matter starts with preparation on your part.
And I am not talking about making sure you are well-groomed and dressed neatly.
That's important but we will chat about it a little later.
The point I want to raise here is that before you go to your interview, you need to take the time out to find out a little more about the gym that's interviewing you.
Now it could be a large gym franchise and you might think you have all the information you need about them.
But in reality, even though franchise gyms are run in much the same way, each one is still unique.
By conducting this research, you may just give yourself that advantage over the other candidates for the position.
Ok, so what is it that you need to find out.
What information is essential?
Who conducts the interviews? It might not always be the same person you sent your resume to.
How long has the gym been in operation?
How many personal trainers do they currently have on staff?
What other fitness positions does the gym use, for example, group exercise specialists?
Who are the other key roleplayers at the gym, for example, the sales manager and the head personal trainer?
What values does the gym hold to?
What skills are in demand?
Scan the gym website for any news or events that might be important for you to know.
Does the gym have a mission statement? If so, what is it?
What type of clients does the gym serve?
Ok, so now you are probably wondering just why you need to know all this information.
Well, some of it's pretty obvious, right?
For example, it's a good thing to know who all the major players at the gym are as well as any of the other relevant information such as who will interview you.
But all the other knowledge you will have gained by completing an exercise like this can also play a critical role in your interview, especially in drawing up a list of questions that you would like to ask about the organization.
These are just as important as the questions they will be asking you.
So now that we have mentioned them, what questions could you ask your prospective employer?
Draw up a list of questions to ask during the interview
I've stressed it a few times already but let me say again, interviewers are impressed when you come to the interview prepared with questions to ask them.
And I am not talking about the normal stuff like questions about hours, wages or holidays.
They want someone to show that they have taken the time and effort to find out critical information about the gym, the personal training department and other factors that might influence their decision whether they take the job or not.
Now it might seem a little tough to come up with the right questions but here are some ideas.
Note, these questions are available as a separate chapter resource called Interview Questions.
What five traits do you think a personal trainer must have?
What type of clientele generally works out at the gym?
As a personal trainer at the gym, will I be involved in sales in any form?
If so, what will my monthly sales targets be?
Are new trainers with little experience given any form of mentorship?
What are my day to day responsibilities?
Am I only going to deal with clients or will I be offering help to regular gym clients while not training individuals?
Will the sales team market me to potential clients?
Can I approach individuals on the floor to market my services?
How many other personal trainers form part of the team?
Will I be filling a new position that has been created?
If not, why did the previous trainer leave?
Who leads the team of personal trainers at the gym?
How many hours do members of the personal training teamwork each week?
How do shifts over weekends work?
How many positions are currently open at the gym?
Does the gym have a high-turnover rate of fitness staff?
What's the average length of time for personal trainers to remain employed at the gym?
If many do leave, what's the reason?
Do you take the time to observe personal trainer sessions with individuals?
Is their scope to grow?
Do you offer further staff development?
What in house training is there?
Does the gym fund a continuous education program to help their personal trainers to other certifications?
Will I have to handle all my own appointments, cancellations and rescheduling of appointments?
What are the strengths, weaknesses, opportunities and threats that the gym currently faces?
What are the strengths, weaknesses, opportunities and threats when it comes to the personal training department at the gym?
What's the current salary structure?
Is there a retainer over and about the income earned from working with clients?
Are their annual increases?
Would I be covered under the gym's general liability insurance or would I need your own?
So now you get the idea as to the types of questions you can ask, right?
Don't ever feel like you are prying.
You need to get the answers to any questions that pertain to the position you are applying for.
And these all certainly do. It's not like you asking what salary the CEO of the gym franchise earns!
Of course, these questions are just a guideline for you.
For example, if you are joining a small local gym where you might only be one of two personal trainers, you are going to have to adapt to them.
In fact, for each interview that you go on, these questions will likely be adapted.
These are guidelines, make them work for you.
Finally, you probably are not going to get the time to ask all of the questions.
So while you have plenty on hand, ask around 5 to 10 that you deem the most important.
Think about the questions you might be asked
While it's a little difficult to guess any of the exact questions you might be asked, especially if it's your first interview for a personal trainer position, it doesn't mean you can't prepare a little.
Some of the more obvious questions could be:
Why do you want to work as a personal trainer in the field of fitness?
Why did you choose your specific certification?
What period did it take for you to complete your certification?
What areas did your certification cover?
Did you pass the exam on the first attempt?
Are you aiming to study further?
Where do you see yourself in five years? Will you look to specialize?
What are your three best strengths?
What do you see as your weaknesses?
Keeping clients motivated can be a challenge. How do you handle that?
Conflict in the workplace can happen. How do you deal with conflict?
How do you deal with rude or challenging clients?
How do people generally describe your character?
Are you able to work flexible hours?
What can you offer us should we employ you?
Why are you the best person for this job?
What are two exercises that you invariably include in every workout program you devise?
What experience do you have as a personal trainer?
Growing a client base is crucial to a new personal trainer. How will you go about that?
With new trends always coming to the fore in the fitness industry, how do you plan on keeping up to date with them?
To you, what is great customer service?
How do you go about building up a relationship with a possible client who is currently training on their own in the gym?
Do you see yourself as a team player?
Is time management a strength of yours?
Would you turn a client's business away? If so, for what reason?
As a new personal trainer, why should we hire you over someone who has far more experience?
What are your salary expectations?
These are just some of the types of questions that you can expect during the interview process.
Take an hour out of your day in the buildup to your interview and brainstorm a few more that you think might pop up. It's a really good exercise to get you focused.
In fact, we have gone as far as preparing a helpful worksheet that you can print out to work through these questions and come up with the best possible answers.
It's part of the course resources for this chapter and it's called Potential Interview Questions.
Practice drawing up a few workout plans
Not everything in the interview is going to be a question and answer session.
Working as a personal trainer is practical, right?
So you can expect to be given a scenario in which you are presented with a client, told their background and are asked to draw up a workout plan for them.
It's worth your while beforehand to practice a few examples of these just to get you into the groove so to speak.
And always include a warm-up and cool down in the workout.
Just note, they might be a little sneaky here as well.
For example, they could present a scenario and client for you to draw up a fitness plan for but with very little information.
So take the lead and ask the questions you need to.
These could be questions like:
What is the health risk profile of the client?
Do they have any special conditions, for example, are they carrying an injury?
Also, define the goals that the client wants from their workout sessions.
That will influence the final workout plan that you draw up.
In some cases, you might not need to plan a workout at all but instead, be asked to observe a personal trainer working with a client.
You might then be quizzed on what errors they made during this mock training session.
And so the day of the interview has arrived.
The first thing you should do is contact the gym and just confirm the time of your interview.
There's no harm in double-checking and you want to make sure that you arrive on time.
So it's important to take a little time to make sure you look like you are attending an interview.
And no, your personal trainer outfit isn't what you are going to be wearing.
So what do you wear then?
Well, you need to look neat but of course, it is a gym, not a finance company, so no need to wear a suit or a smart dress.
But that doesn't mean you can wear a pair of jeans and a t-shirt.
Just look as smart and neatly dressed as possible.
So if you are a male or female, a neat pair of slacks and a shirt is a perfectly acceptable outfit.
So the most critical thing here is that you don't want to turn up late for your interview.
Anything could happen on the day.
You could get stuck in traffic or there is a delay in the public transport system.
Make sure you arrive for your appointment early, even if it's by 30 minutes.
That gives you time to settle down, calm your nerves and set yourself for the interview.
But there's more to arriving early than all of that.
Often, job interviewers will have other people come and check out the interviewees.
So that means you should be on the top of your game.
That starts by the way you interact with people, yes even the receptionist.
Smile, greet them warmly and be polite as you announce yourself and tell them why you are at the gym.
Receptionists are important and are often asked what they think of each interviewee.
After that, sit back and wait till you are called to the interview.
During that time, make sure you greet and smile at every staff member you come across.
First impressions count and even the simple act of being friendly can count in your favor.
After all, you are applying for a position where you work with people, so personality and friendliness count.
Sitting with your head down, awaiting your fate is not an option.
And whatever you do, don't sit and play around on your smartphone.
Your body language is so important during the interview and it's something you should be aware of.
It all starts with the handshake.
On meeting the interviewer, you should shake their hand.
You can shake it again when you leave the interview.
You've probably heard this a thousand times before but when asked a question, it's imperative that you keep eye contact at all times, as well as when delivering your answer.
Looking around the room saying "um" and "ah" isn't a good look at all.
Sit comfortably and show your confidence through your body language.
Always remember to sit up straight and don't slouch.
You should know about perfect posture – you are a personal trainer after all.
Don't be scared to use your hands to emphasize a point, especially if that comes naturally to you.
If you are not one to talk with your hands, then don't force it.
And don't fidget as that might distract the interviewer.
Sit as still as possible and where you can, experts suggest you should mirror the body language of the interviewer straight back at them.
Invariably, you are going to be asked lots of questions.
We have already covered some of these earlier.
But what happens if you cannot answer one?
Well, especially as a new personal trainer, you might not be able to and that's not a train smash at all.
Instead of trying to come up with an answer, one of which you aren't sure of, rather be honest and say that you don't know the answer to that question.
And to impress your interviewee, take the time to formulate an answer after the interview and drop it off the next day.
Now that shows commitment to increasing your knowledge and a desire to learn.
What extras should you bring along
Other than yourself, there are a few extras that you shouldn't forget.
Extra copies of your resume
A list of the questions you would like to ask
A notepad and pen to write down any information you think important
Proof of your certification
Any other relevant documents the gym might have requested
A copy of your references
Training clothes in case you are asked to host a fitness session
To test how you work with a client, as well as your overall knowledge, the chances are pretty high that you will be asked to conduct a short workout with a designated staff member.
Keep cool and just follow the instructions they give you beforehand, making sure you take them through the exercises that were requested.
While this might be a little stressful, especially if your subject is the head personal trainer, for instance, just use all that knowledge you have and keep it all under control.
So what could you be asked?
To perform an assessment including taking heart rate and blood pressure, measuring body fat, evaluations of client posture and taking overall measurements
How to modify various exercises to make them easier or more difficult for the client to complete
How to correct client form during exercises
Over and above a regular workout, you may also have to show that you know how to deal with clients with special needs, elderly clients, and those who have certain injuries, for example.
There could be a sales pitch
Don't be surprised if you are asked to conduct a mock sales pitch as well.
After all, a personal trainer is nothing without clients and in smaller gyms without sales teams, it's left up to you to find them.
Having prior knowledge of the types of customers the gym serves will set you in good stead to deal with this with ease, so all that research work beforehand is a necessity, right?
When the interview comes to an end, the interviewer may ask if you have any further questions.
At this point, if you haven't been taken on a tour of the gym as part of the interview process, you can ask now if that's possible.
It's a great way to show your continued interest in what goes on in the gym.
A tour will also give you the chance to meet with trainers on the floor and create a good impression.
Remember to smile, greet warmly with a handshake and be friendly.
Much like a receptionist, other trainers could be asked to give an overall impression of what they think of you.
It also might give you the time to ask one of the trainers if you can chat with them one-on-one at a later date to get further information and ask even more questions.
If you would like to do this, make sure that you get permission first.
Once the interview is over, it's time to go back and reflect on how it went.
While this might seem like a pointless task, it isn't.
You are never going to remember everything that happened during an interview five years down the line but by keeping track of them in this manner, you can build up a useful interview experience database that will serve you well during the rest of your career, especially when preparing for other interviews.
Also, take the time to answer a few questions about the interview while it's still fresh in your mind.
So what questions would be pertinent here?
Well, try a few of these.
Did you feel that you connected with the person interviewing you?
If not, what could you have done differently to establish a connection
What are your thoughts on the interviewer?
What are your thoughts on the gym?
Do you see yourself working there?
What are your impressions of the staff? Do you see yourself as part of the team?
Did the gym come across as professionally run?
Did the gym have all the necessary equipment to effectively train clients?
Did the clientele you saw during your time at the gym reflect the kind of people you want to help?
If you met the head personal trainer, do you think you could work easily with them?
Is there scope for personal development?
Is this the gym for you?
How can you make the next interview even better and what would you change from your point of view?
Once you've taken the time to answer these questions, you will have a far better idea of where you stand should you be offered the job.
Now as a personal trainer starting out, you might jump at the first job available, and that's ok because let's be honest, it's an experience that you want to build-up that will lead to other employment opportunities if the need arises.
And by answering a number of these questions honestly, you can determine if you are offered the job, where that particular gym is the right fit for you.
I've included an Interview Evaluation worksheet with all the questions we listed above.
Work your way through it to not only find out how to improve for the next interview you face but to determine if the position and the company are indeed what you are looking for.
There's one final thing and that's sending a brief note to thank the interviewer for their time.
It doesn't have to be anything fancy, either.
Simply thank them for the interview and their time as well as the chance to tour their gym, for example.
You can also mention that you look forward to hearing their final decision regarding the post.
Send this via email or regular mail but do so a couple of days after the interview at the latest.
For an idea of what you can write, you will find a sample thank you letter in the chapter resources.
It is called a Simple Thank You Letter.
We covered plenty of ground in this chapter about all things to do with actually landing a job as a personal trainer.
This included tips on how to write the perfect resume as well as other tips on this important document.
We also highlighted mistakes to avoid when preparing your resume as well as drawing up a cover letter.
Finally, we covered how to prepare for your interview as well as the interview itself and ways that you can impress to help you land your first job.
Don't forget to take the chapter takeaway quiz to make sure you have a good grasp of everything covered here.
Course Resources – Chapter 5 – Potential Interview Questions & Answers
Course Resources – Chapter 5 – Interview Questions
Course Resources – Chapter 5 – Personal Trainer Resume & Cover Letter
Course Resources – Chapter 5 – Potential Interview Questions
Course Resources – Chapter 5 – Simple Thank You Letter
Course Resources – Chapter 5 – Worksheet Interview Evaluation