ACE and AFAA are both quality personal trainer certifications meant for trainers who are just entering the industry. The ACE IFT Model is exceptional if you need a straightforward methodology for exercise technique and program design, whereas the AFAA CPT is a great affordable option to get your fitness career started.
Read more to find out which certification makes the most sense for your career.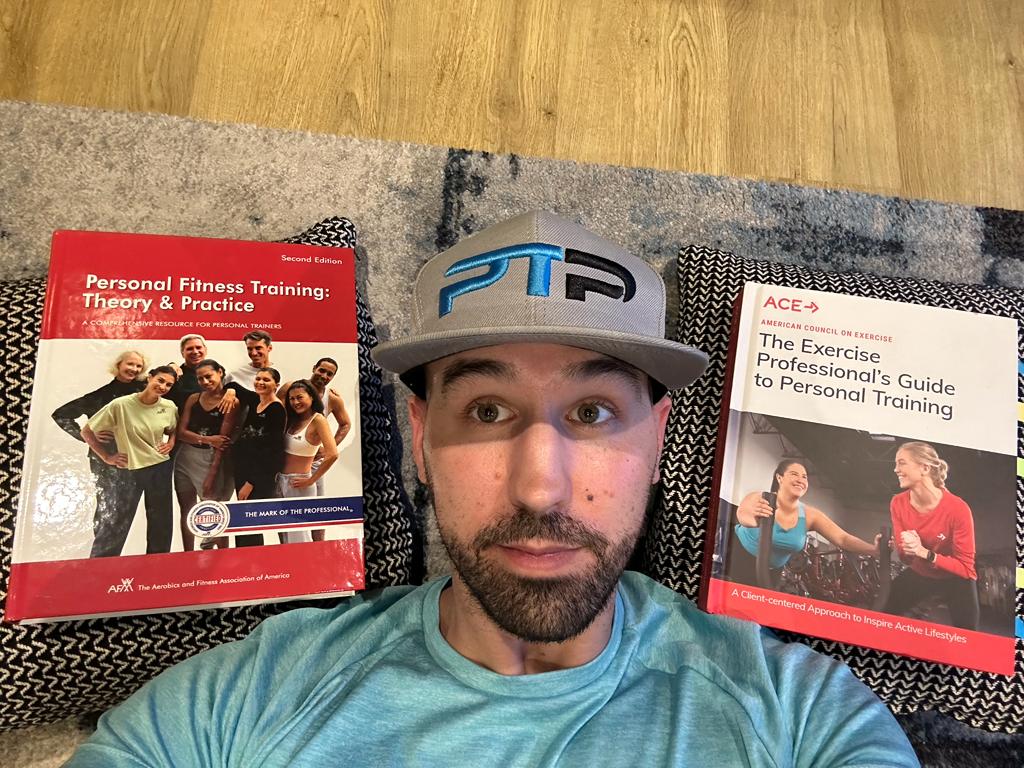 This personal training certification comparison is from my personal experience with the signup process, studying/exam preparation, and passing the ACE Certified Personal Trainer and AFAA Personal Fitness Trainer exams.
I will detail all the pros and cons of these two certifications and give you my takeaway on both of them.
Throughout this comparison article, I will cover the following:
My experience with these two programs: ACE CPT and AFAA PFT
Insight into my review methodology
My thoughts on the quality and coverage of the textbooks and study materials
Topical information compared, such as pricing, bundles, and prerequisites
If you are still unsure after this, make sure that you take the quiz to figure out the best certification for your career aspirations.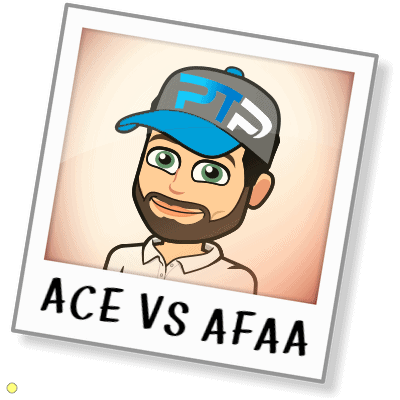 CPT
ACSM vs ACE Quick Breakdown
Features
Price

Best certification for actual personal training work
Complete skillset for training healthy clients
ACE IFT® Model provides excellent program framework
Mover Model® effective for behavior change
No sales skills discussed
Weak on corrective exercise

View on the ACE website

Reasonably priced compared to other significant certifications
AFAA is a subsidiary of the highly regarded NASM
Heavy focus on the exercise science portion of personal training

View on the AFAA website
Product
Exam cost
Study Material Cost
Study Material Cost
$587 – $1,037+
$499.00 (plus book)
Prerequisites
Prerequisites
18+ years old, High School Diploma, First Aid, CPR, AED
CPR/AED, 18 years of age, high school diploma/GED
Exam Passing Score
Exam Pass Rate
Average Completion Time
Average Completion Time
3 – 6 months
3 – 6 months
What is ACE?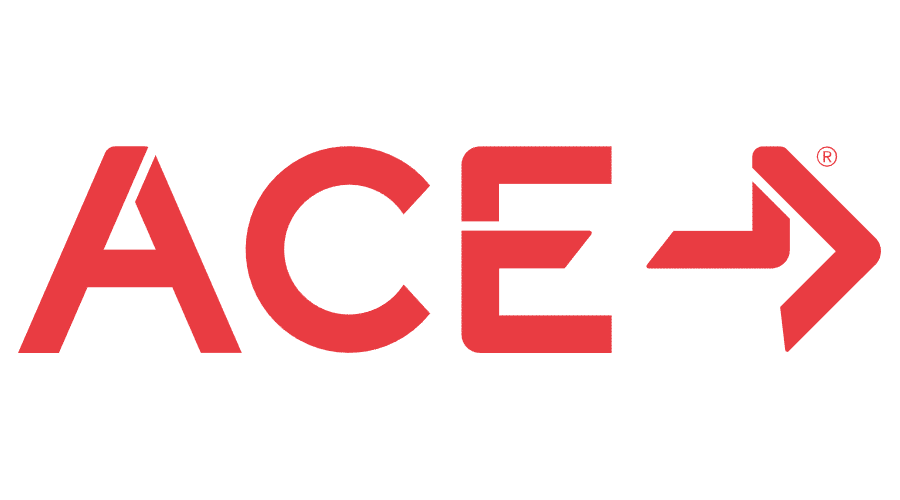 ACE, the American Council on Exercise, is potentially the most prominent not-for-profit fitness organization and, thus, has a lot of credibilities and a high reputation behind it. ACE was founded back in 1985.
ACE's mission is to "Get People Moving" and the well-renowned ACE CPT certification attempts to reinforce this with all of its students.
ACE offers a number of certifications accredited by the NCCA, like this certification program, which is the highest quality accreditation an organization can go for–the gold standard.
This organization is especially well known for its group cert, teaching the instructor skills needed to lead classes with their ACE Group Fitness Instructor.
ACE is one of my favorite organizations, as they offer some excellent textbooks and provide many types of specializations, which I often use.
Keep in mind that the ACE CPT will give someone all of the personal training skills needed, as it is a proven personal training cert.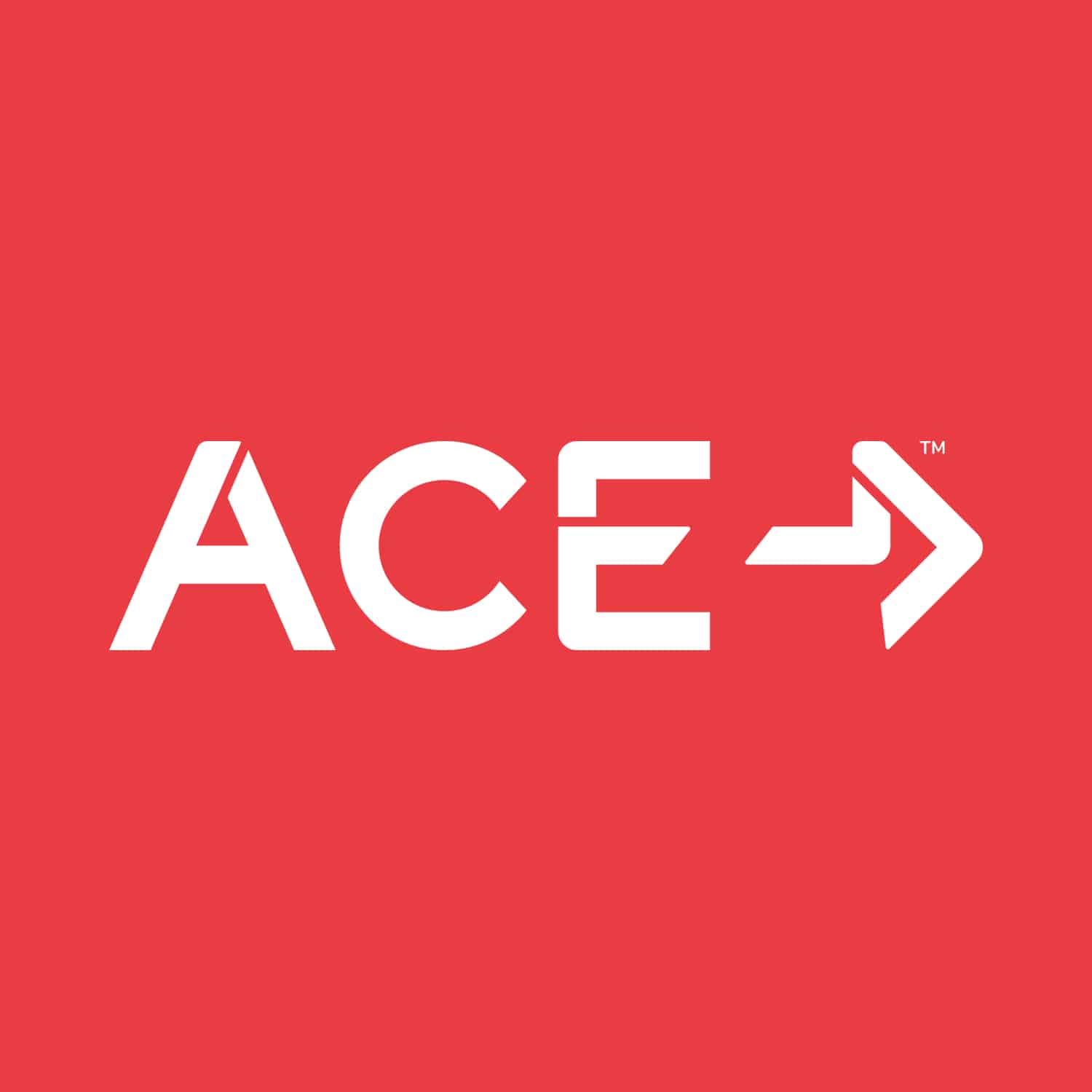 ACE General Information
Exam cost: $499
Study material cost: $587 – $1,037+
Prerequisites: CPR/AED, High School Diploma
Exam passing score: Scaled 550/800 – 90/125 Scored Questions
Exam pass rate: ~70% (2019 data)
Average completion time: 3 to 5 months
What is AFAA?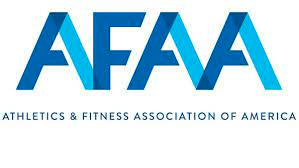 AFAA, or the Athletics and Fitness Association of America, is a fitness credential organization founded in 1983.
AFAA is not as well-known for its personal trainer certification but has more name recognition for its role in Continuing Education Units and the many courses and specializations that help with this aspect, like their and AFAA Group Exercise and Yoga Certifications.
The AFAA's mission is to change bodies and advance the lives of fitness instructors and clients who these instructors guide.
I find the offerings of the AFAA to be quite impressive for a lesser-known company, which intrigued me with their personal training certification.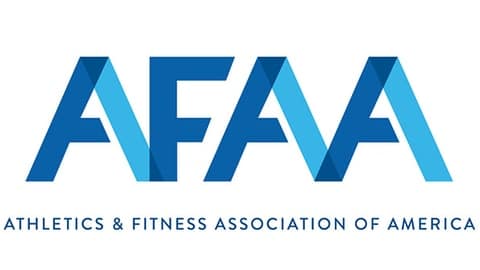 AFAA PFT General Information
Exam cost: $199.00

Study Material Cost: $499.00
Prerequisites: 18+ years old, High School Diploma, First Aid, CPR, AED
Exam Passing Score: 70%
Exam Pass Rate: ~68%
Average Completion Time: 3-9 months
In this article, let's see how the AFAA PFT and their 40 years of exercise science experience work against the likes of ACE.
Pros and Cons of ACE CPT and AFAA PFT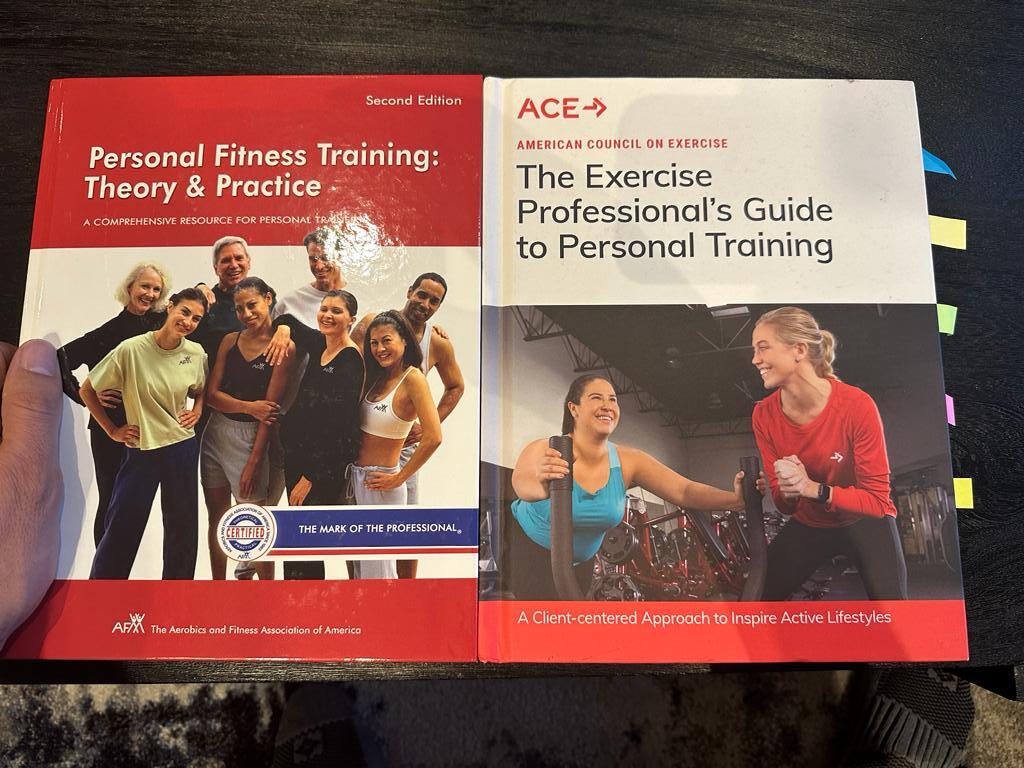 Pros for ACE and AFAA
In my opinion, both ACE and AFAA hit the right skill set to be optimal for training healthy people in the general population.
The ACE CPT program has an excellent foundation with the ACE IFT model, which frames out resistance and aerobic training.
ACE also has the Mover Model, which aids in client behavior change. AFAA also teaches many of the same behavior change points but without the framework of the Mover Method.
AFAA has a stronger focus and more detailed text regarding exercise science, which can be seen in their exam format, as exercise science is one-third of the exam weight.
I like that AFAA ensures its students master all of these aspects of exercise foundation and goes very in-depth in the exercise science categories like anatomy and physiology.
AFAA gets its biggest pro when we consider it a great organization for CEUs, as it has numerous beneficial specializations and many courses for a professional to take for around 2 credits at a time.
Exclusive PTP CPT Offers



Gold Standard Cert

Most Popular Cert

Best Study Materials

A Good Option

A Good Option

Best CPT for you?

Cons for ACE and AFAA
ACE's CPT basic package has notably less corrective exercise science coverage than the other top CPT certifications in the industry.
A significant negative of the AFAA PFT program is that the textbook is not included and must be purchased separately for $79. It feels like they should charge more for the program package to fit in the textbook in some form.
I also find the AFAA text somewhat dull for longer study sessions, as it lacks the color and flash of ACE's text.
This is certainly a small thing, but it just detracts from your experience; not necessarily the information you receive.
The ACE CPT receives its other major con by not discussing personal trainer sales skills and any business aspects, which almost every program will touch on in some way.
ACE vs AFAA Packages and Study Materials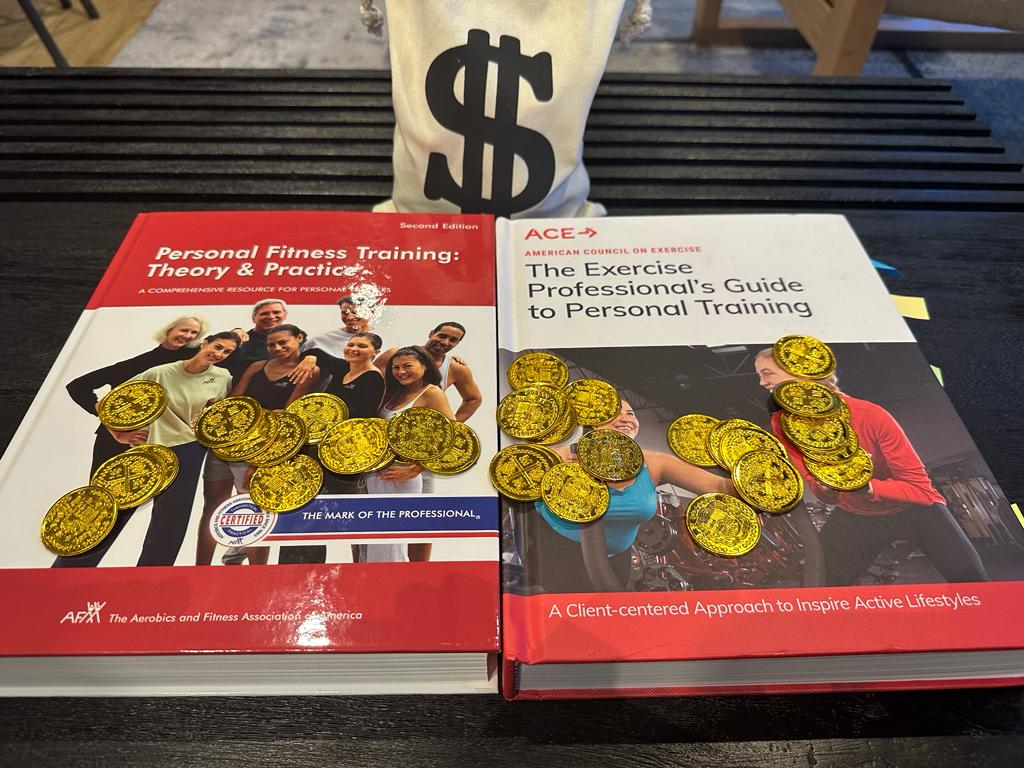 ACE CPT Packages
The first ACE CPT package is the Basic package, with a base price of $979. Remember, you will likely find this package and the other two ACE packages for nearly half off when they are running a deal or discount.
The Basic package includes the following list of things:
ACE University
ACE Certification Exam
1 ACE Practice Test
A Digital Copy of the ACE Personal Trainer Textbook
A Digital Copy of the ACE Personal Trainer Study Companion
ACE Answers (Basic)
The Second ACE CPT package is the Plus package, with a base price of $1,149.
The Plus package includes the following:
ACE University
ACE Certification Exam
2 ACE Practice Tests
A Digital AND Hard Copy of the ACE Personal Trainer Textbook
A Digital AND Hard Copy of the ACE Personal Trainer Study Companion
ACE Answers (Plus) with Live Q&A Webinars
Free Standard Shipping for Hard Copy Textbooks
Exercise Science 101
The Third ACE CPT package is the Advantage package, with a base price of $1,729.
The Advantage package includes access to:
ACE University
ACE Certification Exam
4 ACE Practice Tests
A Digital AND Hard Copy of the ACE Personal Trainer Textbook
An Audiobook of the ACE Personal Trainer Textbook
A Digital AND Hard Copy of the ACE Personal Trainer Study Companion
ACE Answers (Advantage) with Live Q&A Webinars and Facilitated Study Groups
Free Expedited Shipping for Hard Copy Textbooks
Exercise Science 101
Dedicated Advantage Team
I love the variety of these three options with ACE with different options to support you on your way to becoming certified.
AFAA PFT Package
The AFAA only has one package for their Personal Fitness Trainer program, which makes the options breakdown much shorter.
The AFAA Personal Fitness Trainer package is very similar to the ACE CPT Basic package. This package costs $499.
Included in the AFAA PFT will be the following:
14 Online Video Lectures
Personal Fitness Trainer Downloadable Study Guide
Sample Multiple Choice Test Questions
Authenticated Online Exam
Free Digital Subscription to the American Fitness Magazine
AFAA Personal Fitness Trainer Certification
Missing from this package is the AFAA PFT, which is odd because they don't, at a minimum, have a slightly higher cost to include the textbook.
The Textbook will cost an additional $79.
ACE CPT vs. AFAA PFT Course Layouts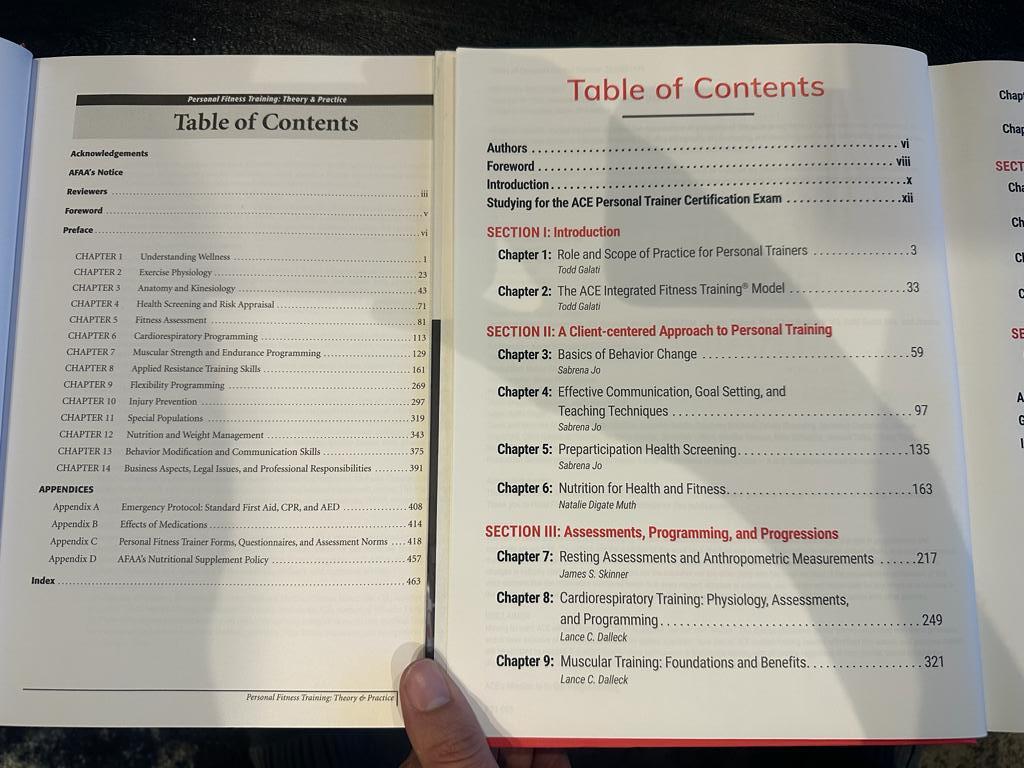 ACE CPT Course Layout
The ACE CPT program features an online study portal that holds all of the resources you get in your package.
I like the menu layout, and it is very easy to go through, but the book is not as convenient through the study portal, and definitely easier to go through if you download their app.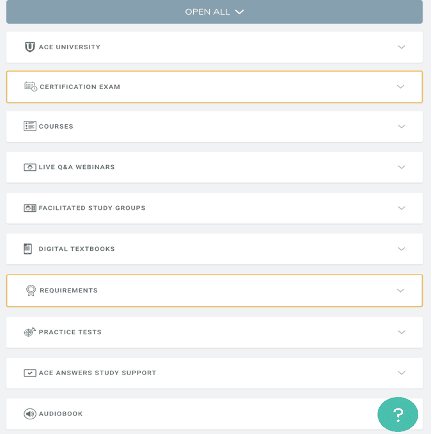 The first aspect of ACE's Personal Trainer program is ACE University, where ACE presents its five textbook sections, breaking down the content into domains.
The ACE University has a video for each of its significant domains. These videos consist of the ACE professionals coming together and breaking down the essential topics and reasoning for the various concepts throughout the sections.
I find it is a nice change of pace from simply reading the book, and it adds more to the chapters. I have seen any other exercise program equivalent to ACE University by others out there, like ACSM or NSCA.
It would be even more beneficial if they had the same kind of video for each chapter in the future.
Another exciting feature of ACE University is the use of post-chapter quizzes and pre-tests to prepare readers for what they are about to learn.
The Textbook is best used from the ACE Library Application, where you have it fully downloaded and very easily navigated.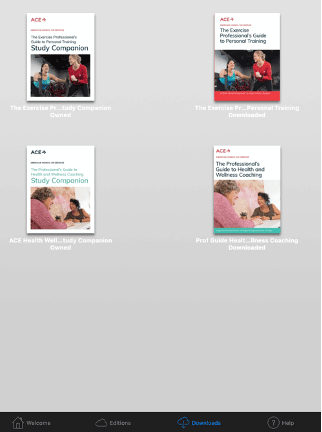 The textbook is broken down like the ACE University breaks down the materials, and that is in 5 core sections:
Section 1: Introduction (Chapters 1 – 2)
Section 2: A Client-centered Approach to Personal Training (Chapters 3 – 6)
Section 3: Assessments, Programming, and Progressions (Chapters 7 – 11)
Section 4: Program Modifications for Clients with Special Considerations (Chapters 12 – 15)
Section 5: Professional Responsibilities (Chapter 16)
When looking at the sections here and comparing them to other programs, I find ACE lacks exercise science knowledge and business aspects.
You still learn how to help clients reach fitness goals, achieve a weight loss goal using strength training and cardio workouts.
Each chapter is summarized in the beginning pages to show what you will learn within.
Exclusive PTP CPT Offers



Gold Standard Cert

Most Popular Cert

Best Study Materials

A Good Option

A Good Option

Best CPT for you?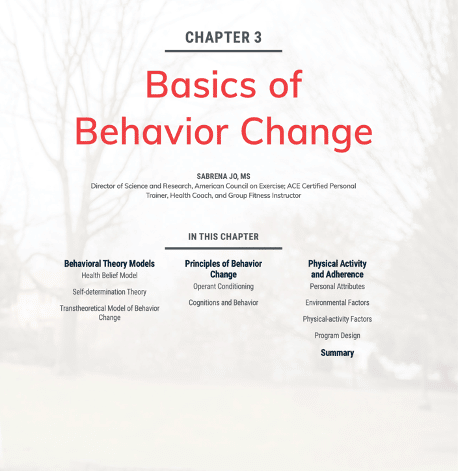 For me, after reading through the text, the most puzzling aspect of the ACE certification is that a class for the exercise science information exists, but only for the two higher-tiered packages. This very odd decision only appears to deprive learners of what all other CPTs provide, as we see with the AFAA Study materials.
This is something that takes away from the actual content later in the text. When compared to the amount of info in other top certifications like NASM and ISSA, it is a glaring issue for the job of training clients in the gym.
While you don't need to know how things like muscle contractions work to take someone through a good workout session, having an overview of these things will aid in your development as a trainer, especially when clients ask you questions about exercises.
Knowing how to lift weights for reps and use equipment is one thing; knowing why you're doing it, and how the muscles adapt is another thing entirely.
ACE does not put the same importance on Business Aspects, as they do not even have a dedicated chapter for this in their newest editions of the text, whereas past editions did have this information.
AFAA, as you will see, has more mention of the business aspect and exercise science but has its own issues, which are not quite as immediately noticeable.
AFAA Course Layout
The AFAA textbook has one major issue: it is colorless. It can be a bit dull when compared directly to the ACE materials, which have color and are represented better online.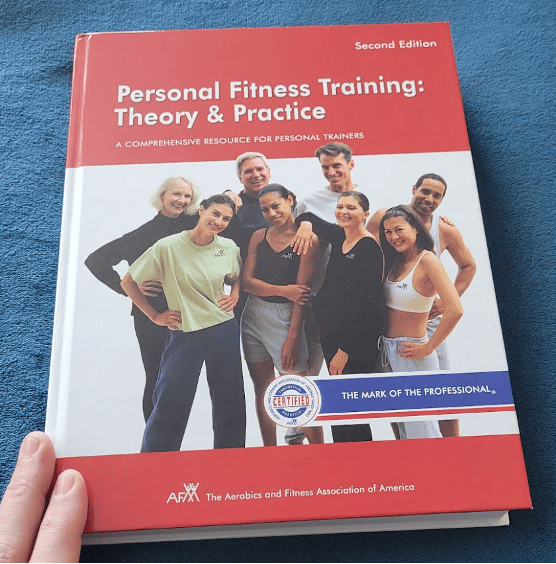 There are a total of nearly 500 pages within this textbook, which is close in comparison with ACE, but they do not have the typical section breakdown, which is a minor matter, but nothing major at all.
The AFAA text is broken down into 14 chapters, which means some of the early chapters on exercise science can feel a bit long winded and exhausting to read through.
I still found this much part better than the ACE usage of Exercise Science, which is entirely limited to a more premium study package. At least AFAA includes exercise science in all versions of its textbook.
The chapter layout of the AFAA text is as follows:
Chapter 1: Understanding Wellness
Chapter 2: Exercise Physiology
Chapter 3: Anatomy and Physiology
Chapter 4: Health Screening and Risk Appraisal
Chapter 5: Fitness Assessment
Chapter 6: Cardiorespiratory Programming
Chapter 7: Muscular Strength and Endurance Programming
Chapter 8: Applied Resistance Training Skills
Chapter 9: Flexibility Programming
Chapter 10: Injury Prevention
Chapter 11: Special Populations
Chapter 12: Nutrition and Weight Management
Chapter 13: Behavior Modification and Communication Skills
Chapter 14: Business Aspects, Legal Issues, and Professional Responsibilities
Even the appendices within the textbook are super helpful, and they make up for a few of the chapters one may think are lacking if they only read the chapters of the text.
The appendices in the text are:
Appendix A: Emergency Protocol Standard First Aid, CPR, and AED
Appendix B: Effects of Medication
Appendix C: Personal Fitness Trainer Forms, Questionnaires, and Assessment Norms
Appendix D: AFAA's Nutritional Supplement Policy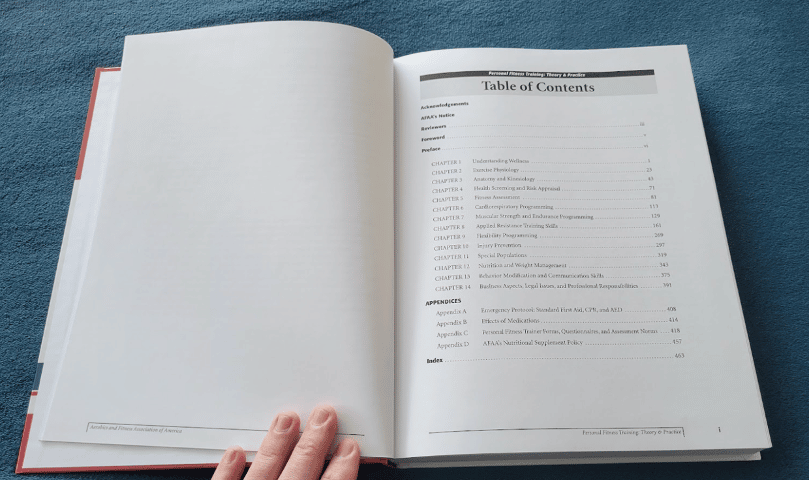 The AFAA text does not offer as many outside materials as ACE does, but ACE also restricts much of this to the levels of packages you can buy.
Again, one negative comment I have is that the lack of color makes it hard to stay excited and focused when studying when I am in my AFAA textbook.
Studying directly from a non-colored page for too long can get somewhat dull.
When compared side-by-side, it can be a bit boring just reading the intros to the chapters in AFAA when compared to ACE.
For some people, this won't be an issue at all. Everyone has different styles of learning.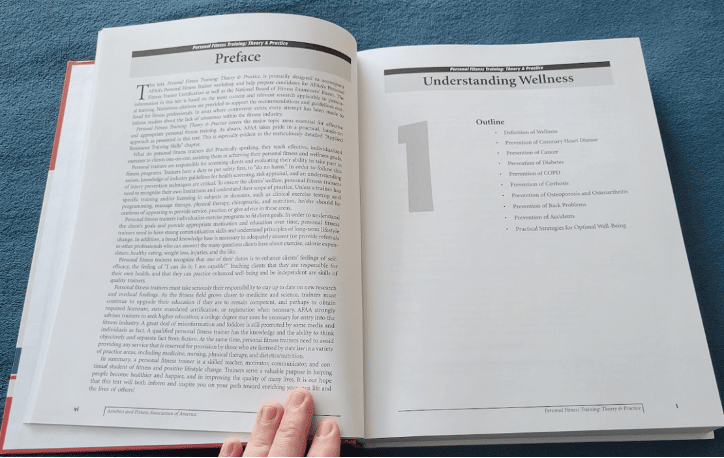 The AFAA includes many of its own assessment forms, questionnaires, and norms for trainers to easily seek out and utilize in their career, which ACE has within small sections of their textbook. Still, it is better within the AFAA text.
Both certifications list the benefits of exercise and movement for the general population, and give you some basic diet information as well.
Overall Course Layout Major Points
Altogether, ACE and AFAA are comparable certs; ACE has a higher reputation due to its presence in the fitness industry.
In my opinion, the online study dashboard and downloadable format for the text are the strongest positive differentiators for the ACE CPT program.
ACE University is a solid positive; as I stated before, it helps organize all of the study features, which is up to par with the other top certifications.
For AFAA, in my opinion, the program has a leg up on ACE when we look at its sections on exercise science and business aspects since ACE chose to include these two important sections minimally.
The AFAA text lacks color and flash, but it is a somewhat more solid and comprehensive textbook at times, whereas ACE doesn't offer exercise science in all its study packages.
The AFAA PFT gives its readers a concise location for many forms and assessments to use easily, they don't offer a downloadable format like ISSA, but neither does ACE.
To summarize, I believe the ACE CPT and AFAA PFT to be equal as their positives and negatives cancel out in terms of the offerings on the table here for learners.
ACE vs. AFAA Certification Final Exams
The ACE CPT exam consists of 150 multiple-choice questions where 125 of the 150 are scored and the other 25 are experimental questions not counting toward the overall exam score.
Test-takers are given 3 hours to complete the ACE exam, which is pretty typical.
All exam results are uploaded directly to the ACE account after finishing the test.
Research data puts the ACE exam at a pass rate hovering around 67 – 72% based on an average of the last few years, so it is not an easy exam by any means, and anyone should be adequately prepared for that level of difficulty.
The AFAA exam consists of 120 multiple-choice questions, and you are given a total of 120 minutes to complete the exam, so this exam is a bit more rushed, with one minute per question.
To pass the AFAA PFT exam, you need a 70% or higher score, which is common in the industry.
The results of the AFAA exam are given immediately upon exam completion to the candidate.
There would be a retake fee for the ACE and AFAA exams if the first attempt at the exam failed.
Both of these exams are proctored exams and uphold the highest test-taking standards.
My exam advice would be to take the steps to create a good study guide from your notes as you read through the textbook and review each key area of knowledge for at least a month before taking the test.
You can even make your own flashcards or find a good study resource from third-party options like Trainer Academy.
ACE vs. AFAA Recertification Details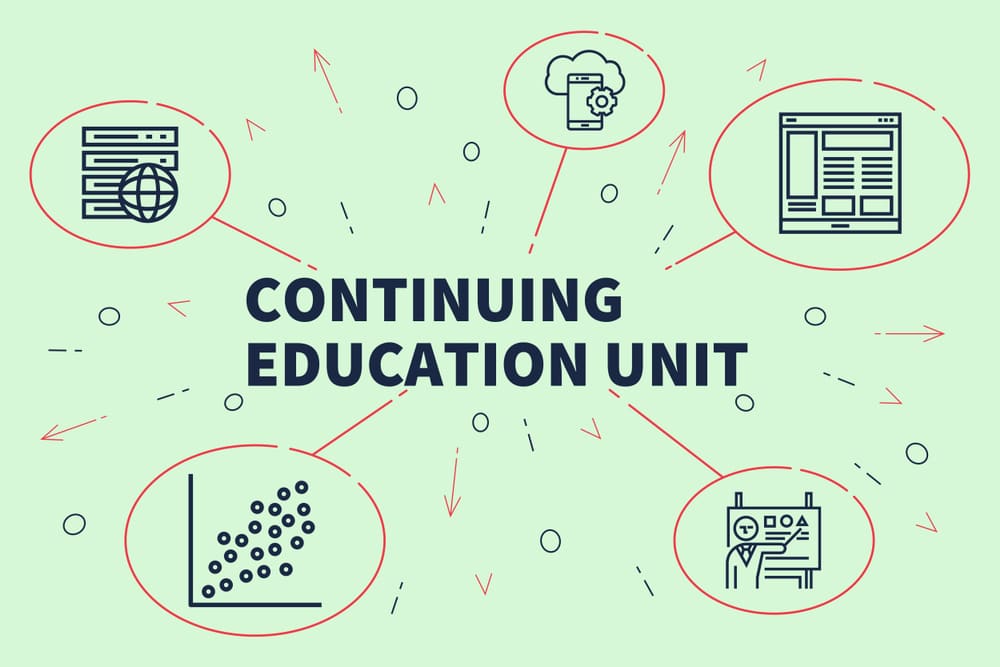 Both basic recertification processes are similar, with AFAA having an interesting recertification for life option that could make it the better choice for many individuals.
ACE recertification has a requirement of 20 continuing education credits, or CECs, which is 10 per year. In many cases, this can consist of just one ACE specialization course, which is most often the go-to choice for most folks.
One of the ways I like is to seek out specialization certifications for continuing education units, as each CEU allows you to add to your knowledge with specific new areas in fitness and add more to what you offer your clients.
ACE, like AFAA and other major CPT certifications, requires learners to keep a current CPR/AED certification when recertifying them. This is common for both of these companies, and most employers will also be looking for this CPR/AED cert.
As far as cost goes, for one certificate like the ACE CPT, it would cost $129, and that price rises just a bit for each additional ACE Certification that you have, maxing out at $200 for four certifications.
The AFAA requirements state that their learners must achieve 15 hours of continuing education every two years, which is much lower than ACE and much lower than the norm.
You must also keep your CPR/AED certification up-to-date for recertification with the AFAA PT.
To recertify once every two years, you must pay $99 in fees for the process.
AFAA stands out significantly with another offer: recertification for life. This is their most popular recertification method.
To recertify for life, you have to pay $399, but after four recertifications, it is already paid for, assuming the price never goes up over the years, which it will eventually. For this consideration, it is definitely worth it.
On top of the recertification, you get many deals on workshops, specializations, and products. You, of course, will still need to get all of the required continuing education credits in order for the recertification process.
All in all, the AFAA offers a cheaper basic option, an option to recertify for life, and the process requires fewer continuing education credits.
ACE vs. AFAA Overall Ratings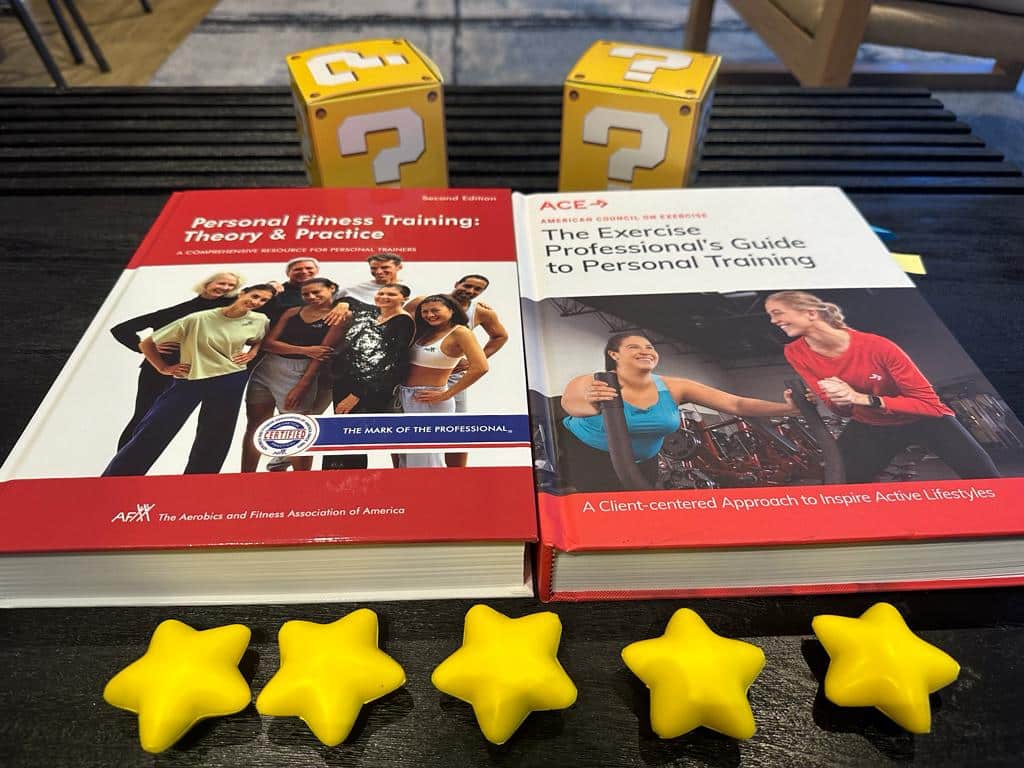 One of the most popular and highly regarded certification providers in the world
A non-profit organization that drives many community-based projects
A good entry point for new, up-and-coming fitness professionals
Study portal and text are both state-of-the-art
Reasonably priced compared to other significant certifications
AFAA is a subsidiary of the highly regarded NASM
Heavy focus on the exercise science portion of personal training
ACE vs. AFAA FAQs
How can I become a certified personal trainer?
Once you have the idea of getting certified as a CPT, snap into action: choose the optimal program for yourself, study for the program, and then pass the certification exam, which is the final step. After that, you can offer your services privately or work for a gym or facility. 
Which personal training program is better, ACE or AFAA?
Both of these programs have pros and cons and don't quite weigh up to the ISSA and NASM CPT certifications. ACE has a better reputation in the industry, but AFAA has a better textbook and isn't lacking any major sections. The true value of these two will be up to you to decide based on your needs, but they are both quality certs.
Do you need a degree to be a personal trainer?
A degree is not required for personal training, but more education is never a negative if you want to go that route (like a kinesiology or human body science degree). These two certs do not require a college degree to certify. Gyms will not require a degree either, although if you want to be a strength and conditioning coach (and take the CSCS), you will most often need a degree. So if you want to train people in the field of athletic performance, you might consider a college degree. 
How long will it take to become a personal trainer?
The completion of both of these training courses from ACE and AFAA will vary from person to person, but you will typically see it completed in a timeframe of 3 – 9 months, usually close to the 5 month mark for new learners to synthesize everything. 
Which certification is harder, ACE or AFAA?
Depending on which year you look at and which iteration of the test, these two both hover in the high 60% range, with ACE having the lower pass rates, around 62% some years.