Welcome to your ultimate ACE vs AFAA review.
My review contrasts both certified personal trainer certifications across the following key aspects:
I suggest you take the quiz to figure out the best cert for your career aspirations
Alright, let's get into it!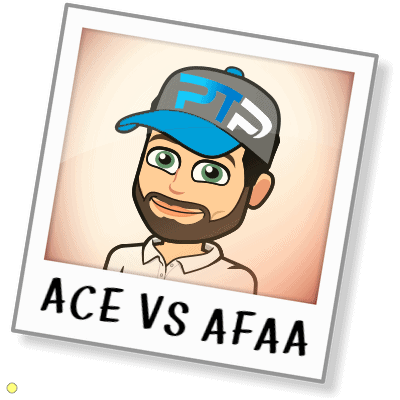 AFAA vs ACE: Quick Information
CPT
ACSM vs ACE Quick Breakdown
Features
Price
ACE

One of the most popular and highly regarded certification providers in the world
A non-profit organization that drives many community-based projects
A good entry point for new, up-and-coming fitness professionals

View on the ACE website
AFAA

Self-paced learning
Reasonably priced compared to other significant certifications
AFAA is a subsidiary of the highly regarded NASM

View on the AFAA website
Product
Exam cost
Exam cost
$849, $999, $1,499
$199.00
Study Material Cost
Study Material Cost
$849, $999, $1,499
$499.00
Prerequisites
Prerequisites
18+ years old, High School Diploma, First Aid, CPR, AED
CPR/AED, 18 years of age, high school diploma/GED
Exam Pass Rate
Average Completion Time
Average Completion Time
3 – 6 months
3 – 6 months
In order to discover which of the two is the best personal trainer certification for you, I will dig into the differences and similarities between ACE and AFAA.
Just to be clear, any mention of either ACE or AFAA is in reference to their respective personal trainer certifications. However I might also mention their respective nutrition certification programs, since these are recommended, dare I say, necessary compliments to the CPT component.
The certs in question are the ACE-CPT (Certified Personal Trainer) and the AFAA-PFT (Personal Fitness Trainer).
As we cover each aspect of these certifications, you'll begin to learn which one matches up best with your journey towards becoming a successful personal trainer.
ACE Personal Trainer Certification
ACE stands for the American Council on Exercise. ACE is one of the most reputable fitness credential providers globally with a massive worldwide network.
ACE is a non-profit organization founded in 1985.
Their founding principles are based around improving the health of the general population through movement and easy to adopt health and fitness initiatives.
The ACE-CPT program is considered one of the best online personal trainer certifications on the market.
AFAA Personal Trainer Certification
AFAA stands for the Athletics and Fitness Association of America, a health and fitness credentials institute founded in 1983.
In its relatively long history AFAA has become a reputable certification agency with a good suite of credentials for personal trainers and group fitness instructors entering the fitness market to qualify in.
AFAA provides tools and training software that allow fitness professionals to cater to general health and fitness needs.
AFAA is also owned and operated by NASM.
The General Focus and Popularity/Recognition of AFAA vs ACE
ACE-CPT
As previously mentioned, ACE is a non-profit organization with a mission to get people moving.
This ethos is inspired by the recognition that America, and modern society in general, is getting more and more sedentary.
Sedentarism, or the decline in physical activity is a relatively new phenomenon in the lifespan of humanity.
Up until the industrial age, most able bodied people were in a state of regular physical activity.
Manual labor was a part of daily life, while travel and transport were fairly reliant on the physical output of man and beast.
This meant from an exercise perspective, people were quite healthy.
The fact that we have gyms and a focus on fitness based activity is actually a response to the shift in normal daily function.
Now that strenuous physical work is no longer a requirement for our livelihoods, it doesn't mean it's no longer a requirement for our health.
ACE takes this fact and runs with it, pioneering a public health revolution through its IFT model and qualified trainers.
Through its group fitness instructor and the personal trainer certification mentioned in this article, ACE is getting people to move.
And although ACE is a non-profit, its successful candidates are some of the most successful when it comes to personal trainer salary statistics.
AFAA–CPT
The first 'A' in AFAA originally stood for "Aerobics", a term which at the time of the organization's foundation, was used interchangeably with fitness.
This was also because aerobics training, what we now call cardio, was the most popular and engaged-with form of exercise.
Today, a slightly rebranded AFAA focuses on all fundamental pillars of fitness in order to qualify well rounded and capable trainers, able to deal with the everyday fitness needs of a modern society.
This approach allows for trainers to work well with beginners to fitness as well as implement fun and creative workouts and exercises.
In this regard, I consider AFAA PFT a generalist certification which, while limiting in its scope of expertise, also allows room for growth and malleability into other specialist fields such as corrective exercise and strength and conditioning.
Skills and Knowledge Covered in ACE vs ACSM
In order to fully determine how good a cert is for you, the best approach is to take a deep dive into the curriculum and exam syllabus.
I could easily provide you with a spec sheet of the certification and how it's structured, but that's information you could probably get without my help.
Exclusive PTP CPT Offers



Gold Standard Cert

Most Popular Cert

Best Study Materials

A Good Option

A Good Option

Best CPT for you?

What I've done for you is signed up to these certifications and taken a whack at the course content myself, so you can know what you're potentially getting into.
Exercise Science Principles:
As a personal training certification, exercise science plays a leading role.
The bulk of your activity will be centered around programing, implementing and monitoring exercise.
As far as ACE goes, they cover this topic in enough detail to have you successfully coach clients, but for the caliber of certification I consider ACE to be, the topic's coverage is a bit underwhelming.
you can find the bulk of it in Chapter 11: Integrated Exercise Programming: From Evidence to Practice.
I do like their IFT model, short for Integrated Fitness Training, because, while it isn't spectacular when it comes to innovation, it does provide an easy to deploy structured approach to fitness training.
AFAA's take on exercise science is surprisingly more in depth than that of ACE.
I say surprisingly because of the gap in popularity between these two, a topic I'll tackle very soon.
AFAA has a more honed approach on exercise science which can be seen in the first domain.
This topic also has a 32% weighting in the exam, meaning its significance is well represented.
Behavioral Coaching Principles
Behavioral coaching is an important element in personal training, having the correct personality traits in order to motivate your clients is tantamount to success, and success for your clients equals success for your business.
It is the catalyst to change, because without it, there is no motivation, action or adherence.
ACE provides good insight into this subject, in my opinion .
You'll find their take on behavioral coaching in Chapter 3: Basics of Behavior Change.
All three chapters in this section are dedicated to motivation, communication, and behavioral psychology skills.
Basically put, how to be a good personal trainer.
AFAA provides a good take on behavioral coaching in chapter 13: Behavior Modification and Communication Skills.
The chapter enlightens on skills and concepts such as:
Being a good role model/fitness motivator
Goal setting
Use of behavior contracts
Overall, I think AFAA has a slight edge when it comes to behavioral coaching skills and principles than ACE.
Consulting and Screening Clients to Reduce Risks of Injury
Before you can develop a good personal training program and implement it, you need to know more about your client.
Not only in the sense that you'll need an idea of their desired outcomes, but also because you'll need to understand the limitations and parameters in which you can effectively and safely train them.
ACE highlights this topic through Chapter 10: Muscular Training: Assessments, Chapter 8: Cardiorespiratory Training: Physiology, Assessments, and Programming and Chapter 7: Resting Assessments and Anthropometric Measurements.
AFAA tackles this topic in chapter 5 of the textbook and video lectures.
They expand on topics such as:
Body Composition Assessment
Medical Clearance
Movement Assessment
PAR-Q
Pre Assessment readiness
Based on my analysis of the material in this chapter; I'd say this is a rare case of the coverage going beyond what's necessary for general personal training practice.
With that said, it's always better to have too much than too little.
Resistance Training Program Implementation
Resistance training is a dominant component in most exercises, because as soon as movement occurs, or force is applied, you are working against resistance, hence resistance training.
That means, in order to exercise effectively, an understanding of force and motion dynamics from a biomechanical perspective is important.
Now of course, when I talk about resistance training in the context of exercise coaching, I'm referring to the very specific methodologies behind weight training and the use of resistance based equipment including bodyweight (calisthenics).
ACE has a pretty in-depth take on resistance training, as can be seen in Chapter 9: Muscular Training: Foundations and Benefits..
AFAA's take is equally as effective and is found in Chapter 8: Applied Resistance.
Both cert's resources on resistance training provide an adequate scientific and practical take on the concept.
Aerobic Training Program Implementation
Aerobic training, or cardio is an essential component to any fitness program. It is considered by many to be the leading catalyst to optimized health and wellness when it comes to fitness.
As I've mentioned, the first 'A' in AFAA used to stand for aerobics, needless to say, AFAA's take on cardio fitness training is top tier.
You'll find their take on it in Chapter 6: Cardio Programming.
As for ACE, they also do a pretty good job in equipping candidates with the right knowledge and practical skills required to implement aerobic training through their IFT model.
You can find ACE's take on cardio in Chapter 8: Cardiorespiratory Training: Physiology, Assessments, and Programming.
Overall I think ACE has the better take on cardio programming, simply because it is structured in an easy to digest way through the IFT model.
Helping Special Populations with Fitness
Lastly, let's look at special populations training, and what each cert brings to the table in terms of that.
Before we do that, let me explain what I mean by special populations.
Exclusive PTP CPT Offers



Gold Standard Cert

Most Popular Cert

Best Study Materials

A Good Option

A Good Option

Best CPT for you?

Special populations are a category of PT clients who deviate from the typical person in terms of special needs and considerations.
Special populations may include:
People with chronic health conditions (arthritis, hypertension, diabetes)
People undergoing extensive medical treatments (dialysis, chemotherapy)
People with disabilities
You can tell by this list that specific methodologies will need to be implemented, and you'll need a good set of principles and guidelines to equip you with them.
ACE does a pretty good job of this with Chapter 14: Exercise and Special Populations.
They give a platform to all the fundamentals listed above.
AFAA also has a decent take on special populations, however, they look at this category through the scope of population groups with health and fitness deficiencies, which leads to the exclusion of athletes.
Because of this, ACE gets the win in this final topic.
For a more in-depth look at each cert, check out my individual review on both ACE CPT and AFAA PFT.
Certification Popularity and Recognition of AFAA vs ACE
Popularity and recognition may seem like mere vanity metrics in the face of all the technical specifications of these certifications.
But these two are important measures of value and relevance.
For instance, popularity tells us how many people have enjoyed and approved of the certification in question. This then informs you on it's quality and viability.
Recognition tells us how relevant the certification is to industry stakeholders and the general job market, essentially informing you on how sought after your qualifications are when it comes to career opportunities.
In essence, it gives us an indication of the collective opinions and advice of industry pros and satisfied candidates.
In both popularity and recognition, ACE comes out way on top by having one of the most reputable names in fitness credentials across the world and being an authoritative organization when it comes to public health initiatives.
That means you'll have more career options as a PT as well as having more access to employment when looking at which gyms accept which certifications
AFAA, isn't as recognised or popular, but it stands its ground as proven by the fact that it is an NCCA accredited certification.
The NCCA or National Commission of Certifying Agencies is an organization whose approval authenticates and legitimizes fitness certifications in the US.
The Study Materials and Pricing of AFAA vs ACE
Understanding what each certification offers and the value proposition based on the price is an important consideration before you purchase and register.
The cost of a certification is as much a factor as its quality.
Let's take a look at each certs
ACE Personal Trainer Certification Cost and Materials
ACE has three packages on offer, the Basic, the Plus, and the Advantage.
The Basic package has the essential study materials, but only at a bare minimum level.
It includes the following:
ACE Practice Exam
ACE Answers (Basic)
ACE Certification Exam
ACE Personal Trainer Study Companion
ACE Personal Trainer Textbook
ACE University
The Plus package has a more rounded approach, offering most of what you need to reach for exam success.
It includes:
2 ACE Practice Exams
ACE Answers (Plus)
ACE Certification Exam
ACE Personal Trainer Textbook
ACE University
ACE Exercise Science 101
The final tier, the Advantage package comes with all the basics and necessities plus a few extra bells and whistles.
Honestly not necessary in my opinion, but it will help you cross the finish line quicker and more comfortably, provided you do the work required.
4 ACE Practice Exams
ACE Answers (Advantage)
ACE Certification Exam
The Basic package costs $849, the Plus is $999, and the Advantage package is $1,499
AFAA Personal Trainer Certification Cost and Materials
AFAA's PFT cert only comes with one package option.
This package provides access to a downloadable AFAA study guide PDF, video lectures, practice tests, and of course, the exam.
It doesn't include the course textbook, Personal Fitness Trainer, which incurs a separate charge.
I found the video lectures super helpful, informative, and immersive, but I feel that dynamic content such as video or audio lectures has its limitations.
For instance, unlike a textbook, where you can easily bookmark and have static references to your work, a video lecture can't be paused and referred to.
Sure, you can pause, but that's it.
With a textbook, you can highlight important topics, bookmark relevant chapters and pages, and have fixed reference points for information.
Now let's look at pricing.
The Personal Fitness Trainer certification costs $499.00 with the exam included.
Additionally, with the textbook, you'll be paying that plus an extra $79.00.
That's just under $600.00 for an entire CPT certification, so despite the textbook not being included, AFAA still works out to be on the cheaper end of the scale.
My students rate third party study materials like the free ACE CPT study guide and practice exam and the ACE by Trainer Academy study package as their go to secondary options.
Dont forget to follow up with the official ACE and AFAA pricing for deals and discounts.
Prerequisites: ACE and AFAA Certification Requirements
Both ACE and AFAA certifications have the standard set of personal trainer requirements, those being that candidates be at least 18 years old with a high school diploma or equivalent.
Candidates must also possess a government issue ID as well as proof of current first responder certs such as AED, CPR and First Aid.
Information On The Tests and Recertification: AFAA vs ACE
Before sitting down for that final exam, it always helps to be aware of what to expect.
Understanding the layout, structure and break-down of a PT exam will allow you to take it on with more confidence, bringing you a step closer to a guaranteed pass.
Sometimes, when your choices of certification are even in quality and relevance, looking for the easiest cert might be your pivotal factor
Most certifications, especially personal trainer certifications, require renewal of your credentials after certification, usually every two years and at the cost of continuing education units, as well as a recertification fee.
Follow me as I guide you through both of these crucial elements of your AFAA or ACE certifications.
ACE Certification
The ACE CPT exam is 3 hours long and consists of 150 multiple-choice questions.
To pass the ACE CPT exam, you'll need a scaled score of 500 out of 800, approximately 90 out of the 125 scored questions, leading to a pass mark of around 72%.
The pass rate is 70% for ACE first time test takers.
There are 25 floating or non-scored questions. These help the exam panel assess their viability for future ACE exams.
As with AFAA, you won't be able to tell which questions are scored and unscored, therefore, your best bet is to answer every question.
Regarding recertification, you will need to obtain 2.0 CEUs of continuing education credits every two years to renew your ACE-CPT cert.
AFAA Certification
The AFAA exam consists of 120 multiple choice questions, 20 of them being unscored questions.
The 20 unscored questions don't earn you any points towards your final exam score. They are there for research purposes and will likely be used in future tests.
You won't be able to distinguish between scored and unscored, so your best hope is to just take a whack at every single one of the questions.
You'll need to score at least 70% within a 120minute (2 hour) timeframe.
According to 2017 statistics, the pass rate for AFAA PFT first time test takers is 72%.
This makes AFAA one of the easiest personal trainer certifications, but not one you should take lightly.
Recertification happens every two years for your AFAA PFT cert, as is standard practice with most other certifications.
You will need to submit continuing education units or CEUs and a nominal recertification fee.
The CEUs required for AFAA-PFT renewal are 1.5 CEUs, which is the same as 15 hours of continued education.
This requirement is a little more relaxed than the typical 2.0 or two hours of CEU credits
You will also need to pay $99.00 as a recertification fee after every two years from when you first certify.
My review took place using actual study material and course resources from both AFAA and ACE certifications.
I went through the materials as would any candidate taking the program to give you a first hand impression of what you can expect.
Beyond that, information gathered through research of reviews and online forums helped me furnish the review with some nuance and anecdotal accounts.
Frequently Asked Questions (FAQs)
Conclusion: Which is the best personal training certification, AFAA or ACE?
As you can tell from this review, both have their strengths and drawbacks, and overall, both are good credentials for a personal training business.
But if we're talking about which cert will give you the best all-round grounding in fitness training as well as which one will get you the most noticed, I would go with ACE hands down.
It is far more popular and established as a leader in fitness credentials and has a track record when it comes to supplying the market with the best trainers.
ACE group fitness and personal training exercise certification programs are accepted all over the world.
With that said, AFAA is a subsidiary of NASM , giving it a wealth of support and infrastructure to back it's personal training and group exercise programs.
Conclusion: Which is the best personal training certification, AFAA or ACE?