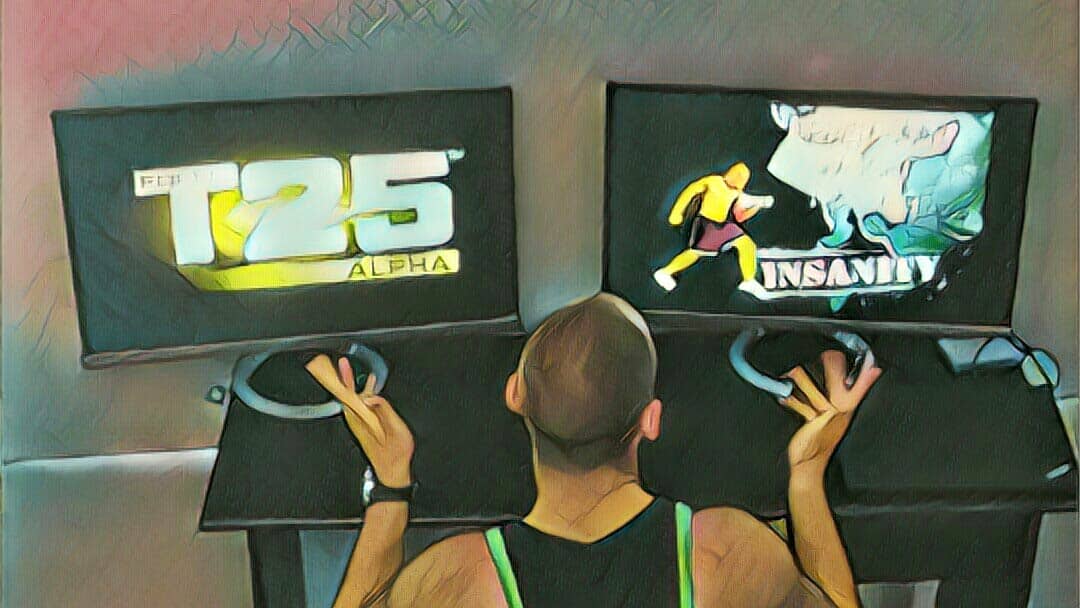 Hey guys and gals and welcome to my T25 vs Insanity article! A little bit about myself: I am a certified personal trainer through NASM, hold a bachelors degree in exercise science and am an active beach body coach! My biggest passion is fitness and helping those around me achieve their health and fitness goals as well.
have been getting a lot of questions from some of my personal training clients on which program is better: Focus T25 or insanity. By the end of this article you should know which program is better for you, Insanity or T25. Both of them target a completely different group of people although they might seem very similar overall. I will be doing a quick overview, who they are meant for, the types of workouts you can expect and what I liked and disliked about both of them. Both of these programs are instructed by my favorite instructor Shaun T. He brings the energy and motivation in both of these workout products. Let's get right into it and not waste any time!
I recommend checking out the individual reviews for focus T25 and Insanity because they are a little bit more detailed. Also if you like comparison articles, check out my two most popular comparison articles Insanity vs P90x and P90x vs P90x3!
T25 vs Insanity: What are the differences?
T25 was designed to be the quickest yet most effective workout whereas Insanity will get you into the best cardiovascular condition and burn as much body fat as possible. The differences between both programs depend on your goals. Both of them are great at-home workout products. Either Body beast or Hammer and chisel will change your body for the better.
Check out the chart below for quick break down of T25 vs Insanity:
The biggest three tips in order to be successful with either program.
Purchase either program with a challenge pack. The clients of mine that go through either program on shakeology see significantly better results than those who don't.
Make sure to sign up with me Tyler Read as your coach (and certified personal trainer) otherwise you will get assigned a random coach that is probably not as qualified, and might not even contact you. My coach ID is 1339221. I will help you on your reach your goals and provide great motivation!
Get beach body on demand instead of DVD packages. If I had this when I first started using P90x it would've saved me so much money overall over the last 12 years. No more worrying about scratched DVDs or bringing DVDs with you. Also, most people don't know which program to start out with (and frequently choose the wrong one),  You have access to all of them with beachbody on demand! You have to purchase the equipment for the program separately.
T25 vs Insanity: Overview
Focus T25 overview
Overall focus T25 is a 10 week program where all of the workouts are exactly 25 min. long. You will be doing five workouts a week during this program using a variety of resistance bands, dumbbells and a comfortable mat. Overall there are 11 different workouts that you will be cycling through. One of the biggest selling points for focus T25 is that the workouts are very short and are great for busy people that don't have a lot of time on their hands. You can check out my entire Focus T25 calendar here.
There are three packages that you can choose from that contain something a little bit different from one another. Let's go over these three. You can also get the programs on amazon.com but I will not become your personal coach if you choose that option.
The FOCUS T25 Base Kit includes all of 11 of the workouts (as well as two additional workouts), a quick start guide, a nutrition guide, two calendars (alpha and beta), five day fast track, 15 pound resistance bands, 24 hour support and a 60 day money back guarantee if you don't see results.
The Focus T25 deluxe package  contains everything that the base kit did as well as three advanced GAMMA workouts (rip it up, extreme circuit and the pyramid), a comfortable workout mat, additional resistance bands (20 and 25 pounds) and a GAMMA calendar.
The last package is the Focus T25 challenge pack which combines shakeology nutrition with the Focus T25 workouts (I recommend this).
Insanity Overview
Insanity on the other hand is a 60 day program where the average length of the workout is 45 min. This is nearly twice the amount of time spent on each session compared to Focus T25. Not only are the workouts almost twice as long, but you will be doing six workouts per week with only one rest day compared to two with T25. One good thing about insanity is that you don't need any equipment although a heart rate monitor and a plyometrics mat are recommended. Overall there are 12 different workouts that you will cycle through over the course of the two months. You can check out the entire workout by looking at my insanity calendar here.
There are three general options for the insanity program as well. Let's talk about them:
The base package includes all 10 workouts  (and one bonus workout), the elites nutrition plan, a fitness guide, the insanity calendar, free online support tools as well as insane results or your money back.
The deluxe package includes everything that the base package did with the addition of an upper body weight did workout, Max interval sports training workout and insane abs workout.
The Insanity challenge pack combines shakeology nutrition with the workouts of insanity. This is the best way to get results from my experience.
T25 vs Insanity: who are they meant for?
Who is Focus T25 meant for?
Overall both of these workouts combine a lot of resistance training movements into a high-intensity circuit that tests your cardiovascular Center. Although both routines target every muscle group, Focus T25 does a great job of focusing on one muscle group at a time for a longer period of time. This is for people that want to really hit one area of the body hard for 25 min. and then move on to the next body part of the next day.
Is also meant for people that only have a little bit of time every day. The biggest emphasis is on time during this workout program. Although it is only 25 min, you focus so hard during that time it seems like a lot longer.
Who is insanity meant for?
Insanity is meant for people that literally want to kill themselves with exercise… I'm kidding… Kind of. But really, insanity is one of the toughest programs that I have ever done. It is also a very intense cardiovascular workout mixed with strength training exercises in a circuit type fashion. The only differences the workouts are a lot longer and you really have to dig deep in order to complete each one.
Overall the movements include a lot of plyometrics work. If you have any joint problems, are post rehab or have not exercised a long time this is probably not the best workout routine to start with. But if you have been working out for a while, and feel comfortable with difficult routines, give insanity a try and you'll realize how easy your previous workout routines have been.
T25 vs Insanity: The quality of the workouts and Benefits
Focus T25
Overall the quality of both Insanity and Focus T25 workouts are pretty amazing but they do target something a little bit different. The biggest thing I like about focus T25 is that almost every single exercise that they do have some sort of modified variation that you can follow. If one exercises is a little too difficult for you, you can perform the easy modification. If one exercises to easy for you there is a more difficult variation that you can try. Trying easier or harder modifications almost makes the exercise routine completely different and you can challenge yourself even with a workout video you have done dozens of times. Here are some of the benefits from Focus T25:
It is great for beginners because of the modification exercise
It is also great for fit individuals because of the more advanced modification exercises
It is good for people with joint pain because the modification exercises keep you on the ground and are very low impact overall.
You can fit an awesome workout into your schedule by only needing 25 min. per day
You can expect to be very sore in certain areas of your body because of how focused the workouts are
You will be able to tone your body, lose weight and feel much better overall
Insanity
One of the biggest downfalls for insanity is that they don't have any much modification exercises. That means you are stuck doing exactly what Shaun T is doing, which is not that easy for beginners. Besides that, the workouts are fantastic and extremely extremely difficult. You will see amazing results with this program if you stick with it but the problem is a lot of people give up too soon. That is why if you are just getting started with exercise I suggest starting with something easier such as Focus T25 and then graduating towards the insanity program afterwards. Here are some of the benefits of the insanity program:
You will probably die. But you also see the best results that you have ever seen from any workout program.
In combination with the diet plan and Shakeology, you lose a significant amount of weight while maintaining muscle mass.
If you are already in good shape, get ready to get an extremely good shape
You will lose weight, get toned, have much more energy, have better posture and more self-confidence.
Differences in the diet programs
The Focus T25 diet
Overall the diet plan for both of these workout routines are similar. If anything the Focus T25 diet plan is a simplified version of the insanity diet plan. In both programs you will be taught how to calculate your daily calorie requirements. It has a great section on which foods to avoid in which foods to add to your cart. There is a variation of recipes that are provided that I found tasty and easy to prepare.
Although food should be the biggest staple of any diet plan, supplementing with protein supplements makes hitting your meal, calorie and protein requirements much easier and with much more ease. My clients that use Shakeology with their workout program see a much better return on their investment and much better results overall. I suggest checking out my shakeology review to learn more about it.
The insanity diet plan
The insanity program comes with a 60 day nutrition plan. You will be able to calculate how many calories you should be consuming just like T25. The insanity program puts you through a macronutrient diet of 40% carbohydrates, 40% protein and 20% from healthy fats. They let you have a more generous amount of calories compared to some other at-home workout programs and T25. That is because you will be burning a lot more calories without long and intense the routines are. This diet plan also contains some delicious recipes that you can try out.
Compared to the majority of  routines, I suggest using Shakeology the most with the insanity due to the fact that it is so exhausting and requires much more vitamins, minerals and protein in order to repair your body after those intense workouts. Check out my full article on how shakeology works right here.
Which will help you lose more weight?
This is the most important question that I get asked from my friends, family as well as clients of personal training. Since this is the main goal for people starting either one of these programs. The answer overall depends on how much of a calorie deficit you put yourself in every day.
Also both programs put you in a calorie deficit, the insanity program by far Burns more calories just due to the fact that it is twice as long and just as intense (or more). Your body will be burning calories long after you have performed the exercise because of how intense this routine is. Overall I experienced more weight loss during this program than I did with T25.
You will still lose a good amount of weight using T25, just not quite as much. If you are not sure which one to go for, and you have not been exercising for a long time, I suggest starting with T25 first hands down. It will be more gentle on your body and you will still see amazing results. After finishing that program you can always graduate to the insanity program to step up your game and intensity!
T25 vs Insanity conclusion: price and overall value
I hope you guys liked my T25 vs Insanity article. Hopefully by now you guys have a better idea of which one would be the right workout program for you. If you are crunched for time but still want to fit a great workout in, T25 is right for you. If you have problems with joint pain, are post rehab or are just getting back and exercise, T25 is right for you.
If you decide to go with either one of these programs use one of the links below to make me (a personal trainer) your personal beach body coach! Or if you decide to wait until later, you can still make me your coach by using my Coach ID number:1339221 when you sign up. Otherwise you will be assigned a random coach. I will make sure that you are successful! Let's go over the different packages and prices once again.
For focus T25 there are three different options.
$59.85 for the Focus T25 base Kit
Check out the Focus T25 base kit here
$119.70 for the Focus T25 Deluxe kit
Check out the Focus T25 Deluxe kit here
$160 for the Focus T25 challenge pack
Check out the Focus T25 challenge pack here
On the other hand if you have been working out for a while and would really like to test how fit you actually are, insanity is the program for you. You will see amazing results if you stick to this entire program and the diet plan that comes with it. It is a true test of self-determination in order to finish each of these programs that you will be rewarded tenfold.
$119.85 for the Insanity base Kit
Check out the Insanity base kit here
$164.70 for the Insanity Deluxe kit
Check out the Insanity Deluxe kit here
$205 for the Insanity challenge pack
Check out the Insanity challenge pack here
Like I tell all of my other clients of personal training, the hardest thing about exercise is is simply getting started! Once you get going it is a lot easier build momentum and reach your goals! Your results will keep you motivated! The worst thing to do is freeze up and not choose a routine. Get Started today so that you can start seeing the results that you desire tomorrow!
If you want to wait before you purchase any program, you can still sign up for the free beachbody account to get community support, schedule and log your workouts as well as track your progress all for free. And you still get all of the benefits of having your own personal coach! Just make sure to add me (Tyler Read) using my coach ID number 1339221 in the coach referral section. Then we will get started together so you can reach your fitness goals! Here is the link to the free team beachbody account.

Which will you guys choose, T25 or Insanity? Let me know in the question box down below what you guys think. Have you guys tried either one of these programs? I'd like to hear from each everyone if you!
If you liked this comparison article I also have some other focus T25 comparison articles that you should check out here: cize vs t25, piyo vs t25 and t25 vs insanity max 30.
To check out the full list of insanity comparison articles check these out: insanity vs max 30, body beast vs insanity, TurboFire vs INSANITY, INSANITY vs INSANITY ASYLUM and P90X3 vs INSANITY! Enjoy!