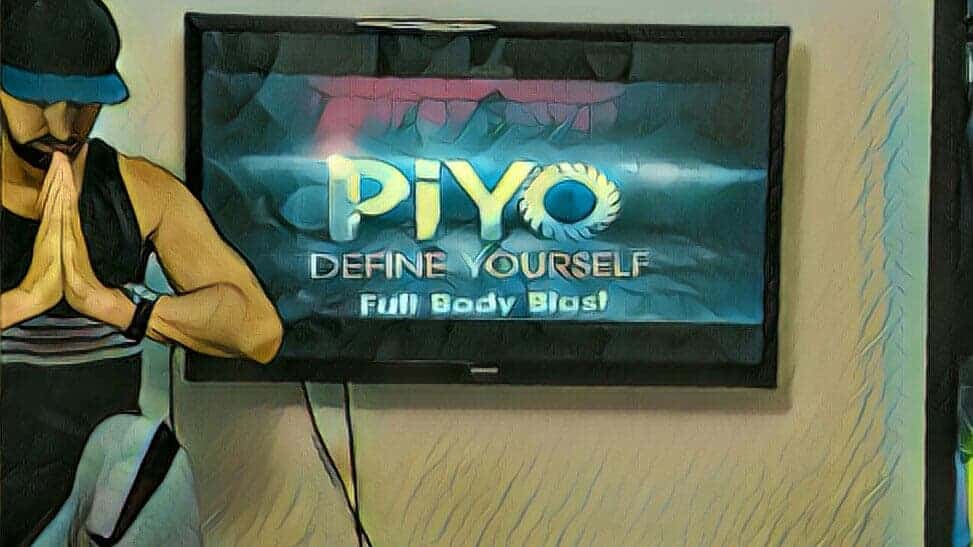 Hey everyone and welcome to PiYo review! If you are new to my website, I welcome you to my realm. I talk about everything related to personal training and health and fitness on my site. Piyo is a new workout program from the company beach body featuring the popular instructor Chalene Johnson. Piyo is a made up word combining both Pilates and yoga. If you have ever wanted to try out either one, or if you love both of them, this could be a great at-home workout routine for you. It combines all of the core and muscle sculpting benefits of Pilates with the flexibility and strength that you gained from practicing yoga.
A little bit about myself: I am a certified personal trainer through NASM, hold a bachelors degree in exercise science and am an active beach body coach! My biggest passion is fitness and helping those around me achieve their health and fitness goals as well.
So what is PiYo? Does PiYo work? Is PiYo worth it? I will try to answer all of these questions in my PiYo review. I will go over all of the basic information on the program as well as the PiYo results that you can expect. I have so much to talk about in this article so was not waste any time and get right into my PiYo review!
What is Piyo?
Piyo is a 60 day workout routine that can be done in the comfort of your own living room or garage. With this routine you will be doing six workouts every week and you will be targeting something different during each. In general the four different categories that are targeted are sculpting, cardio, strength and your core/abdominals. I have taken classes of both Pilates and yoga and this workout routine is definitely harder than the classes at my gym. This routine is meant to help you lose weight and body fat percentage.
If you have never practiced Pilates or yoga before in your life, it may take a little bit of time to get used to the unique movements. But overall even if you are new to exercise, Chalene makes the transition fairly easy and you should be up and running in no time. With your purchase you will receive 9 separate workouts on three separate DVDs, a quick start guide, the get lean eating plan and a workout calendar to help you keep you on track and tell you which exercises you will be doing on each day. You can get a preview of the Piyo program by checking out the workout calendar here on my site!
There are three options to choose from when it comes to the difference PiYo packages (not including beach body on demand). You can check out the links to find out more.
You can get the PiYo program from Amazon.com, but remember that I will not become your personal coach compared to if you bought it from the beachbody site using my coach ID! Amazon is a great place to read ton of reviews though.

The base package includes all seven workouts (with two additional workouts), a quick start guide, a 60 day workout calendar and a get lean eating plan.
The deluxe package includes the same stuff with the addition of strength slides with booties, a deluxe yoga mat, accelerated calendar and a tape measure.
The last option is the PiYo challenge pack which combines shakeology nutrition with the program.
As of 2016 my overall recommendation is to get beachbody on demand challenge pack and get the equipment for the program you would like separately. If you decide that PiYo is right for you, use one of the links above to make me (a personal trainer) your personal beach body coach. Or if you decide to wait until later, you can still make me Tyler Read your coach by using my Coach ID number:1339221 when you sign up for a free account. Otherwise you will be assigned a random coach that is probably less qualified and might not even contact you. I will make sure that you are successful!

Who is Piyo meant for?
Piyo is meant for people that mainly would like to lose weight. Just like the majority of the workout programs from beach body, they are targeted towards people trying to lose weight. It will also be a great program if you love either Pilates or yoga and would like a new routine to do in your own home. The program increases your flexibility, so for people that have joint pain or muscular imbalances, this could be helpful as well. It is not meant for people that are trying to gain muscle mass (like body beast or master hammer). There is very little resistance training done besides your own body weight and since you will be in a calorie deficit, it will be impossible to actually build more muscle.
Who is the instructor for Piyo and why does this matter?
As I mentioned above the instructor is Chalene Johnson.  Chalene Johnson also teaches the turbo fire and ChaLean extreme workout programs. Out of all of the instructors I have had from beach body, ranging from Shaun T, Tony Horton and many others, Chalene is definitely one of my favorite ones. She has fantastic energy and keeps me motivated throughout all of the routines as well as the whole program itself. Some of the instructors can get annoying after some time and some are simply weird. She knows a ton about fitness and has a great body to prove it. You can feel that she is genuinely is trying to help the people that she is instructing, and this is very important.
What workouts are included with Piyo?
Align: The fundamentals
The alignment workout is the easiest workout out of all of them because it mainly focuses on teaching you the most important movements and exercises that you will be doing throughout the program. This is very important to learn proper form for all the exercises in order to stay safe throughout Piyo.
Defined: lower body
As the name suggests, this is a routine stronger focus on the lower body. Get ready to do loss of squats and lunges to work on your butt, hamstrings and quadriceps. This workout lasts 20 min. long.
Defined: upper body
Again as the name suggests, this routine will strongly focus on your upper body. If you have not performed an upper body routine for a long time, get ready to have spaghetti arms the next day. This program last 20 min. long as well.
Sweat
This is a very fast-paced routine that will bump up your heart rate and get your metabolism burning. It has a lot of cardio movements that flow right into resistance training with your own body weight. Overall it is a full body workout. This workout lasts 35 min. long.
Drench
The Drench workout is probably the hardest workout in the whole program. As the name suggests, you will be soaked with sweat by the end of it. If you are not ready for it, don't feel forced to do every single repetition.  This workout lasts 48 min. long.
Sculpt
This workout has multiple different tempos and targets different muscle groups during different parts of the workout. You will definitely feel the muscles working on this one.
Strength intervals
Personally, because I love weight training so much, this is my favorite routine out of all of them. It is 25 min. of calisthenic workouts or body weight strength training.
Buns (bonus workout)
The women typically love this workout more than any other one. This strongly focuses on the glutes. I hope you have a comfortable chair at work because trying to sit down the following day is not easy!
Core (bonus workout)
The majority of beach body products including P90X, Insanity has a specific core workout. Piyo is no different. Overall I think this is one of the better core workouts and will definitely challenge your mental will to be able to finish it.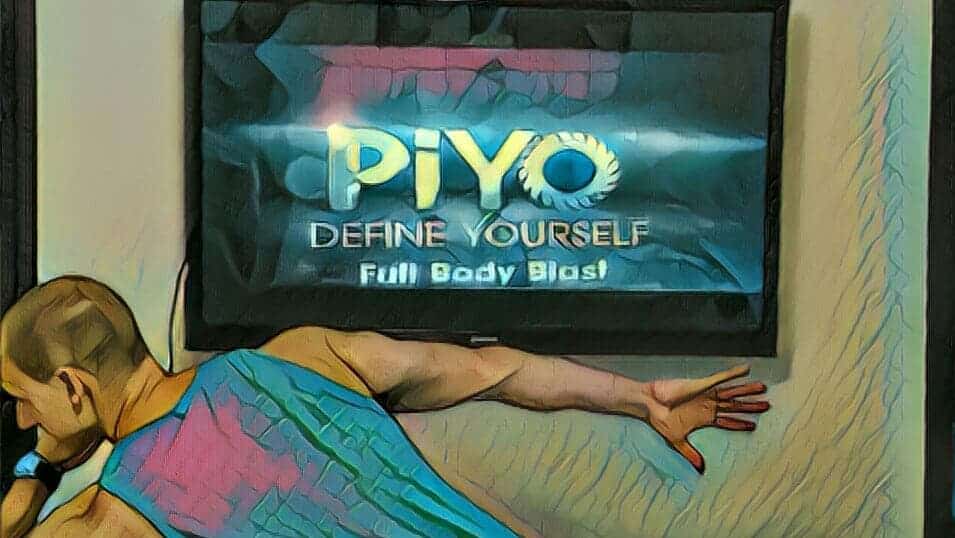 What types of tools are included with your Piyo package?
Three primary tools are included with your purchase of Piyo. Let's talk about them a little bit.
The quick start guide
Everything you need to know about why Piyo, who created it and what type of benefits you can expect. It is filled with tips and tricks for you to get the most of the program. It also goes over some of the exercises and how to maintain proper form throughout each workout in order to stay injury free for the two months. I highly suggest at least skimming over this guide.
Piyo 60 day workout calendar
The workout schedule is designed so that you start slow and increase the intensity throughout the two-month program. I highly suggest that you put this calendar somewhere that you will be reminded to not miss a workout. I personally put this right on my kitchen fridge so that it cannot be ignored.
Get lean eating plan
The eating plan is very similar to all the other diet plans provided by at-home workout products. They are all very well designed programs. I like the recipes that are provided and they have some great tips and tricks for shopping as well. Combining PiYo with shakeology nutrition is the best way to see results quickly. Combining both of these is what is called "taking a challenge pack" and is what I recommend. My clients that combine both together see better results than those that don't. If you do not know what it is, check out my review on shakeology here for my article on how it works here.
Does Piyo work? Piyo results!
I always get questions from clients, family and friends "does Piyo work?". Obviously my answer varies depending on what their individual goals are. For most people that are trying to lose weight, this is a great program because it is easy on the joints (with minimal weight resistance). Obviously I think resistance training is essential, but for people with joint problems, elderly people or for people that have absolutely zero experience with exercise, body weight resistance is the way to start out. Piyo also works for a wide variety of people due to the modified exercises. There are other people in the video that show you how to do less intense and more intense versions of the same exercise. So depending on what type of fitness level you are at, you can adjust your workouts accordingly.
What type of Piyo results can you expect? I'm sure that this is the most important question that you have been asking yourself. And again, it all depends on what type of level fitness you are already at. For me, the Piyo results that I experienced were more flexibility, more energy, I lost a few pounds (I am already in pretty good shape), and I had a fun time learning the new exercises that I can incorporate with my personal training clients. The Piyo results that you can expect vary from person to person. You can expect to lose a good amount of body fat, weight, have more toned arms, legs and midsection, and increased confidence.
Piyo Calories burned
You will not be burning as many calories as some of the other program such as P90X or insanity in the PiYo program. I can still predict that you will burn about 10 cal per minute on average. So 450 cal for the 45 min. session. If you are pushing yourself as hard as you can you can definitely burn more calories, but this is just an estimate. More important than the Piyo calories burned is how much of a calorie deficit you are in while doing the Piyo program. The diet guide will teach you exactly how to do that. Diet is 90% of it and the other 10% is hard work and determination. You'll learn all about your basal metabolic rate and how many calories you should be consuming in order to reach your goals. Obviously the workouts help build a strong metabolism so that you can burn body fat throughout the day.
Is Piyo worth it?
I think Piyo is totally worth it if your goal is to lose weight, gain flexibility or learn about pilates or yoga workouts. Piyo is worth it if you have not worked out in a long time. Piyo is worth it if you have joint problems or muscular imbalances. The biggest reason I think Piyo is worth it is because there is absolutely no equipment required and you can do this whole routine in the comfort of your own home. Those two points alone make Piyo worth it to me. If you are more advanced in terms of your fitness level, there are modifiers to make this workout extremely challenging. Don't think it is just for beginners! It is also good because if you are a busy person and can only squeeze in a little bit of time every day, the workouts are relatively short compared to some other at-home workout products. You can fit these in on your lunch break if you wanted to.
Piyo review conclusion, and the Piyo price
I hope you guys enjoyed my PiYo review! Have you guys tried this workout or anything like it? Are you guys a fan of Pilates or yoga or both? If so, this should be appropriate program for you. It is a great cardiovascular and core strengthening program that will make you feel much better. If you think that PiYo is right for you, make sure to sign up with me (Tyler Read) as your coach. My coach ID number is: 1339221. Let's take a look at the insanity asylum price options.
The PiYo base kit costs $59.85 (Check out the current information and price here)
The PiYo deluxe kit costs $119.70 (Check out the current information and price here)
The PiYo challenge package costs $160 (Check out the current information and price here)
Like I tell all of my other clients of personal training, the hardest thing about exercise is is simply getting started! Once you get going it is a lot easier build momentum and reach your goals! Your results will keep you motivated! The worst thing to do is freeze up and not choose a routine. Get Started today so that you can start seeing the results that you desire tomorrow!
The biggest four tips in order to be successful with the PiYo program!
Purchase either program with a challenge pack. The clients of mine that go through either program on shakeology see significantly better results than those who don't.
Get beach body on demand instead of DVD packages. If I had this when I first started using P90x it would've saved me so much money overall over the last 12 years. No more worrying about scratched DVDs or bringing DVDs with you. Also, most people don't know which program to start out with (and frequently choose the wrong one),  You have access to all of them with beachbody on demand! You have to purchase the equipment for the program separately.
If you want to wait before you purchase PiYo, at least sign up for a free team beach body membership so that you can get community support, schedule and a lot your workouts as well as track your progress. You will still get all of the benefits of having your own personal coach for free! Make sure to sign up with me Tyler Read as your coach (and certified personal trainer) otherwise you will get assigned a random coach that is probably not as qualified, and might not even contact you. My coach ID is 1339221. I will help you on your reach your goals and provide great motivation! Here is a link to the free account.
Thanks everyone for stopping by my Piyo review, no get out there and start making the changes that you deserve in your health and fitness!
If you guys liked my PiYo review, I suggest you check out some of my other comparison articles such as: PiYo vs T25, 21 day fix vs PiYo, P90X vs Insanity, P90X vs P90X3 and Cize vs zumba! If this PiYo review was helpful, please share it on social media or comment below 🙂