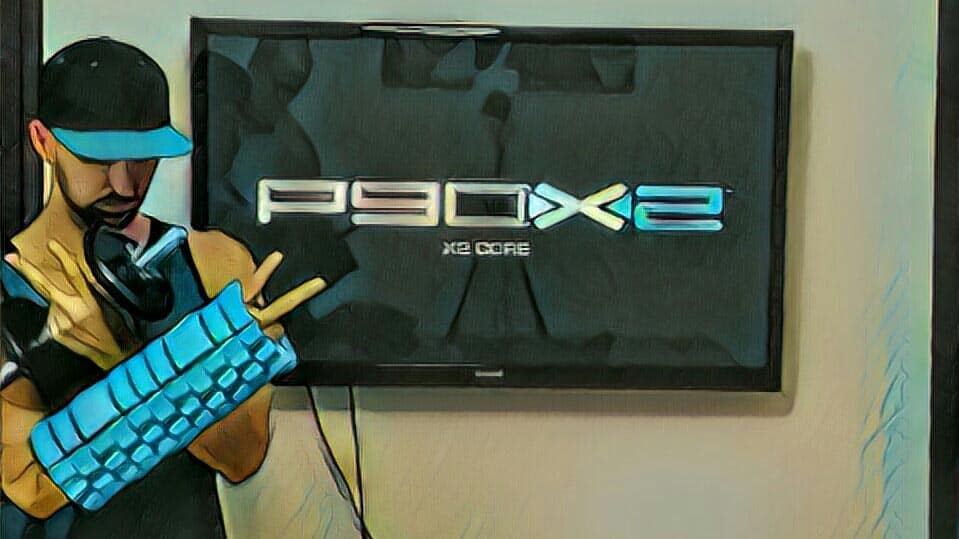 Hey guys and gals and welcome to my P90X2 review! This is the second installment of the P90X series by Tony Horton. I really enjoy how they continued the series because it was so popular ineffective for so many people. The original P90X is sort of set in stone as one of the most popular at-home workout programs of all time, and personally is one of the first ones that I truly get serious about and one that helped me get in shape.
A little bit about myself: I am a certified personal trainer through NASM, hold a bachelors degree in exercise science and am an active beach body coach! My biggest passion is fitness and helping those around me achieve their health and fitness goals as well.
So what is P90x2? Does P90x2 work? Is P90x2 worth it? I will try to answer all of these questions in my P90x2 review. I will go over all of the basic information on the program as well as the P90x2 results that you can expect. I have so much to talk about in this article so was not waste any time and get right into my P90X2 review.
What is P90X2?
If you have read my original article on P90X you should know that it is a high-intensity at-home workout program that uses specific equipment and dynamic exercises to kick your butt and get you in shape. The P90X2 program is no different. This program is extremely difficult so if you're just barely getting into exercise, I suggest you try out something a little less intense (like focus t25, Master and hammer or even p90x3). Out of all of the beach body or at-home workout products in general, the P90X series is definitely one of the hardest. Not quite as hard as the insanity program, but pretty close overall.
Just like the original p90x, this is based around the 90 day routine that is split up into three separate phases. Nothing has changed in terms of the overall philosophy of the program. It is all based around "muscle confusion" and switching things up so your body does not get used to what it is doing, so that it can continue to grow and adapt. What you perceive depends on which package you purchase. You can get a preview of the P90x2 program by checking out the workout calendar here on my site!
Overall there are five separate packages that that are available. Let's go over all of these five. If you decide to go with one of them, make sure to sign up to team beach body with me as your coach so you don't get assigned a random coach. It's my passion to make sure you are successful.
You can get the P90x2 program from Amazon.com, but remember that I will not become your personal coach compared to if you bought it from the beachbody site using my coach ID! Amazon is a great place to read ton of reviews though.

The base kit includes 12 workouts with an additional two bonus workouts. It includes a fitness guide, a nutrition guide a how to bring its video and a 90 day workout calendar. This is basically just the workouts and how to navigate the program. The base kit costs $119.85. You can check out the base kit here.
The deluxe kit includes everything that the base kit did, but with two additional workouts. It also includes a high quality foam roller, a stability ball and two separate 8 pound medicine balls. The deluxe package costs $239.70. Here is a link to the package.
The P90x2 ultimate package includes everything that the deluxe package does but with a higher quality foam roll as well as Tony Horton power stands for push-ups. The ultimate package costs $329.55. You can check out the ultimate package here.
The fourth package is the P90x2 challenge pack. This is basically the basic kit along with a subscription to shakeology. I highly recommend to all of my clients to at least try shakeolgy because all of my clients as well as myself seem much better results while using it. You will need to purchase the physical equipment separately. This option cost $205. You can check it out here.
The fifth and final option (and the one I recommend the most) is the beach body on demand challenge pack.

If I had this when I first started using P90x it would've saved me so much money overall over the last 12 years. No more worrying about scratched DVDs or bringing DVDs with you. Also, most people don't know which program to start out with (and frequently choose the wrong one),  You have access to all of them with beach body on demand. But you will have to purchase all of the essential equipment separately. 
If you decide that P90X3 is right for you, use one of the links above to make me (a personal trainer) your personal beach body coach. Or if you decide to wait until later, you can still make me Tyler Read your coach by using my Coach ID number:1339221 when you sign up for a free account. Otherwise you will be assigned a random coach that is probably less qualified and might not even contact you. I will make sure that you are successful!

When I think of the original P90X, I remember a lot of pull-ups and push-ups and similar movements. These exercises are a lot more dynamic and require a lot more flexibility overall. There are three separate phases for P90x2. Let me talk a little bit more about the three separate phases of P90X2.
1: The foundational phase
Don't let the name fool you, this foundational phase is pretty hard as well. You will try some positions and exercises that seem almost impossible at first until you practice them a few times. My suggestion is to use a lighter weight than you think you can do for these routines. Overall the warm-ups are relatively long and include a lot of stretching as well as foam roll exercises. I think this is the best edition to the P90X series overall. Being a personal trainer, I always have my clients warm-up using a foam roller (see why foam rolling is beneficial).
Whenever I feel a muscular imbalance coming on, or overly tight muscles, I rolled them out on a foam roll and it feels 1 million times better afterwards! Overall there is a lot of balance, agility and stretching that is required of you in the first phase. Some of my favorite exercises from this phase was the P90X2 core workout. The original core workout was my favorite from the original P90X. I like the changes that they made to the second version!  Another good workout was the P90X2 balance and power. There was a lot of plyometrics movements that is combined with using the stability ball. This is extremely fun and a great workout as well.
2: The strength phase
After spending a good amount of time learning the new exercises that involve a lot of balancing, core strength and agility in the first phase, it's time to get back to the basics. The strength phase reminds me a lot of the original P90X system. It brings back a lot of the compound exercises that includes a lot of stability work as well by incorporating the stability ball. Overall expect to have extremely sore arms, chest and shoulders from these workouts. I loved the chest and back combined with balance workouts from this phase. I never knew that adding a little bit of balance would make everything so much more difficult.
3: The performance phase
This phase is based around what P90X2 calls "post-activation potential". There are a lot of athletic movements that you will be performing in this phase. A lot of the things will be focused on speed, power and agility overall. Movements will be done faster and you will notice a change in how explosive you feel. Whether you notice it as you are walking upstairs at your work, or trying one of the earlier exercises. Everything will feel easier and you will feel more coordinated and powerful. Both the upper and lower PAP exercise routines were extremely challenging but fun at the same time. I always love trying something new.
P90X2 fitness guide
Just like all the other P90X series, insanity series as well as pretty much every single beach body product, there is a fitness guide that is included. This will walk you through how to build up your foundation, perform the exercises safely and correctly and teach you the ways and scientific concepts that support the P90X2 routine.
P90X2 nutrition guide
Every at-home workout system needs to have a nutrition guide to accompany it. This nutrition guide seems to be fairly similar to the original one. And to be honest most of the beach body nutrition plans follow the same exact guidelines just with slightly different recipes. They'll put you in a calorie deficit based on calculating your basal metabolic rate. I did enjoy the rest of these little. They were easy to prepare and tasted all right.
Combining P90x2 with shakeology nutrition is the best way to see results quickly. Combining both of these is what is called "taking a challenge pack" and is what I recommend. My clients that combine both together see better results than those that don't. If you do not know what it is, check out my shakeolgy review here or see how it works right here.
P90X2 progress calendar
This is just a motivational calendar to help you stay on track with your workouts as well as with your diet. I suggest hanging it up somewhere that you will see it on a daily basis to remind you what you are supposed to work out that day. This is by far the best way to stay on track!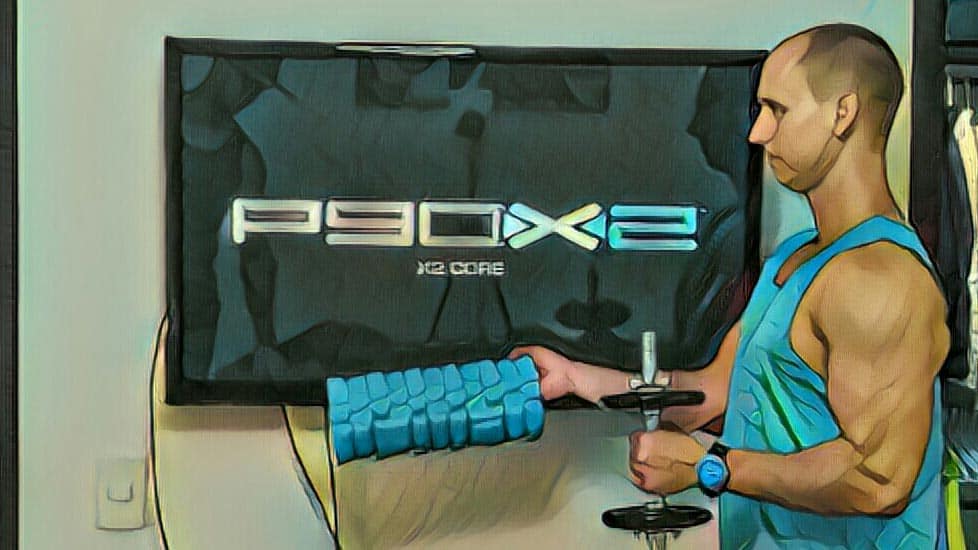 Some equipment you will need to perform P90X2
As I mentioned above in this article, depending on which package you purchase, you will get different equipment. All of the routines can be done with the base package but you will have to make some adjustments to the exercises without the equipment or you will need to buy them separately. Here is the equipment:
Foam roller
Stability ball
Two separate 8 pound medicine balls
Resistance bands or dumbbells (I recommend adjustable dumbbells)
Does P90X2 work? P90X2 results!
When people ask me does P90X2 work? It is hard to give an answer that does not include a long explanation. Yes of course P90X2 works! That is the short answer. The longer answer depends on a lot of different factors including how many calories you burn (which I will discuss more down below) how consistent you are in your with your workouts, how hard you actually push yourself, how clean your diet is overall, and whether or not you use shakeology. The last two being the most important by far. If you can at least be 80% consistent with your diet and workouts, you will be successful and see great P90x2 results!
Some P90X2 results that you can expect are: lower body weight and body fat percentage overall. You will feel lighter and stronger. You will notice that your arms, shoulders and stomach have more definition. You will have higher energy levels because you will be eating a lot cleaner foods. Your motivation and self confidence will be through the roof after 90 days of completing something so challenging. These are only some of the P90X2 results that you can expect but obviously there can be a lot more based on the individual.
P90X2 Calories burned
I get this question a lot and is one of the harder ones answer. I try to have the section and all of my at-home workout product reviews that talk about how many calories are burned. This really depends on multiple factors including your age, sex, how hard you try and most importantly what your diet looks like. Your diet is definitely the most important factor in regards to losing weight. You need to be in a negative caloric state to lose body fat. This includes burning calories from exercise as well as not over consuming calories from the food you eat. Shakeology helps the most for me with food cravings.
You can expect to burn 10-15 calories per minute from the higher intensity workouts in this program. Expect to burn up to 900 cal in an hour and as low as 500 cal. It depends on how hard you are pushing yourself and whether or not you are doing every single repetition and set that Tony Horton does. The most important thing is calculating your metabolic rate, and consuming the appropriate amount of calories every day. On top of that, try to push yourself during the workouts you will see great P90x2 results.
Is P90X2 worth it?
Just like the original P90X series was so popular, I could see how this will continue to trend of being a fantastic workout program. Overall you have a very diverse set of exercises and workout routines that switch it up greatly from the original. I really love how they included foam rolling into a lot of the routines. Really loosens up your muscles and get you prepared for the torture that you are about to endure. I also like how it was only five days a week instead of six days like a lot of other beach body products are. The intensity is increased and you need those extra two days to rest. Trust me you will still see fantastic results from how difficult these workouts are.
The only reason I can see that P90X2 would not be worth it is if you are not in good enough shape to go through the routine. If you are just getting started with exercise I highly suggest trying something a little bit easier on your body and then moving up to the original P90 X which is not quite as intense as the second addition. Other than that, P90X2 is totally worth it!
P90X2 review conclusion, and the P90X2 price
I hope all of you got something valuable out of my P90X2 review! So Does P90x2 work and is P90x2 worth it? This second installment is no letdown from the original and I am glad their continuing to innovate and create new routines based off of the same underlying principles that made the first one so popular. I like Tony Horton as an and structure because he is motivating and keeps me going. That is hard to do for a complete 90 day routine. I liked the exercises overall and have been incorporating some of them with my clients of personal training because they are so effective.
If you think that P90x2 is right for you, make sure to sign up with me (Tyler Read) as your coach. My coach ID number is: 1339221. Let's take a look at the P90x2 price options.
Like I tell all of my other clients of personal training, the hardest thing about exercise is is simply getting started! Once you get going it is a lot easier build momentum and reach your goals! Your results will keep you motivated! The worst thing to do is freeze up and not choose a routine. Get Started today so that you can start seeing the results that you desire tomorrow!
One of the last parts of my P90x2 review is my three tips in order to be successful with P90x2
Purchase either program with a challenge pack. The clients of mine that go through either program on shakeology see significantly better results than those who don't.
Get beach body on demand instead of DVD packages. If I had this when I first started using P90x it would've saved me so much money overall over the last 12 years. No more worrying about scratched DVDs or bringing DVDs with you. Also, most people don't know which program to start out with (and frequently choose the wrong one),  You have access to all of them with beachbody on demand! You have to purchase the equipment for the program separately.
If you want to wait before you purchase P90x2, at least sign up for a free team beach body membership so that you can get community support, schedule and a lot your workouts as well as track your progress. You will still get all of the benefits of having your own personal coach for free! Make sure to sign up with me Tyler Read

as your coach (and certified personal trainer) otherwise you will get assigned a random coach that is probably not as qualified, and might not even contact you. My coach ID is

1339221

. I will help you on your reach your goals and provide great motivation!

Here is a link to the free account.
Well ladies and gentlemen this is almost the end of my P90x2 review. Like I tell all of my other clients of personal training, the hardest thing is to simply get started with exercise. Once you get going it is a lot easier to maintain and reach your goals! Get Started today so that you can start seeing the results that you desire tomorrow! I hope you guys enjoyed my P90X2 review!
You guys might also be interested in some comparison articles related to P90x2. Check this out: P90X vs P90X2 and P90X2 vs P90X3.
Also you might be interested in some of my most popular comparison articles such as P90x vs Insanity or The original P90x vs P90x3.
Tyler Read has a Masters of Science in Kinesiology. Tyler is also a certified personal trainer with NASM, ACE, NSCA and NSCA CSCS. Tyler's main goal is to help people get started in the personal training industry and to become successful personal trainers.