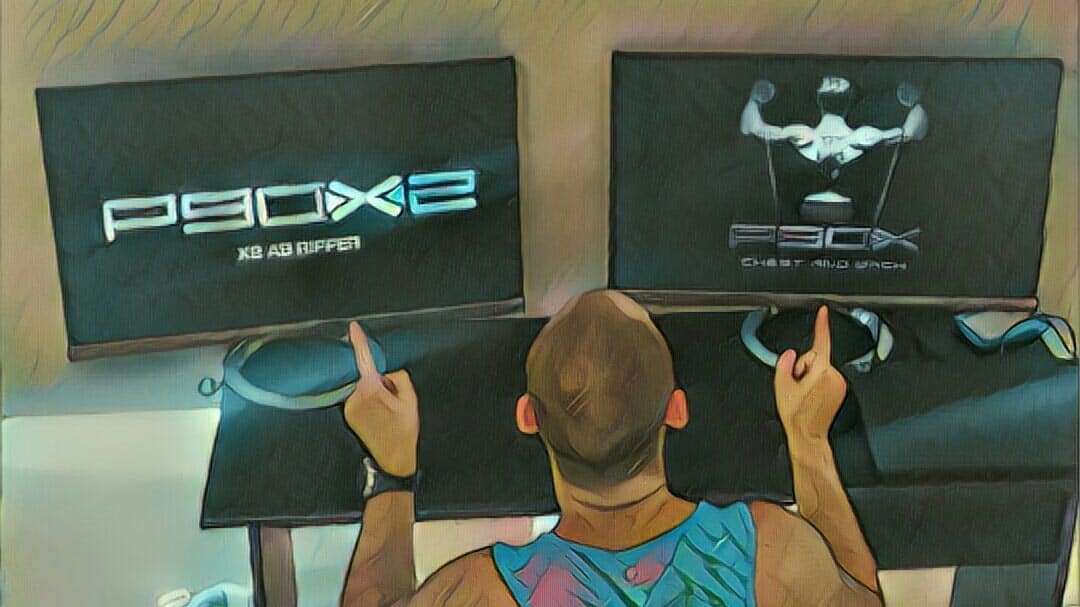 Hey guys and gals and welcome to my comparison article featuring P90x vs P90x2! A little bit about myself: I am a certified personal trainer through NASM, hold a bachelors degree in exercise science and am an active beach body coach! My biggest passion is fitness and helping those around me achieve their health and fitness goals as well.
The P90x series is one of the most popular at-home workout series ever created. The original P90x is what I first started on for my first at-home workout series (well actually it was Tae bo). I saw fantastic results and was instantly hooked! You probably ended up here because your curious which one you should start out with. By the end of this article you will have a good grasp of which one will be better for you based on your goals. Let's jump right into my P90x vs P90x2 article so that you can find out!
If you want to know more about the specifics of each program, such as the individual workouts that each contain, check out my individual review of the original P90x and P90x2 here. You also might be interested in my P90x2 vs P90x3 comparison article or my extremely popular P90x vs Insanity comparison article. Let's begin!
P90x vs P90x2: what are the differences?
P90x is meant to teach functional training with body-weight and resistance training exercises whereas P90x2 adds the element of stabilization to the mix. The differences between both programs depend on your goals. Both of them are great at-home workout products. Either P90x or P90x2 will change your body for the better.
Check out the chart below to check out the major differences between P90x and P90x2:
The biggest three tips in order to be successful with either program.
Purchase either program with a challenge pack. The clients of mine that go through either program on shakeology see significantly better results than those who don't.

Make sure to sign up with me Tyler Read as your coach (and certified personal trainer) otherwise you will get assigned a random coach that is probably not as qualified, and might not even contact you. My coach ID is

1339221. I will help you on your reach your goals and provide great motivation!

Get beach body on demand instead of DVD packages. If I had this when I first started using P90x it would've saved me so much money overall over the last 12 years. No more worrying about scratched DVDs or bringing DVDs with you. Also, most people don't know which program to start out with (and frequently choose the wrong one),  You have access to all of them with beachbody on demand! You have to purchase the equipment for the program separately.
P90x vs P90x2: Overview
The original P90x overview
The main concept behind the original P90x program as well as the power 90 (the original program) is based around muscle confusion. This basically means that you will be switching off between lots of different exercises in order for your body to change. It is basically one giant circuit with tons of different challenging exercises bundled into one program. The types of exercises that you will be doing are extracted from the combination of plyometric training, resistance training, cardiovascular training as well as yoga.
The original P90x was released in 2004 (where has time gone?) But is still one of the most popular workout programs today in 2017. It is a 90 day program (that is what the 90 stands for) consisting of 12 DVDs and 12 workouts total. With this program you will be working out six days a week .The instructor for this workout series is Tony Horton. Overall Tony is one of the best instructors but I have experienced (and I have done dozens of programs). He keeps things fun and entertaining while at the same time motivating you and pushing you past your comfort zone. The X in P90x stands for extreme! This is one hell of the workout program and if you are not used to working out, will probably be too difficult for you to start out with! Easier Programs Are T25 and the 21 day fix. To get a better idea of the P90x program you can check out my P90x calendar here!
There are four different packages that are available for the original P90x. Follow the links to find out a little bit more in information about each package. You can also get the programs on Amazon.com, but remember that I will not become your personal coach compared to if you bought it from the beachbody site using my coach ID! Amazon is a great place to read ton of reviews though.
P90x2 overview
P90x2 uses the same style of training by combining resistance training, cardio training, plyometrics training as well as yoga. But instead of using the technique of muscle confusion, they focus more on what they call "post-activation potentiation". This basically means that it is more for athletic performance and not just sculpting the body (like the original does). This technique will stimulate mobility, power, speed and agility to make you stronger and faster and more capable to perform.
This program is overall more difficult than the original P90x. Because of that you will only be working out five days a week instead of six. Just like the original, P90x2 has 12 separate workouts that you will be shuffling through. It also has an two additional extreme workouts that you can work into your routine. P90x2 contains completely new workout routines with completely new exercises. Everything has an athletic focus behind every move compared to the original P90x.
Let's talk about the four different types of packages that are offered. To learn a little more, the links will take you to the full page.
P90x vs P90x2: who are they meant for?
Both programs are meant for people that have some level of experience with exercise. Both are very challenging workout routines and will test your body. Overall I think that P90x2 was a more challenging program because it incorporates a lot more coordination within the movements. The original P90x had challenging movements but were manageable. P90x2 has similar movements with the addition of stability training which makes everything a lot more difficult. Both programs will have modifiers that you can follow along with to make the exercises either easier or harder depending on your skill level.
If your number one goal is to lose weight and build a better frame, the original P90x is a better choice for you. On the other hand if you already a decent amount of time exercising under your belt and would like to focus on athletic performance, P90x2 would be the better option. If you are playing in an intramural or local team such as softball, basketball, soccer or any other sport, P90x2 would be the most beneficial for you to get better in your desired sport.
P90x vs P90x2: The quality of the workouts and results
Overall the quality of both workouts are top-notch. Tony will push you past your comfort zone and you will definitely see results with both. It all depends on what type of results you want to see. If you are purely focusing on weight loss, either option will do. If you would like to build bigger muscles I would say that the original P90x did a slightly better job with obtaining those results. If you want results out on the field or on the courts where you show off your athletic prowess, P90x2 will get you there.
P90x vs P90x2: Differences in the diet programs
Both P90x and P90x2 provides you with a 90 day nutrition guide to go along with the workouts. Both have fantastic recipes and will instruct you on how many calories you should be consuming every day and how to keep track of it. The biggest difference is that the P90x2 nutrition guide provides you with a vegan as well as grain free options. Also, the P90x2 focuses more on performance-based eating as opposed to just losing weight.
Both programs work extremely well with shakeology. My clients of personal training as well as myself have seen much better results with the convenience and nutrition of shakeology. If you do not know what it is, check out my full review here, or my article on how it works here.
P90x vs P90x2: equipment that is required
Both programs utilize dumbbells/resistance bands, a pull-up bar and push-ups stands. P90x2 on the other hand also includes a stability ball, medicine balls as well as a foam roller. These are essential pieces of equipment for the second P90x series in order to create instability within the movements. This instability is what will help increase your stability and proprioception in order to increase athletic performance. I suggest getting at least two medicine balls for P90x2. The foam roller is very important in order to do myofascial release. The benefits of this are enormous! Since I started doing this, I always roll out my tight muscles whenever I can. It is extremely painful but afterwards I feel so much better!
P90x vs P90x2 conclusion: price and overall value
I hope you all liked my article and have a better understanding of which one is better for you. Whichever you choose, as of 2017, My overall recommendation is to get beachbody on demand challenge pack and get the equipment for the program you would like separately. If you decide to go with either one of these programs use one of the links below to make me (a personal trainer) your personal beach body coach! Or if you decide to wait until later, you can still make me your coach by using my Coach ID number:1339221 when you sign up. Otherwise you will be assigned a random coach. I will make sure that you are successful!
In terms of price, both can be purchased from the beach body website (the cheapest place to buy them) for approximately $120. Check out the links for the most current info and prices.
P90x:
P90X3:
Like I tell all of my other clients of personal training, the hardest thing about exercise is is simply getting started! Once you get going it is a lot easier build momentum and reach your goals! Your results will keep you motivated! The worst thing to do is freeze up and not choose a routine. Get Started today so that you can start seeing the results that you desire tomorrow!
If you want to wait before you purchase any program, you can still sign up for the free beachbody account to get community support, schedule and log your workouts as well as track your progress all for free. And you still get all of the benefits of having your own personal coach! Just make sure to add me (Tyler Read) using my coach ID number 1339221 in the coach referral section. Then we will get started together so you can reach your fitness goals! Here is the link to the free team beachbody account.

Well this is almost the end of my P90x vs P90x2 article everyone. I hope I helped break down the differences between the two enough for you to pick the one that is correct for you. Have you guys tried any of the other at-home workouts such as Insanity Max 30 or the 21 day fix Extreme? Do you think I left anything out of this article that should be in it? If so if me a comment down below. So which one will you choose: P90x or P90x2?
You may also enjoy some of my other comparison articles featuring P90x and P90x2: P90X vs P90X2, Body beast vs p90x and max workouts vs p90x. Enjoy!