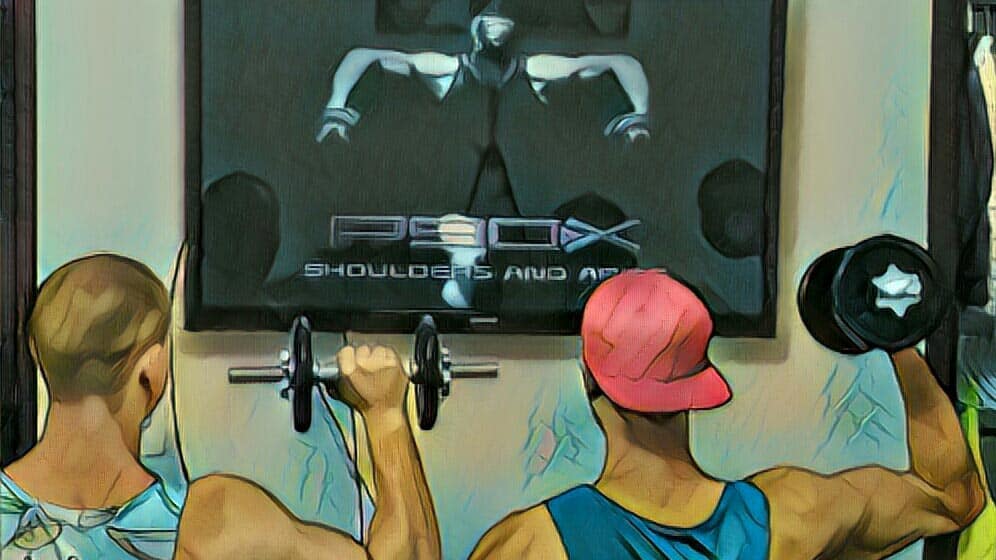 Hey guys and gals and welcome to my original P90x review. This is one of the most important reviews that I will be doing on this website for at-home workout products.  I can't entirely say that this is the workout program that made at-home workout products popular, but it is pretty close. For me that traces all the way back to Tae Bo in the mid-1990s (on VHS). But I can say that the P90X program is not one of the biggest landmarks in the history of at-home exercise programs.
A little bit about myself: I am a certified personal trainer through NASM, hold a bachelors degree in exercise science and am an active beach body coach! My biggest passion is fitness and helping those around me achieve their health and fitness goals as well.
So what is P90x? Does P90x work? Is P90x worth it? I will try to answer all of these questions in my P90x review. I will go over all of the basic information on the program as well as the P90x results that you can expect. I have so much to talk about in this article so was not waste any time and get right into my P90X review!
What is P90x?
P90X is a three-month or 90 day program that primarily focuses on fat loss. It contains multiple different workouts, a 90 day diet plan and equipment to use during the workouts. Although it is advertised to help build muscle, like the majority of other beach body products it has a strong emphasis on fat loss with a reduction of calories. If you want to build muscle the best way is to be in a calorie surplus while lifting heavier weights. If this is your goal I suggest you check out body beast or master and hammer!
The big principle behind P90X is that it uses what they call "muscle confusion" to help you break through plateaus and push your body to the limits. What they mean by this, is switching up the exercises frequently to keep your body "confused". This is a common practice that is performed by almost every workout routine because it is effective. A variety of exercises is also  keeps things fun and entertaining so you don't get bored while working out. And that is the most important factor!
P90X is meant to be done six days per week with a seventh optional day as a stretching day in order loosen up your muscles and get you ready for the next week. I recommend this cool down routine especially with how difficult the workouts are. If you are just getting started with exercise I suggest you try something a little bit easier to ease your way back into exercise and then maybe come back to P90X at a later time. For this I recommend T25 or 21 day fix. It contains a total of 12 different workouts over 12 different DVDs (you actually don't need DVDs if you are a member of beach body on demand). You can get a preview of the 21 day fix program by checking out the workout calendar here on my site!
There are four different packages that are available for the original P90x. Follow the links to find out a little bit more in information about each package.
You can get the P90x program from Amazon.com here, but remember that I will not become your personal coach compared to if you bought it from the beachbody site using my coach ID! Amazon is a great place to read ton of reviews though.
The base kit includes all 12 workouts (with two bonus workouts), a three phase nutrition plan, a fitness guide, how to bring it video, a 90 day calendar, online support as well is a 90 day money back guarantee.
The deluxe package includes everything that the base package did with the addition of a chin up bar, a pro grade jump mat, one month of beach body performance recover (postworkout drink) and three levels of resistance bands.
The ultimate package includes all of that as well as chin-ups Max (resistance bands that help assist pull-ups), Tony Horton's power stands and three additional one-on-one advanced workouts.
The challenge pack option combines shakeology nutrition with the P90x workouts (highly recommended).
As of 2016 my overall recommendation is to get beachbody on demand challenge pack and get the equipment for the program you would like separately. If you decide that P90X is right for you, use one of the links above to make me (a personal trainer) your personal beach body coach. Or if you decide to wait until later, you can still make me Tyler Read your coach by using my Coach ID number:1339221 when you sign up for a free account. Otherwise you will be assigned a random coach that is probably less qualified and might not even contact you. I will make sure that you are successful!

Who is the instructor for P90X?
The instructor for P90X is the popular Tony Horton, the creator of the program. Tony has an absolutely ridiculous body for being 58 years old. He looks like he is in his prime and much better than I do at 31. Where does he get his secret elixir of youth? Maybe it is because it does P90X? If this is the case, it really makes you want to find out! Tony has been a certified personal trainer for years and has worked with a bunch of famous celebrities. He started from the bottom working out of his garage and built himself up to be the famous trainer that he is today. Before becoming famous for P90X, or the power 90 extreme (super old P90X) he was well known in strength training as well as bodybuilding circles for his physique. Overall I really like Tony's approach to working out and his attitude towards fitness overall. He keeps things interesting and motivating at the same time which is extremely important for me in order to continue doing 90 days of any routine.
What does the P90X package consist of?
Let's talk a little bit about the 12 workout DVDs. Down below I will list all 12 of the workouts in and give a quick summary of the overall program.
The chest and back workout
The plyometrics workout
The shoulders and arms workout
The yoga x workout
The legs and back workout
The Kenpo X workout
The X stretch workout
The core synergistic's workout
The chest, shoulders and triceps workout
The back and biceps workout
The cardio X workout
The Ab Ripper X workout
To get straight to the point, the majority of these workouts are extremely difficult, so I suggest you have at least a few months of solid exercise under your belt before starting these. The only workouts that are relatively easy are the yoga and stretching videos. Even these can be difficult and the level of flexibility that are required to perform some the exercises is beyond most people's capabilities. I still think they are fantastic videos because they push yourself past your comfort zone and you will see incredible changes in how flexible your muscles are just by trying some of these poses.
As a guy I really enjoyed the upper body workouts and not so much the lower body workouts. Don't get me wrong, the lower body workouts were intense and my quadriceps, hamstrings and butt were extremely sore the next day. You will be crying every time you sit down to go to the bathroom! I enjoyed the pull-up and push up bar that you use with the program because I think that these are some of the staple exercises for any workout routine. I have the majority of my clients perform these basic movements because they have been so effective time after time. Overall the variety of workouts will work out every single body part. I liked the variety of movements and I learned a good amount of new exercises that I have been using with my clients!
P90X fitness guide
This fitness guide outlines the entire 90 days. It teaches you all about the exercises and how to do them with the best form possible. It also teaches you how to customize your P90X plan based on your current level of fitness and your overall goals that you want to achieve.
How to Bring it DVD
This gives you an overview of the entire 90 day system. It teaches you what you will experience over the 90 days and what type of changes you can expect to see. It is also a great motivational video that gets you pumped before you start. In addition it talks about nutrition, supplementation, vitamins and how to stay safe during the routine.
Let's talk about the P90X nutrition plan!
The nutrition plan for P90X begins by calculating your resting metabolic rate. Based on that number, It will suggest how many calories you should be each day. This is by far the best way to figure out how many calories you should be consuming every day. No matter what type of workout program, this is the most accurate way to assess calorie requirements. That is one thing that I really like about the majority of beach body products is that they all start the nutrition program by calculating your BMR.
Unlike some nutrition plans that I have seen in other workout programs, P90X provides a ton of information on what types of foods you should be consuming as well as a big recipe book to help you on your way. One of the hardest things is to do is to create delicious food from bland and boring ingredients. This is why a lot of people quit their diets. It's because it gets so boring and tasteless that they can't stand it anymore. I found all the recipes to be easy to prepare as well as interesting enough to keep me coming back for more for the entire 90 day period. This was very important to me!
The diet is broken down into three separate phases. The first phase is a fat burning phase where you consume a lot of protein to maintain as much muscle mass while reducing body fat. The second phase is the energy booster phase. It mixes a blend of protein and carbohydrates with low-fat to improve your performance. The third phase is called the endurance maximizer. This diet is for athletes with a lot of complex carbohydrates, healthy protein sources and again low-fat. I don't agree with the low-fat portion throughout the entire diet, but it does keep you in a strong calorie deficit and that is the most important thing for losing weight.
The P90x program is designed perfectly to work with shakeology. My clients  that combined the two together see amazing weight loss results compared to those that just do the workout program. Combining these two together is what is called "taking a challenge pack". This is what I recommend to my clients that want to see the quickest results as possible. If you do not know what shakeology is, check out my review here or my article on how it works right here.
Some additional things you will need for the P90X program!
If you're just buying the basic program, you will need to purchase some additional equipment as well. You can buy these separately from beach body. You will need to buy a pull-up/push-up bar that you fit in one of your door jams at home. This is important because three of the 12 workouts overall have you perform a variation of pull-ups or chin-ups. You also need adjustable dumbbells or resistance bands if you prefer. I personally like free weights because they give much better results. You can find some awesome adjustable dumbbells on Amazon.
Does P90x work? P90x results!
P90X absolutely works as long as you follow the guidelines as close as possible. I would say that in order to have success you need to be at least 80% strict with yourself in terms of always getting your workouts done and in sticking to your diet. You can have one slouch day a week where you cheat on your diet a little bit, but the other days should be go go go. Whether or not P90X works for you also depends on your goals. The majority of people have a goal of losing weight, and for that, this is a fantastic program. If you are looking to build muscle, you will need to be in a calorie surplus and I recommend a different program such as Body beast.
What type of P90X results can you expect from a 90 day program assuming that you stay as close to the schedule, and maintain a decent diet. You can expect to see a good amount of weight loss especially if you are overweight or obese. This is because you will be burning even more calories than people at a lighter weight. You will definitely see muscle definition after the first month in your arms and shoulders. That is where most people notice it first. After the whole routine you will have a flatter stomach and more defined legs as well. Cardiovascular exercise will feel much easier because your cardiovascular system will be well adapted. You'll have more confidence because you have lost weight and look healthier. You will stand taller because your posture will have improved. These are just some of the P90X results that you can expect after three months, but there are many more of course.
P90x Calories burned
Determining how many P90X calories burned is a difficult thing to do because it depends on a lot of different factors. The first factor is how much you weigh at the beginning of the program. Some other factors include how hard you actually try during the workouts, your sex, your age and many more. To give you a rough estimate I would say you could burn 10 cal per minute and even up to 15 cal per minute if you are really pushing yourself.
More importantly than how many calories burned during P90X is how strict your diet is. This is a more important factor when it comes to losing body fat than the actual workout is. You need to put yourself in a calorie deficit. The matter how hard you work in the gym or during these workout routines, it won't really matter if you are consuming an excess amount of calories. Overall during one hour of exercise you can expect to burn between 500 to 1000 cal. It all depends on the factors above and how hard you push yourself. The best way to make sure you are on top of your nutrition is to use shakeology.
Is P90x worth it?
Overall I think that P90X program is extremely worth it. It comes with some of the best workout routines with a variety of cool new exercises that I had never seen. He keeps me entertained for the full 90 days and that is the most important thing for me. Having a workout routine get dull and boring is one of the biggest things that causes people to quit. The instructor Tony does a great job of keeping you motivated and on your toes the whole time. A workout program does not get this popular without it being effective and fun at the same time. So when people ask me: is P90X worth it, I always reply: it depends on how much you put into it, but definitely yes!
P90x review conclusion, and the P90x price
I hope you guys enjoyed my P90X review. This exercise routine has been a classic for over a decade and continues to get results for thousands of people around the world. It is a great program to start on because it has proven to be so effective. If you think that P90X is right for you, make sure to sign up with me (Tyler Read) as your coach. My coach ID number is: 1339221. Let's take a look at the insanity asylum price options.
The biggest obstacle for most of my clients towards reaching their goals is the simple act of starting a routine. Whether it be getting their shoes on and forcing themselves into their car to go to the gym and meet me, or simply putting the DVD in the DVD player. These simple steps will guarantee that you start the routine. Once you start the routine it is hard to stop because you will find out is not that hard and it is actually kind of fun. So don't hesitate to get on the fitness wagon. Get your copy of this world-renowned at-home workout routine today. Remember the hardest things starting! So if you start today that will be the most difficult part!
The biggest four tips in order to be successful with P90X program!
Purchase either program with a challenge pack. The clients of mine that go through either program on shakeology see significantly better results than those who don't.
Get beach body on demand instead of DVD packages. If I had this when I first started using P90x it would've saved me so much money overall over the last 12 years. No more worrying about scratched DVDs or bringing DVDs with you. Also, most people don't know which program to start out with (and frequently choose the wrong one),  You have access to all of them with beachbody on demand! You have to purchase the equipment for the program separately.
If you want to wait before you purchase P90X, at least sign up for a free team beach body membership so that you can get community support, schedule and a lot your workouts as well as track your progress. You will still get all of the benefits of having your own personal coach for free! Make sure to sign up with me Tyler Read as your coach (and certified personal trainer) otherwise you will get assigned a random coach that is probably not as qualified, and might not even contact you. My coach ID is 1339221. I will help you on your reach your goals and provide great motivation! Here is a link to the free account.
What did you guys think of my P90X review? Did you guys like it? Have you have tried the program, please let me know what you thought and leave a comment down below so we can have an interesting conversation!
If you liked my P90x review, you may also like some of my comparison articles related to the P90x series: P90X vs Insanity, P90X vs P90X3, Body beast vs P90x, P90X vs P90X2 or P90X3 vs INSANITY! Enjoy 🙂
Tyler Read has a Masters of Science in Kinesiology. Tyler is also a certified personal trainer with NASM, ACE, NSCA and NSCA CSCS. Tyler's main goal is to help people get started in the personal training industry and to become successful personal trainers.