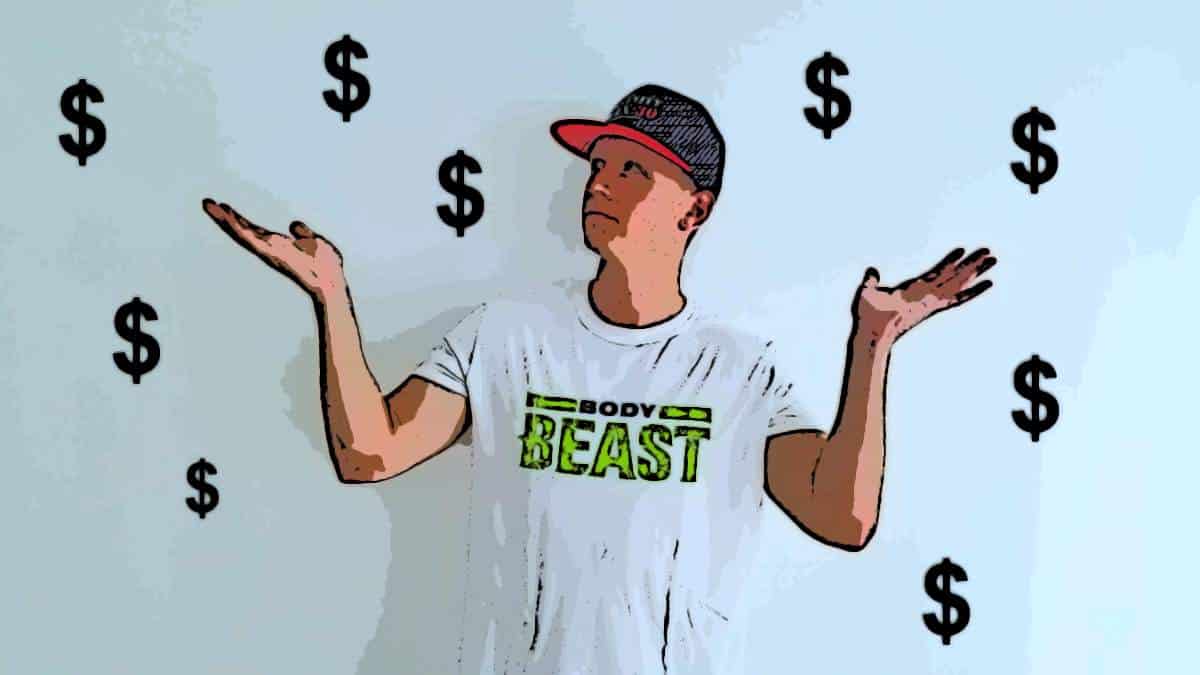 So you think that being a Beachbody coach is for you? Or maybe you're just a Shakeology fanatic and want access to that killer 25% store discount?
Whatever your situation, one of the first and most commonly asked questions about the Beachbody coaching program is "how much does it cost to be a Beachbody coach?". It's a good question, I remember it was one of my first questions when I was starting out as well. So often you hear people spruiking some program that supposedly has incredibly low entry fees and a huge upside, only to discover that there are lots of little hidden fees and ugly conditions sprinkled throughout the program. You don't even know how many times I've been asked whether or not beachbody is a pyramid scheme. It's funny to even think about that after how far I have come.
After reading this article if becoming a coach sounds interesting to you can sign up for your account here. This will make me your personal coach and I will give you all of my strategies in order to be successful including how to build a site like this. If you are currently taking a program and are unsatisfied with your current coach you can learn how to switch coaches here.
This article will comprehensively break down all of the costs and benefits of being a Beachbody coach and will discuss the hidden benefits and costs of membership as well. Enjoy!
How Much Does it Cost to be a Beachbody Coach? — Up-front and Ongoing Costs
The Initial Sign-Up Cost
Becoming a Beachbody coach means that you are essentially starting your own business, so it's a good idea to approach the question of costs with this in mind. There are two initial payment options when you sign up as a Beachbody coach:
You can enroll for the normal coaching program which has a flat once-off fee of $39.95 for the business starter kit.
You can sign up as a coach and then purchase a challenge pack which includes a fitness program of your choice, a 30-day supply of Shakeology shakes, a portion control container set and a free 30-day membership to Beachbody On Demand. Depending on the workout and challenge package you select, total prices will range from between $140 to $305. As a newly enrolled coach, you are also eligible to have the initial $39.95 business starter kit fee waived. You can check out all of the challenge packs here.
Ongoing costs
Once you sign up, you'll receive a business starter kit with all of the information and resources you need to succeed as a coach. The package includes the Beachbody Coach Welcome Book which explains everything you need to know about being a Beachbody coach, a personalized coach's website and access to the online coach's office from where you will manage your Beachbody business.
The Beachbody coaching program has a recurring monthly business service fee of $15.95 which will be charged every 30 days from your joining date. There is a special offer for active military members and veterans to become a coach completely for free. Check out my article here to learn more about it.
There is also the option to become a club member which costs $2.99 a week and is billed quarterly. This is a completely optional add-on and allows you to qualify for the customer lead program which gives you access to additional potential customers.
I would note that these prices apply to US-based coaches and that if your business is in Canada the fees will be slightly higher, with the sign-up fee being $49.95 and the monthly coach account maintenance fee being $17.95. If you want to join with a challenge pack in Canada, please check your local prices as challenge pack fees vary (although you will still be eligible for the start-up coaching fee waiver).
How Much Does it Cost to be a Beachbody Coach? — Benefits
While the $15.95 monthly service fee is low in and of itself for a program with such huge earning potential, there are TONS of hidden benefits and savings built into this price as well. The amount of money you can earn all depends on what beach body coach level you are.
Firstly, as a Beachbody coach you are essentially creating your own "micro-franchise" and are leveraging the marketing clout and existing infrastructure of the Beachbody brand to benefit your own business minus the expensive franchise setup costs. You also get access to a huge existing network of successful coaches who you can use to learn vicariously from, lean on for inspiration or reach out to for advice.
The monthly membership fee also gives you access to an online office and personal sales website that helps you organize and market your business in a simple and efficient way. By paying the monthly fee and using Beachbody's existing online infrastructure you are saving on domain name registration costs, server hosting fees (which can easily cost hundreds per year), as well as not having to worry about technical things like managing servers and being responsible for online payment systems.
Another "hidden benefit" is the fact that the whole supply chain side of your business is handled by Beachbody and they are responsible for the costs of warehousing, coordinating and posting any physical products to your customers (a huge expense and drain on time for any business).
One obvious benefit of being a coach is that coaches get a 25% discount on all Beachbody products available in the Team Beachbody store. This discount is so valuable that many "regular" Beachbody customers who use Shakeology products sign up as coaches just for the 25% discount because the $15.95 monthly fee is still less than the monthly savings – us "real coaches" jokingly refer to these people as "discount coaches".
How Much Does it Cost to be a Beachbody Coach? — Hidden Costs
While I think the low startup cost and ongoing $15.95 monthly fee provide outstanding value for money, there are a few hidden costs that you should be aware of when becoming a Beachbody coach.
While coaches do not HAVE to sell products, if you've become a coach to actually earn commissions and bonuses, then there are requirements to generate a minimum level of personal volume (PV) (you can read more about coach levels and product volume requirements in this article). Personal volume is defined as products or services that a coach personally purchases OR that they sell to their retail customers. As of the time of writing, PV for coaches ranged from 50 PV ($55) for emerald coaches to 200 PV ($220) for star-diamond level coaches.
If you are personally using Shakeology, then hitting your PV requirement will not be an issue as an emerald or ruby coach. If you don't use Shakeology, then your personal volume will have to come from personal sales to your retail customers. If you are concerned about this don't worry, hitting your PV requirements as you become a higher ranked coach should be no problem, because as your business grows so will your personal network of customers.
How Much Does it Cost to be a Beachbody Coach? — Wrapping Up
So how much does it cost to be a Beachbody coach? Not much! Hopefully this article has given you a better understanding of the costs, benefits and hidden costs of membership to the Beachbody coaching program. In my opinion, as far as business opportunities go, the startup fee and ongoing monthly fee provide coaches with outstanding value for money whichever way you look at it.
Whether you are signing up just to be a discount coach or if you want to fully pursue it as a business, both are clearly worth the effort. You can sign up right here which will make me your personal coach. I not only help people with their diet and exercise but also on how to be a super successful coach as well. If you would like to learn easy step-by-step instructions on how to be creative a coach say like this in be successful, I am your man 🙂
If you already have a coach and are currently unsatisfied with them, you can learn how to change coaches here. If you'd like to work together and leverage my knowledge and experience to help you grow your own coaching business
If the Beachbody coaching program sounds like something you might be interested in, please feel free to reach out and get in touch with me here, I'm very happy to answer any questions or queries you have about the program.
Tyler Read has a Masters of Science in Kinesiology. Tyler is also a certified personal trainer with NASM, ACE, NSCA and NSCA CSCS. Tyler's main goal is to help people get started in the personal training industry and to become successful personal trainers.