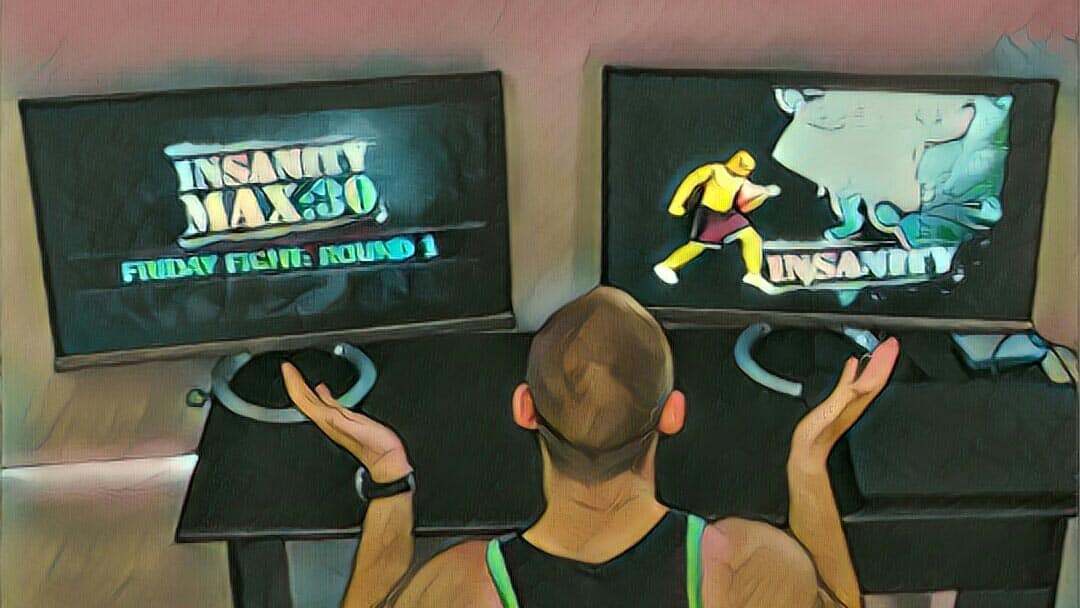 Hey guys and welcome to my Insanity vs Max 30 comparison article. A little bit about myself: I am a certified personal trainer through NASM, hold a bachelors degree in exercise science and am an active beach body coach! My biggest passion is fitness and helping those around me achieve their health and fitness goals as well.
This is a common question due to the fact that both of these are insanity products, but are also pretty different from one another. The original insanity workouts were close to one hour long, whereas the new insanity Max 30 workouts are 30 min. Can you get the same results in about half the time? This article I will be breaking it down for you guys. Let's dive right into my insanity vs Max 30 article!
Also if you liked this comparison article I also suggest you check out my P90x vs Insanity article as well. If you want a more detailed review of each of these programs check out the individual insanity review and the individual insanity Max 30 review. Let's jump right into it!
Insanity vs Max 30: what are the differences?
Insanity is meant to torch as much fat as possible without using equipment whereas Max 30 ups the intensity but only lasts thirty minutes long. The differences between both programs depend on your goals. Both of them are great at-home workout products and will burn body fat. Either Insanity or Max 30 will change your body for the better.
Check out the chart below to check out the major differences between Insanity and Max 30:
The biggest three tips in order to be successful with either program.
Purchase either program with a challenge pack. The clients of mine that go through either program on shakeology see significantly better results than those who don't.
Make sure to sign up with me Tyler Read as your coach (and certified personal trainer) otherwise you will get assigned a random coach that is probably not as qualified, and might not even contact you. My coach ID is 1339221. I will help you on your reach your goals and provide great motivation!
Get beach body on demand instead of DVD packages. If I had this when I first started using P90x it would've saved me so much money overall over the last 12 years. No more worrying about scratched DVDs or bringing DVDs with you. Also, most people don't know which program to start out with (and frequently choose the wrong one),  You have access to all of them with beachbody on demand! You have to purchase the equipment for the program separately.
Insanity vs Max 30: Overview
The original Insanity overview
The original insanity program came out in 2006. That was 10 years ago! And still to this very day it is one of the hardest workout programs that I have ever done. This is a eight-week program that consists of 10 DVDs is as well is 10 workouts total. The main training principle is based off of high-intensity interval training otherwise known as HIIT. This type of training I use with all of my clients of personal training whenever they really need an extra push to lose body fat.
The trainer for both the original insanity as well as insanity Max 30 is Shaun T. Hands-down, Shaun is my favorite instructor for any at-home workout product that I have ever tried. He pushes me to my limits and makes me reach deep down into my willpower. He is fun and entertaining and keeps me going day in and day out for the entire two-month program. You will be working out approximately 5 to 6 days a week with insanity. It also includes a 60 day workout calendar, a quick start guide and a 60 day nutrition plan that YOU must follow! You can check out the entire workout by looking at my insanity calendar here.
There are three general options for the Insanity program as well. Let's talk about them. You can also get the programs on Amazon.com, but remember that I will not become your personal coach compared to if you bought it from the beachbody site using my coach ID! Amazon is a great place to read ton of reviews though.
The base package includes all 10 workouts  (and one bonus workout), the elites nutrition plan, a fitness guide, the insanity calendar, free online support tools as well as insane results or your money back.
The deluxe package includes everything that the base package did with the addition of an upper body weight did workout, Max interval sports training workout and insane abs workout.
The Insanity challenge pack combines shakeology nutrition with the workouts of insanity. This is the best way to get results from my experience.
Insanity Max 30 overview
The insanity Max 30 is much newer. Most people think that because it is newer it has to be even harder than the previous workout, right? This is not necessarily the case and because it is only 30 min. long, it's almost impossible to be as tough as the hour-long workouts from the original insanity. Insanity Max 30 includes 15 total workouts over 12 DVDs. Just like the original insanity, this is a two-month program as well. You will also be working out approximately 5 to 6 days a week with insanity Max 30.
Included in the deluxe kit is a workout calendar, a AB maximizer calendar, no time to cook guide as well as a workout mat and portion control containers. I will talk about these containers more in the diet section as these are very important to the overall success you will have. You can check out the entire workout by looking at my Insanity Max 30 calendar here.
Just like the original Insanity, Insanity Max 30 also has three options to choose from. Let's go over them quickly:
The base package for insanity Max 30 includes all 12 workouts (+2 bonus workouts), tthe nutrition to the Max guide, maxed out guide, no time to cook cookbook, Max out wall calendar,  24 hour online support and a 60 day moneyback guarantee if you don't see the results that you want.
The deluxe package includes everything that the base package did, with the addition of three new insane workouts ( Max out 15, Max out abs and 360 abs),an ab maximizer workout calendar, seven-day abs maximizer, a core comfort mat, seven portion control containers, a shakeology And body fat calipers.
The insanity Max 30 challenge pack combines shakeology nutrition with the workout plan (I recommend this for best results).
Insanity vs Max 30: who are they meant for?
Who is insanity meant for?
The original insanity program is meant for people that are trying to break through some sort of fitness plateau. The majority of people that do insanity would like to lose those extra pounds that have been stubborn to come off. The programs are close to an hour long and are extremely exhausting. The program itself Burns a ton of calories overall! You will definitely see weight loss results using the original insanity.
That being said, if you are just getting started off with exercise, I don't recommend starting with insanity. It will be discouraging because of how difficult it is in the chances are you might just give up way too soon before you see results. Another reason it is not for beginners is because there are no modifiers for any of the exercises. This means that if you can't follow what Shaun T is doing, there is no easier way to complete the routines. (some easier routines are focus T25 or p90x3)
Who is insanity Max 30 meant for?
Insanity Max 30 is definitely easier than the original insanity for a couple of reasons. The first reason is because the workouts are simply shorter. Approximately half as long as the original insanity workout routines. The second reason is that there are modifiers to make all of the exercises easier. For this reason you can move to an easier modifier exercise once you feel like you are about to die. Don't get me wrong, it is still part of the insanity series. This means that it is still insane! It is just slightly less insane than the original.
This workout is definitely better for people who are just starting out with exercise compared to the original insanity. The main reason is because there are modifiers that you can follow along with. The addition of modifiers increases the flexibility of how many times you can do a program. If the first time you could only complete the routines by following the easy modifiers, the next time you do the program, you can try to follow one of the more difficult modifiers. To me, this adds a ton of value to any exercise routine!
Insanity vs Max 30: The quality of the workouts and results
Overall the quality of both the original insanity and insanity Max 30 are great. As long as you finish the programs and follow the diet plans closely as possible, you will see results! The workouts themselves are fairly different in terms of the moves that they consists of. But the overall theory of circuit training as well as high-intensity interval training is there in both of them.
Overall the insanity Max 30 program utilizes a lot more strength centered movements and I feel like the movements are more difficult overall. You will receive a better muscular pump due to the strength training exercises. In both routines, Shaun is a fantastic instructor and will push you in motivate you until you are physically and mentally exhausted. You will leave both of these routines feeling excellent and looking better!
Insanity vs Max 30: Differences in the diet programs
The differences in the diet plans between insanity and max 30 are fairly drastic in my opinion. Both of them are good programs and will help you calculate how many calories you should be consuming every day. Also they both will break down how many carbohydrates, proteins and fats you should also be consuming in order to have the best results. The biggest difference between the two is how the insanity Max 30 program uses Tupperware containers to help you with portion control as well as calorie counting. This is one of the most helpful things for people to stay on top of the diet. It is very similar to the same Tupperware design used in Cize and 21 day fix and extreme workout programs as well. It is becoming popular because it simply works!
Both of these programs work amazingly with shakeology. All of my clients as well as myself have seen much better results while using these programs and combined with a challenge pack. You can learn more by reading my review on shakeology for you could check out how it works here.
Insanity vs Max 30: equipment that is required
The great thing about the original insanity as well as the insanity Max 30 programs is that you don't need any equipment to get started. This means that you could do the workouts practically anywhere (especially if you have on demand). You can take the programs to your friends house and work out as long as there is ample space. The things I do recommend are a mat for the floor exercises as well as comfortable shoes. That's it!
Insanity vs Max 30 conclusion: price and overall value
Both the insanity and insanity Max 30 are worth the price for the results that you will see. As I mentioned before, the original insanity is much more difficult than the Max 30. Most people that begin insanity end up giving up because they did not expected to be that difficult. I will say that you will probably see better weight loss results with insanity IF (this is important) you complete all of the routines, follow the diet plan very closely and use shakeology. This program is for people that are already in shape and would like to break through plateau. The insanity Max 30 program is better for beginners because it is slightly easier and also has modifiers.
If you decide to go with either one of these programs use one of the links below to make me (a personal trainer) your personal beach body coach! Or if you decide to wait until later, you can still make me your coach by using my Coach ID number:1339221 when you sign up. Otherwise you will be assigned a random coach. I will make sure that you are successful! Let's go over the different packages and prices once again.
There are also three different options for insanity Max 30. Check out the links for current price and more information.
$79.90 for the max 30 base Kit
Check out the max 30 base kit here
$159.90 for the max 30 Deluxe kit
Check out the max 30 deluxe kit here
$180 for the Max 30 challenge pack
Check out the Max 30 challenge pack here
Here are the packages for the original Insanity program: Check out the links for current price and more information.
$119.85 for the Insanity base Kit
Check out the Insanity base kit here
$164.70 for the Insanity Deluxe kit
Check out the Insanity Deluxe kit here
$205 for the Insanity challenge pack
Check out the Insanity challenge pack here
Like I tell all of my other clients of personal training, the hardest thing about exercise is is simply getting started! Once you get going it is a lot easier build momentum and reach your goals! Your results will keep you motivated! The worst thing to do is freeze up and not choose a routine. Get Started today so that you can start seeing the results that you desire tomorrow!
If you want to wait before you purchase any program, you can still sign up for the free beachbody account to get community support, schedule and log your workouts as well as track your progress all for free. And you still get all of the benefits of having your own personal coach! Just make sure to add me (Tyler Read) using my coach ID number 1339221 in the coach referral section. Then we will get started together so you can reach your fitness goals! Here is the link to the free team beachbody account.

So which one will it be ladies and gentlemen? Insanity or Max 30? Whichever one you choose, Shaun will motivate you tell the end. The most important part is just getting started! You deserve the body of your dreams, so what you waiting for?
If you enjoyed this comparison article you might also like some other insanity comparisons such as: P90X3 vs INSANITY, FOCUS T25 vs INSANITY, TurboFire vs INSANITY or body beast vs insanity!
Also have some other comparison articles featuring insanity Max 30: T25 vs insanity max 30 and Insanity max 30 vs p90x3. Enjoy!