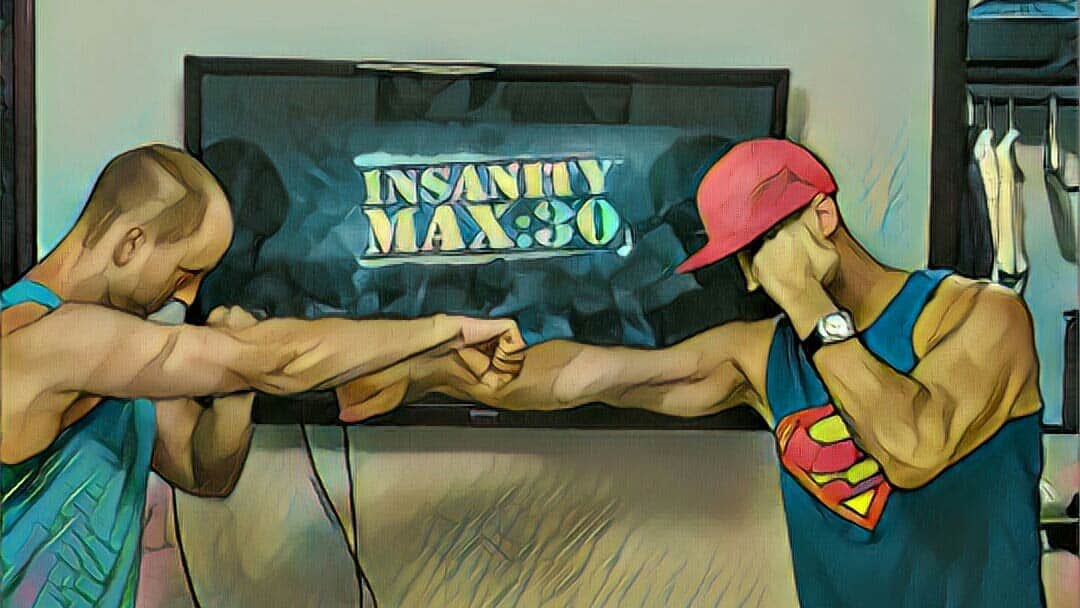 Hello everyone and welcome to my Insanity Max 30 review. I have reviewed dozens of at-home workouts on my website and this is one of the most highly requested reviews of them all. The original insanity was one of the most popular at home workout products up there with the P90x series. I saw amazing results from the first time that I did the original insanity.
The biggest problem with it was that it was too long and too difficult for most people to attempt. Lots of people that ended up purchasing insanity would give up after a few tries because it was simply too difficult and there were no modifiers to follow along with to make it easier.
A little bit about myself: I am a certified personal trainer through NASM, hold a bachelors degree in exercise science and am an active beach body coach! My biggest passion is fitness and helping those around me achieve their health and fitness goals as well.
So what is Insanity Max 30? Does Insanity Max 30 work? Is Insanity Max 30 worth it? I will try to answer all of these questions in my Insanity Max 30 review. I will go over all of the basic information on the program as well as the Insanity Max 30 results that you can expect. I have so much to talk about in this article so was not waste any time and get right into my Insanity Max 30 review!
What is Insanity Max 30?
Just like the original insanity, the insanity Max 30 program is meant for people to push their body to the limits and break through plateaus that they might be stuck at. This program is definitely not for beginners! The slogan is "the hardest 30 min. of your day, for the best results in your life". I don't know about you, but this got me intrigued from the very beginning.
Just like the original, the program last two months long. It is called insanity Max 30 due to the fact that every workout is 30 min. long instead of the typical hour-long workouts like the original insanity or P90x. This appeals to a lot of people not only because it only requires 30 min. a day, but because it boasts the same results with less time.
Like the original insanity, the insanity Max 30 was created and is instructed by the same instructor, Shaun T. Overall he is my favorite fitness instructors of all of the ones that I have worked out with. He will push you to your limits and make sure that you don't give up. He is also fun and motivating so the workout doesn't seem so exhaustingly long. You can check out the entire workout by looking at my Insanity Max 30 calendar here.
Insanity Max 30 also has three options to choose from. Let's go over them quickly:
You can get the Insanity Max 30 program from Amazon.com, but remember that I will not become your personal coach compared to if you bought it from the beachbody site using my coach ID! Amazon is a great place to read ton of reviews though.

The base package for insanity Max 30 includes all 12 workouts (+2 bonus workouts), tthe nutrition to the Max guide, maxed out guide, no time to cook cookbook, Max out wall calendar,  24 hour online support and a 60 day moneyback guarantee if you don't see the results that you want.
The deluxe package includes everything that the base package did, with the addition of three new insane workouts ( Max out 15, Max out abs and 360 abs),an ab maximizer workout calendar, seven-day abs maximizer, a core comfort mat, seven portion control containers, a shakeology And body fat calipers.
The insanity Max 30 challenge pack combines shakeology nutrition with the workout plan (I recommend this for best results).
As of 2016 my overall recommendation is to get beachbody on demand challenge pack and get the equipment for the program you would like separately. If you decide that Insanity Max 30 is right for you, use one of the links above to make me (a personal trainer) your personal beach body coach. Or if you decide to wait until later, you can still make me Tyler Read your coach by using my Coach ID number:1339221 when you sign up for a free account. Otherwise you will be assigned a random coach that is probably less qualified and might not even contact you. I will make sure that you are successful!

The workouts are broken down into two phases. The first phase is for the first month and the second phases for the second month. Let's talk about this in a little more detail shall we.
The insanity Max 30 workouts for month one
Cardio challenge: This workout focuses strongly on cardio endurance and will make you feel out of breath within the first few minutes. This is the introduction to insanity Max 30. When you reach the point where you can't do anymore (and you will reach it), jot down the time. This will be your "Max out time". The next time that you do the workout, your goal is to beat your max out time.
Sweat intervals: The sweat intervals workout reminded me of the original insanity. It is all about high-intensity interval training during this workout. Overall it is an entire body workout that mixes in some core exercises.
Tabata Power: This workout focuses on resistance training exercises that are surprisingly difficult. Although you are only using your body weight, the positions make moving your own weight extremely challenging. This follows a HIIT program as well with 20 seconds at 100% intensity and 10 seconds of cooling down.
Tabata strength: This was one of the most tiring workouts overall. They consists of a lot of resistance body weight training movements but with much less rest time compared to the others.
Friday fight: round one: Every week of insanity Max 30, you finish off with the toughest exercise routine of all. The first time I tried the Friday fight workout I felt like I was going to throw up. I will leave this is as a surprise for you to find out yourselves.
The insanity Max 30 workouts for month two
Max out cardio: Not too many resistance movements in this one. But overall it is nonstop, and you will be drenched in sweat by the end of this cardio workout.
Max out sweat: If you thought you sweat a lot during the maxed out cardio workouts, you better get your mop ready for this one. And make sure you have at least two or three bottles of water prepared for you at your side.
Max out power: Just like the original Tabata power workout from the first month, this takes high-intensity interval training to the Max. Instead of 20 seconds on and 10 seconds off, you will be doing 45 seconds on and 15 seconds off. This is 1000 times more difficult. It focuses strongly on plyometrics.
Max out strength: The max out strength workout also focuses on 45 seconds of high-intensity with 15 seconds of rest. The biggest difference is that there is a lot more resistance training involved for your arms, shoulders and chest.
Friday fight: round two: This workout is officially the hardest 30 min. workout I have ever done in my life. Get ready for no breaks. You will be shaking afterwards if you end up finishing.
The two additional workouts that come with insanity Max 30 are the pulse workout and the Attack 10. Pulse is more of a stretching workout to cool you down from the challenging week. The second is the classic all abs workout that will murder your midsection.
The nutrition to the Max guide
I'm not going to go into the nutrition for insanity Max 30 in depth. Overall the nutrition guide is very similar to a lot of the other at-home workout products. It will go over the best types of foods to consume and what to avoid. I like that it comes with Tupperware containers to help you keep track of portion control and calorie counting similar to the 21 day fix, 21 day fix extreme, Cize and master and hammer.
It also comes with a shakeology shaker cup. This program was meant to function very well with shakeology and for a good reason. Combining Max 30 with shakeology nutrition is the best way to see results quickly. Combining both of these is what is called "taking a challenge pack" and is what I recommend. My clients that combine both together see better results than those that don't. If you are not sure what it is, check out my full review on shakeology here or my article on how it works here.
The maxed out calendar
The maxed out calendar will help you keep on track with your workouts. They will tell you which workouts to do on which days of the week. I suggest that you hang it up somewhere that is visible every day to help remind you and to keep you motivated.
The maxed out guide
This talks about the program overall and how to get the most out of the insanity Max 30. A lot of this guide is common sense but is still very essential overall. They talk about some of the training methods, how to avoid injury and use proper form with the exercises.
The no time to cook guide
The no time to cook guide is very helpful for people to stay on track with their diets. This should only be used in crunch times where you have no time to cook a proper meal.
Does Insanity Max 30 work? Insanity Max 30 results!
The biggest questions I get from some of my personal training clients, friends and family is "does insanity Max 30 work?". The obvious answer to this is yes, but you need to be consistent, follow the diet plan as closely possible and use shakeology for the best results. Insanity Max 30 will work only if you are honest with yourself about the calories you are consuming. Diet is 80% of the results you will see with insanity Max 30.
Some other results that you can expect from insanity Max 30 are: to lose body weight, to improve muscular tone and strength endurance, to lower your waist size and to have much more energy overall. I noticed that my posture was much better after the 60 days as well which makes me walk taller and look more confident. You also feel much more athletic from all of the strength, speed, agility and endurance exercises that you will do for the 60 days. These are just some of the insanity Max 30 results that you can expect.
Insanity Max 30 Calories burned
When talking about the insanity Max 30 calories burned, I'm just talking about how many calories you will be using during the exercise program. This is not the only factor that affects weight loss. You need to be in a overall calorie deficit throughout the day in order to lose weight. The insanity Max 30 diet program has just as much, if not more of an effect on your overall weight loss.
That being said, the insanity Max 30 cal burned should be anywhere between 200 to 400 cal for every half an hour workout. This depends on your current weight, your sex, your age and how hard you actually push yourself during the workout program.
As long as you follow along with the diet program, don't skip a workout and stay consistent, you will see consistent weight loss throughout the total 60 days. You can expect to lose anywhere between 10 pounds and 25 pounds depending on your starting point.
Is Insanity Max 30 worth it?
So, is insanity Max 30 worth it? Overall I think that this is one of the best workout programs available on the market for people that want to take the fitness to the next level. It is not worth it for beginners because it is very difficult and does not ease you into exercise at all. For beginners I recommend T25 or Turbo fire instead.
Insanity Max 30 is worth it for people that don't have a full hour every day to work out. It is also great for people that don't like weightlifting and would like the freedom to bring this workout anywhere and be able to work out. The convenience factor alone makes insanity Max 30 worth it.
Insanity Max 30 is worth it because they took a fantastic program (the original insanity), completely changed the exercises, cut the workout time in half and you have insanity Max 30. Shaun T is just as fantastic in insanity Max 30 as he was in the original insanity. He will push you past your comfort zone and you will see fantastic results because of it! So yes, don't hesitate, insanity Max 30 is totally worth it.
Insanity Max 30 review conclusion, and Insanity Max 30 price
Well this is the end of my Insanity Max 30 review. I hope you learned enough about it so that you can make an informed decision on whether or not it is right for you. This is a great program if you are graduating from either insanity or P90x, p90x2 or P90x3. It is also great if you are looking for something that is short but will also get you great results. If you are looking for something easier you might want to look into focus T25 or P90x3. Both of those programs are half an hour each as well and I definitely much easier than insanity Max 30. If you think that Insanity Max 30 is right for you, make sure to sign up with me (Tyler Read) as your coach. My coach ID number is: 1339221. Let's take a look at the insanity asylum price options.
The Insanity Max 30 base kit costs $79.90 (Check out the current information and price here)
The Insanity Max 30 deluxe kit costs $159.80 (Check out the current information and price here)
The Insanity Max 30 challenge package costs $180 (Check out the current information and price here)
Like I tell all of my other clients of personal training, the hardest thing about exercise is is simply getting started! Once you get going it is a lot easier build momentum and reach your goals! Your results will keep you motivated! The worst thing to do is freeze up and not choose a routine. Get Started today so that you can start seeing the results that you desire tomorrow!
The biggest four tips in order to be successful with Insanity Max 30 program!
Purchase either program with a challenge pack. The clients of mine that go through either program on shakeology see significantly better results than those who don't.
Get beach body on demand instead of DVD packages. If I had this when I first started using P90x it would've saved me so much money overall over the last 12 years. No more worrying about scratched DVDs or bringing DVDs with you. Also, most people don't know which program to start out with (and frequently choose the wrong one),  You have access to all of them with beachbody on demand! You have to purchase the equipment for the program separately.
If you want to wait before you purchase Insanity Max 30, at least sign up for a free team beach body membership so that you can get community support, schedule and a lot your workouts as well as track your progress. You will still get all of the benefits of having your own personal coach for free! Make sure to sign up with me Tyler Read as your coach (and certified personal trainer) otherwise you will get assigned a random coach that is probably not as qualified, and might not even contact you. My coach ID is 1339221. I will help you on your reach your goals and provide great motivation! Here is a link to the free account.
Well ladies and gentlemen this just about finishes off my insanity Max 30 review. Overall it is a very cheap program because it requires no other equipment besides maybe a comfortable mat for the ground exercises. So what you waiting for? Get out there and start making the changes to your body and health that you deserve!
You might want to check out some comparison articles related to insanity Max 30: Insanity max 30 vs p90x3 or T25 vs insanity max 30. I also have other comparisons that are very popular such as P90X vs insanity, 21 day fix vs extreme and P90X vs P90X3. Thanks for stopping by my insanity Max 30 review everyone please share it on social media or leave a comment down below so we can start a discussion!