Hey everyone! If you have made to this page I am assuming that you would like to change your beachbody coach. This could be because you have never made contact with your current beachbody coach or you are not satisfied with the support or results you are getting under his or her guidance. If you have been recently asking yourself "how do I change my beachbody coach", I think you have finally come to the point to switch your coach. In this article I will give you the simple step-by-step instructions how to change beachbody coaches! This beachbody coach change form can be used to switch to any active coach that you would like as long as you have their coach details.
In the examples I will be using my personal details as a beach body coach and if you would like to have me as a coach in join my beach body team, we will welcome you with open arms. The team that I lead is called team mind over matter. We are a highly motivated group with a collective goal of getting into great shape and leading healthy successful lives. We would love you to join our growing community so that together we can help each other reach our potential.
The first part of this article is to show you how to switch beachbody coaches. Towards the bottom of the article I will show you how to join our Facebook group mind over matter so that you can jump in on the discussions if you decide to join my team. We post about progress made, hurdles to overcome, how to stay motivated and much more:) Let's go over these simple steps in order to use the beachbody coach change form to switch coaches.
How to change beach body coaches: Step One 
You need to go to the beachbody coach change form on the beachbody website:
How to change beach body coaches: Step Two 
You need to fill out some personal information such as your country of residence, your language and whether or not you are a customer or a coach. In this circumstance you will be a customer trying to switch coaches. Here is what it looks like:
How to switch beach body coaches: Step Three 
After you have selected being a "customer" is to fill out a few more details such as:
Your full name (first and last)
Your billing ZIP code (that you used to purchase your beachbody products)
Your e-mail address used for your beachbody Account
How to switch beach body coaches: Step Four 
You need to fill out my personal coach information. Here is what you will need to enter in order to switch to me as your coach:
coach name: Tyler Read
coach ID number: 1339221
coach e-mail address: [email protected] (You will need to confirm the e-mail address a second time)
Whether or not you would like the coach (me) to receive the credit for your last purchase. This is completely up to you. If you decide yes, you will need to enter your order number from your previous order. Here is a photo of what all of this will look like: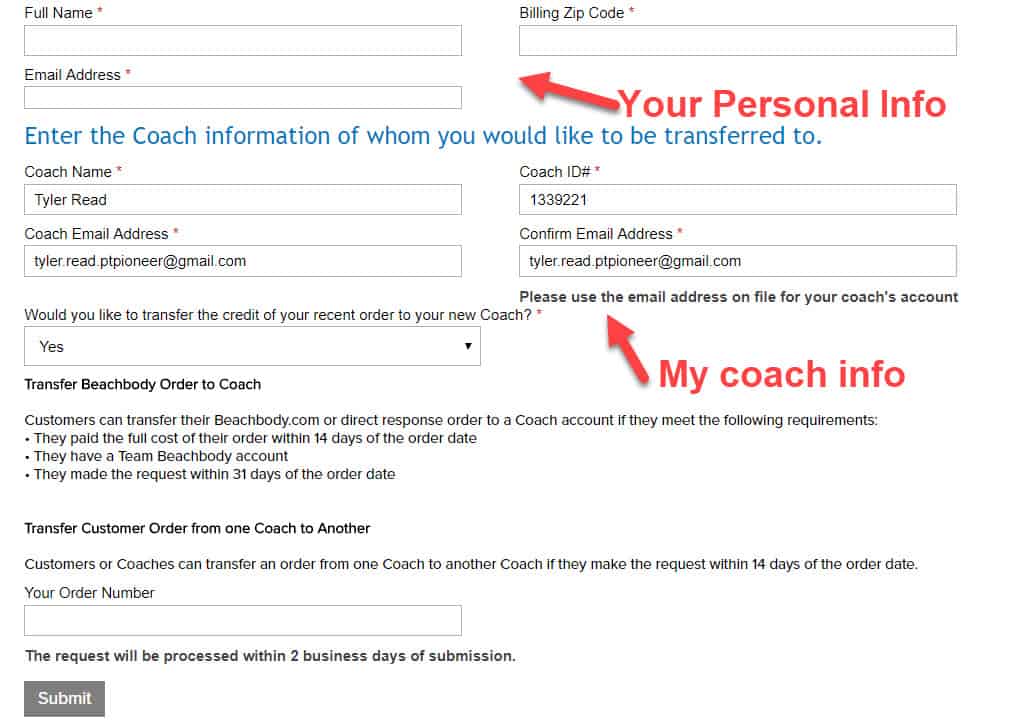 Conclusion on how to change your beachbody coach
Well that's about it ladies and gentlemen you have successfully switched to me as your personal beachbody coach! I look forward to seeing all of the great progress you are going to make over the coming months and year. The next thing you need to do is join our Facebook group mind over matter.
Once you sign up don't forget to read the sticky post on the front of the group and introduce yourself. I look forward to talking to each and everyone of you on the group and never hesitate to ask me any questions. Helping people get into excellent shape has been a passion of mine as a personal trainer for the last 10 years. I have been a beach body coach for the last three years and it has helped me extend my knowledge and reach to hundreds of other people through the power of the Internet. Although I love one-on-one personal training in person, there are only so many people I can help with limited time during the day. I can't wait to talk to all of you! Until next time, let's get after it with everything we've got!
-Coach Tyler
Tyler Read has a Masters of Science in Kinesiology. Tyler is also a certified personal trainer with NASM, ACE, NSCA and NSCA CSCS. Tyler's main goal is to help people get started in the personal training industry and to become successful personal trainers.