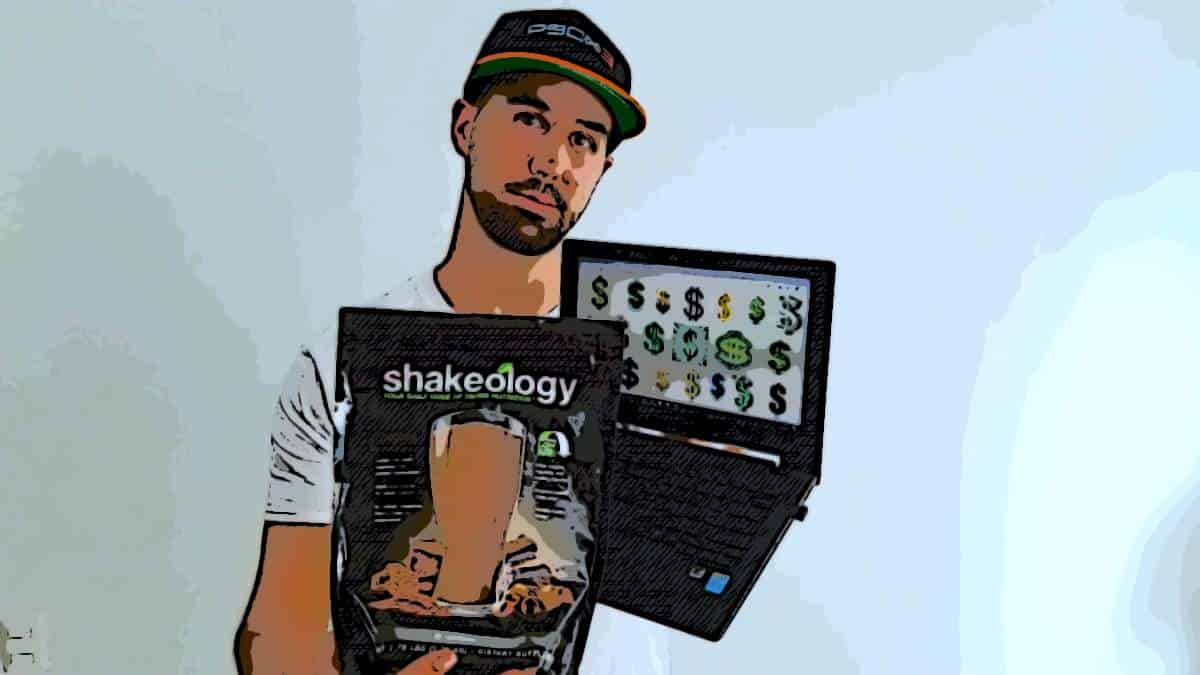 One question that comes up quite often is how much is Shakeology?  In order to answer this in its entirety, I want to first lay out a few things before stating on what it costs, what it could cost, and what the benefits can save you in the long run.  Overall, every aspect should be considered when looking at the big picture. I get asked all the time by clients: how much does shakeology cost? Finally I will have this article to point them to to answer all of their questions.
So when you go to the grocery store, you often go there to make purchases on foods you will eat over the next week or so (maybe you go daily as  way to get as fresh as possible).  However, in making the trip to the store, you are making a pact with your local grocer that you are investing in the foods they provide.
In a similar manner, every time you eat out at a restaurant, you make an agreement to invest in that particular meal, usually for an inflated cost.  With that said, is it reasonable to expect families and fitness fanatics to invest in meal replacement shakes as a way to lose weight, gain more nutrition, and to avoid excessive calories?  Let's dive deeper into the topic to better answer the question: how much is Shakeology?
If at the end of this article you decide that Shakeology is something they would like to try, you can get it here through this link. This will make me your personal beachbody coach and I will give you all of the tips and tricks I have for you to be successful with your health and fitness goals. If you already have a coach, but are unsatisfied with your results, here you can switch coaches to me. So without further ado this answer the question: how much does shakeology cost?
How Much is Shakeology:
Cost of Meals
Too often when people ask how much is Shakeology? the answer is a straight dollar figure.  Rather than looking at the overall cost of the entire package, it is important to have a good understanding of what you typically pay per meal.  Let's take a look at a hypothetical example using one of the cheapest lunch options for adults and kids: the peanut butter and jelly sandwich.
For starters, a small jar of peanut butter with 14 servings costs $4.00, a small jar of jelly containing 23 servings costs about $4.00, and a loaf of whole wheat bread with 10 servings costs $2.50.  Now, you only get about 10 servings from all of these, but there is left over.  With those 10 sandwiches, the total cost is $10.50, or about $1.00 per serving.
Not bad for a meal, but how long does this keep you full?  Usually you need to add a bag of chips (190 calories), fruit (100 calories), or even Greek yogurt (150 calories) in order to feel full.  Now the price has sky rocketed, your calories have ballooned, and you still don't hit all of your nutritive needs.
When you put the entire picture together, a typical lunch is easily reaching $5.00 per meal and usually involves inflation of calories consumed. Some people think that Shakeology is expensive, when it is really not compared to a normal meal with much less nutrients.
Starbucks Habits
So if we are going to compare the price of a meal replacement shake to food, it is only reasonable to compare the cost of Starbucks drinks to your Shakeology shakes.  First of all, a daily Starbucks habit really adds up in the bank, regardless of how many stars you collect on a regular basis.
Now most drinks at Starbucks range from three to five dollars depending on what you order and if you add anything else, the costs can add up.  Reasonably, a grande of any latte is about three dollars, but this is being generous.  If you compare this to a Shakeology shake, you may be surprised.  In addition, if you stop at Starbucks for a drink, chances are you purchase a pastry muffin or egg sandwich so that you can have a complete meal.  Yeah, that adds up to, but perhaps the biggest factor is in the calories you consume.
A grande latte is anywhere from 160-300 calories, but sugar is "hidden" in many of these drinks so be mindful of this.  Compare that to your Shakeology shake, that keeps you full, and you have quite a bargain on a daily basis.  Lastly, high amounts of caffeine can cause conduction problems in your heart and is responsible for arrhythmias and palpitations, so be mindful of how much coffee you drink.  In comparison, Shakeology does not contain caffeine and takes a long time to go bad. Not only that, Shakeology has many delicious flavors to choose from and you can also pick up sample packs so that you can find out the flavor that best fits your taste buds before you buy a whole bag.
Gym Memberships and Personal Trainers
I know, this does not involve meals, but it is something that can help to bring more light into your budget with your healthy lifestyle.  A typical gym membership costs about $30 to $40 per person, unless you belong to super fancy health clubs around the country.  Many argue that $30 to $40 for a gym membership is a steal since you don't have to worry about maintaining the equipment, cleaning it, or finding a spot in your home for it.
This is true, but more will come on gyms and such later in this section.  In addition to a gym membership, perhaps you see a personal trainer two times per week.  Generally, trainers cost about $30-50 per session for affordable trainers, but most cost $75-60 per hour.  This is pricey and not everyone can afford this, but a trainer is the most effective way to lose weight.  Wait, no it isn't.
You can purchase a Beachbody on Demand service that costs only about $3.00 per month, purchase the bands and weights to enable you to workout with the videos, and you can save a ton of money each month.  As long as you regularly do the workouts and follow the instructions for each program, you really can save big money.  How much?  Well, a gym membership is $30 and a trainer is $400 (eight sessions per month at $50 per session) for a total of $430.  Now, assuming you spend a good $100 on fitness equipment, and $3.00 per month on the Beachbody on Demand and the dozens of programs, you save approximately $380 per month.
Beachbody Coach
This is where the debate gets interesting, as this is where you can get discounts on Shakeology.  As a Beachbody coach, you are awarded in your orders with 25 percent off, since you are a coach.  Now, the term "coach" may seem like more commitment than what it really is.  The term coach is simply used to tell others that you are someone from whom they can order Beachbody products, including Shakeology.  Now, with 25 percent off, you can apply this to your own Shakeology shakes to help save a few extra dollars.
total of this will come later on, but who can argue 25 percent off anything?  The only thing is you pay $40 for a startup fee plus another $15 per month to maintain it (which can be avoided with the purchase of a challenge pack). You still get discounts on Shakeology, but if you have friends or a group of people who purchase Shakeology then you should have them order through you so you can get a percentage of what you sold.
There are many other fantastic benefits to having a beachbody coach. One of them is that they will be able to support you through your exercise program as well as your diet. They will also help you get started in a challenge group so that you can share your progress with people going through similar programs and drinking shakeology. You can think of these groups as a support system for accountability system.
Consider What's in the Shakeology Shakes
You must also consider everything that is in your shakes.  Shakeology is not some throw together liquid meal replacement that doesn't care about you nutrients, rather there are whole ingredients, nutrients to help you with weight loss, quality protein, vitamins, as well as prebiotics and probiotics.  Not too bad for a meal replacement shake, but if you consider what you are purchasing in this shake and break it down, it may not be so bad.
Protein powder is expensive, and usually runs about $20 or $30 for some of the more common brands.  Also, multivitamins cost only about $5, but everything adds up.  Fiber supplementation costs another $10, and digestive supplements are not cheap either.  The point here is you are not just purchasing a milk shake to pique your appetite for the time being; you are purchasing something that is giving you nutrients to serve as an actual meal replacement.
Savings on Health and Illness
If you are going to factor everything into the argument of how much is Shakeology and is it worth it, then it is important to breakdown your healthcare costs and savings.  If you spend any amount of time visiting the doctor or purchasing medications due to your poor dietary habits then you should consider what you can save through optimal dieting habits.  While the cost of this may be more of a challenge to add up in the long run, it is something that you need to factor into your total cost of dieting.
How much does shakeology cost: The final figures
You were given examples on what meals cost and what you should expect when factoring how much you spend on fitness, health, trainers, and meals.  Shakeology comes in a big bag or in packets, but either option only costs $130.  The bulk portions here provide 30 days of meals, which is about $4.33 per serving.
Compare this to other meals you regularly eat and it is easy to see that you can certainly save some money.  If you regularly eat out for lunch, consider this bad habit and consider Shakeology shakes instead.  Not only will you save $10-20 per meal, but you save on empty calories that have a tendency to cause you to be fatigued and gain weight.
Also, if you switch your fitness program to the Beachbody on Demand system, you save about $480 per month (after making the purchase of fitness equipment).  If you don't have a trainer then it is a bit less than this.  But these savings alone can really add up and can make Shakeology and Beachbody more than a steal. Check out how much it costs for on demand right here. This will make me your personal beachbody coach if you decide to sign up. If you want to combine Shakeology with beach body on demand you can save a good amount by purchasing them as a challenge pack. Here's the link to the specific challenge pack. By purchasing a challenge pack you can also get refunded the $40 sign up fee for becoming a coach. As I mentioned above, you can save 25% on all products by being a coach.
Now, I almost forgot to mention the savings that you can get as a Beachbody coach.  If you become a Beachbody coach, you pay about $15 per month, but save 25 percent on all Beachbody products, including Shakeology shakes.  This adds up to about $99, or $3.30 per serving and if your friends order from you then you will get a cut of the sales.  It adds up. Check out my article on how to save 25%.
Regularly losing weight and consuming meal replacements instead of fattening meals can really add up in the health scene as well.  No more spending money on expensive medications and other things needed for your doctor because a healthy diet is a healthy body.
How much does shakeology cost? – The Conclusion
If you are on the grasp of wanting something more for yourself, but are trying to figure out what provides the most value, you need to consider all of the factors.  There are other meal replacements and weight loss shakes out there that cost less than the Shakeology shakes, but typically Shakeology is of better value.  The value of Shakeology includes the top quality ingredients, added digestive support, and quality protein as well. Check out my full article on all of the Shakeology ingredients that are included.
If you are serious about losing weight, it is a good idea to just jump on board the Beachbody program that includes Shakeology.  For starters, Beachbody offers tons of video programs that are guaranteed to beat any of the fitness classes you do at the gym.  As long as you do the workouts regularly, fitness will not be an issue.  In addition, weight loss is simple with Beachbody, as it outlines your meals to include Shakeology shakes.  Now they suggest a calendar, but in my experience, consuming your Shakeology for lunch gives you the best opportunity to lose weight most effectively. if you would like to find out some more information on beginning beach body workouts, check out that link right there. I hope you all enjoyed my article on how much is shakeology, and and hope to see you soon in my beach body group mind over matter 🙂
Tyler Read has a Masters of Science in Kinesiology. Tyler is also a certified personal trainer with NASM, ACE, NSCA and NSCA CSCS. Tyler's main goal is to help people get started in the personal training industry and to become successful personal trainers.