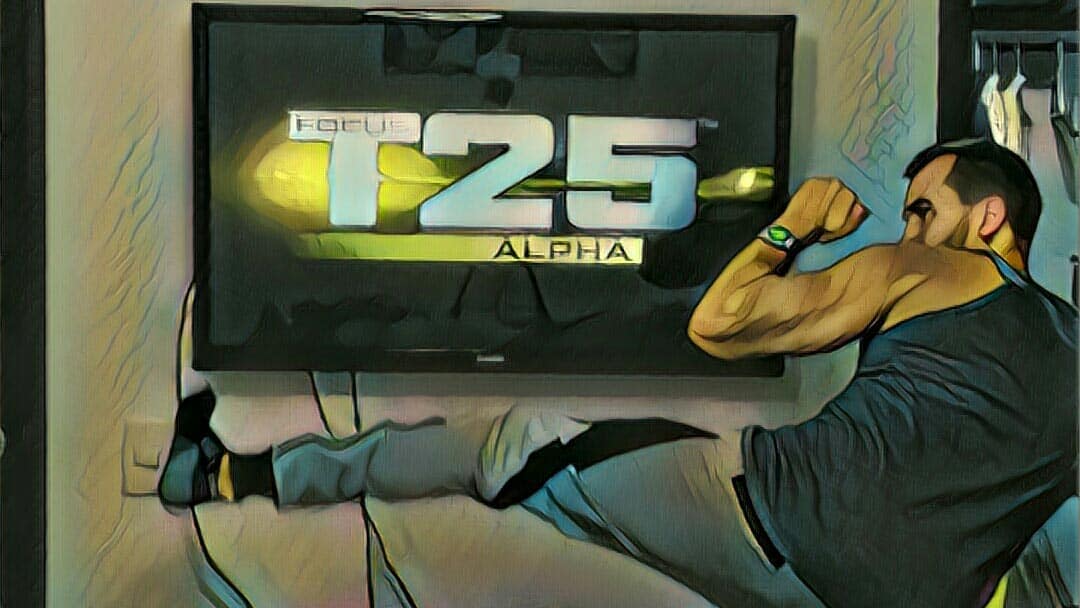 Hey guys and gals and welcome to my Focus T25 review. The Focus T25 is a at-home workout series similar to the popular P90X or Insanity workouts by beach body. This program is designed to help you shed body weight as quickly as possible. I recently finished the Focus T25 program for the first time so I have a good insight about who this program is for and who it is not for. Let me walk you through what I thought about it!
A little bit about myself: I am a certified personal trainer through NASM, hold a bachelors degree in exercise science and am an active beach body coach! My biggest passion is fitness and helping those around me achieve their health and fitness goals as well.
So what is Focus T25? Does Focus T25 work? Is Focus T25 worth it? I will try to answer all of these questions in my Focus T25 review. I will go over all of the basic information on the program as well as the Focus T25 results that you can expect. I have so much to talk about in this article so was not waste any time and get right into my Focus T25 review!
What is FOCUS T25?
The Focus T25 workout program is a series of exercise videos that last 25 min. long, hence the name. Overall it is a 10 week program. There are nine DVDs in total consisting of 11 workouts that are each 25 min. long. Studies have shown that intense bouts of half an hour exercise can be more efficient than one hour of exercise with similar results in weight loss. You can get a preview of the focus T25 program by checking out the workout calendar here on my site!
The 10 week program is split into two different phases, the alpha phase and the beta phase. The alpha phase gets your body adjusted and warmed up to exercise. The beta phase really pushes your body passes limits and is where you'll see the most changes. The reason that FOCUS T25 is so attractive is because you only have to do less than half an hour of exercise a day. Compared to some exercise programs that last up to an hour.
There are three packages that you can choose from that contain something a little bit different from one another. Let's go over these three:
You can get the 10 Minute trainer from Amazon.com, but remember that I will not become your personal coach compared to if you bought it from the beachbody site using my coach ID! Amazon is a great place to read ton of reviews though.

The FOCUS T25 Base Kit includes all of 11 of the workouts (as well as two additional workouts), a quick start guide, a nutrition guide, two calendars (alpha and beta), five day fast track, 15 pound resistance bands, 24 hour support and a 60 day money back guarantee if you don't see results.
The Focus T25 deluxe package  contains everything that the base kit did as well as three advanced GAMMA workouts (rip it up, extreme circuit and the pyramid), a comfortable workout mat, additional resistance bands (20 and 25 pounds) and a GAMMA calendar.
The last package is the Focus T25 challenge pack which combines shakeology nutrition with the Focus T25 workouts (I recommend this).
As of 2016 my overall recommendation is to get beachbody on demand challenge pack and get the equipment for the program you would like separately. If you decide that Focus T25 is right for you, use one of the links above to make me (a personal trainer) your personal beach body coach. Or if you decide to wait until later, you can still make me Tyler Read your coach by using my Coach ID number:1339221 when you sign up for a free account. Otherwise you will be assigned a random coach that is probably less qualified and might not even contact you. I will make sure that you are successful!

Who is the instructor of the FOCUS T25 program?
The instructor is Shaun T. That is another reason why it's called FOCUS T25. If you have never seen him on any of the infomercials on television, let me tell you a little bit about Shaun. He is one of the main fitness instructors that works for beach body. Is also the instructor of the Insanity workout series such as insanity asylum volumes 1 and two, hip hop abs and Cize. He has a degree in kinesiology or exercise science as well as a minor in dance and theater. He has worked as a personal trainer for a super long time. Compared to all other instructors for home workout videos, I'm confident in saying that Shaun is my favorite. He is not over the top, and she is also not super relaxed. His personality is just perfect and he is the best motivator out of all of the workout products that I have tried (which are many).
Who is the FOCUS T25 program for?
Having experience with dozens of at-home workout programs, I can safely say that this is a mediocre to advanced program. If you are an absolute beginner with exercise this might be a little too difficult for you to handle at first. For these types of people I recommend trying half of the exercise program at the very beginning and working your way up from there. You can also try some of the modified exercises by watching Tania (one of the ladies doing the workout). She always has an easier version of each exercise that is lower impact and easier on the joints. If you are someone that needs to lose a lot of weight and needs to be introduced into exercise again, I think the FOCUS T25 is a fantastic program for you.
It is definitely not as hard as some of the other beach body products such as the P90X series or the insanity series. If you are very acquainted with exercise and are in great shape, I would recommend one of the two programs that I mentioned above. If you only need to drop around 10 pounds total to get to your ideal body weight, I would recommend one of the longer more intense workout programs. If you are a fan of Shuan and would like to try something more challenging there is also the FOCUS T25 gamma series that adds a lot more weight to the workouts and is a lot more challenging.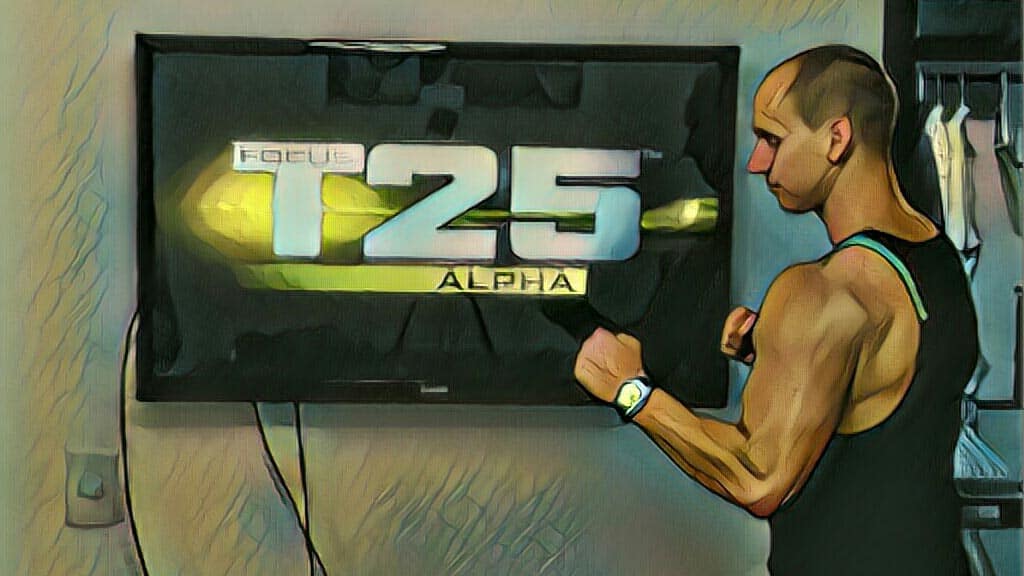 The alpha phase of the FOCUS T25 program
The alpha phase is consisted of five separate workouts and lasts a total of one month. This phase is the building blocks of the program and gets your body acquainted to the tough work you have to put in during the beta phase. Is not that that workouts are easy, it's just that they're not as hard as the beta phase.
The alpha phase is consisted of five separate workout programs:
The cardio workout: The cardio workout seem to be mostly lower body movements as well as a little bit of abdominals. It doesn't consist of very complex movements but your heart definitely gets going.
Abs intervals DVD: I thought this was a pretty decent ab workout. I was pretty sore after my first go around with this workout. 25 min. of abs is brutal but it gets easier over time. What I liked was that my lower abdominals were a strong focus of this workout. That is a stubborn area for me as well as a lot of people.
Lower focus: This is a legs workout as the title implies. I always think leg workouts are the most difficult. This was no different.
Speed 1.0: This was a unique video especially compared to the majority of the beach body workout series. This focuses a lot on athletic performance such as speed, agility, balance and overall power. I enjoyed the switch up and thought it was a challenging workout.
Total body: This workout is a full body experience. It is a little bit more intense than the other workouts, besides the leg workout. It is performed in a full circuit with very little rest. It did have a strong focus on the upper body.
The beta phase of the FOCUS T25 program
After the first month of building a strong foundation with the alpha phase, it's time to get into the more intense workouts so that you can shock your body into changing!  Even the warm-ups in this section seem a lot more difficult. At first it will seem impossible, but after a few workouts you will get used to it.
Core cardio: As the name implies it tackles a combination of cardio and core movements.
Speed 2.0: This really increases the tempo compared to the first speed video in the alpha phase. It really gets you on your feet and moving quickly.
Rip T circuit: This circuit was pretty exhausting but it focuses on your upper body a lot which is at least helpful in terms of maintaining your energy levels.
Dynamic core: My abdominals were contracting so many times that they cramped at the very first time. Make sure you are hydrated for this one and maybe even stretch your abs before hand.
Upper focus: Just like the alpha phase has the lower body focus, the beta has an upper body focus. I I thought this was fantastic in developing my shoulders and arms overall.
I enjoyed the different camera angles that were used because it allowed me to focus a lot on the form of the movements better than some other beach body video workouts. I like how the tempo of the workouts get increasingly fast over the course of 25 min.
The FOCUS T25 nutrition guide
Just like all of the other beach body products provide not only workout DVDs, but an overall approach to health and wellness. FOCUS T25 does the same thing, and does it well. The nutrition guide contains 25 good recipes that you can make quickly with as little as five ingredients in each. They give you a guideline on how you should target your macronutrients (proteins, carbs and fats). Just like all the other programs, you will be able to calculate your basal metabolic rate and how many calories you should be consuming each day. I highly suggest following along with the nutrition guide because it will make everything so much easier and you will see much better results.
I also recommend Shakeology as well. Taking shakeology along with the workout program is called "doing a challenge package" and is what I recommend to see the quickest results. My clients that combine both together see much better results than those who just do the workout routine. I suggest reading my shakeology review here or my article on how it works here.
Does FOCUS T25 work? FOCUS T25 results!
FOCUS T25 definitely works as long as you stay consistent and stay within your calorie requirements each day. It is okay to slip up now and then, but as long as you are consistent 80% of the time, you will definitely see fantastic results. Does FOCUS T25 work, absolutely, just give it a shot and you won't regret it.
The FOCUS T25 results that you can expect are: less body fat, toned muscles, better posture, increase confidence and a better outlook on life overall. I think this is a fantastic program because it only last 25 minutes. If you want to take your game to the next level after this program I suggest trying one of the P90X or insanity programs.
FOCUS T25 Calories burned
You can expect to burn around 300 cal during each 25 min. session with the FOCUS T25 program. There are a lot of other variables, but this is assuming that you weigh approximately 150 pounds. And it is assuming that you perform every single set and repetition without stopping. Age, sex and intensity play important roles in calculating how many calories you can burn using Focus T25. Nutrition also plays a big role in how much weight you lose overall during this program. You can expect to lose approximately 1 pound per week if you are in a 500 cal deficit each day. In my experience, shakeology helps you keep your calories in check more than anything because it is very filling.
Is FOCUS T25 worth it?
It my opinion I totally think that Focus T25 is worth it. As I have mentioned before, as long as you follow the routines as closely as possible, follow the calendar and follow your diet the best you can, I can guarantee great results. I have personally seen fantastic results and many of my clients have as well. You will not regret your decision to begin this program and start a new healthy lifestyle.
FOCUS T25 review conclusion, and the FOCUS T25 price
I hope you guys enjoyed my Focus T25 review. I think this is one of the better programs and one of the better instructors for at-home workout series. It includes everything from the nutrition guide, to a calendar to a fantastic nutrition plan that even includes recipes. It is a great intermediate program to get you to the next level of fitness! If you think that Focus T25 is right for you, make sure to sign up with me (Tyler Read) as your coach. My coach ID number is: 1339221. Let's take a look at the insanity asylum price options.
The Focus T25 base kit costs $59.85 (Check out the current information and price here)

The Focus T25 deluxe kit costs $119.70 (Check out the current information and price here)

The Focus T25 challenge package costs $160 (Check out the current information and price here)
Like I tell all of my other clients of personal training, the hardest thing about exercise is is simply getting started! Once you get going it is a lot easier build momentum and reach your goals! Your results will keep you motivated! The worst thing to do is freeze up and not choose a routine. Get Started today so that you can start seeing the results that you desire tomorrow!
The biggest four tips in order to be successful with Focus T25 program!
Purchase either program with a challenge pack. The clients of mine that go through either program on shakeology see significantly better results than those who don't.
Get beach body on demand instead of DVD packages. If I had this when I first started using P90x it would've saved me so much money overall over the last 12 years. No more worrying about scratched DVDs or bringing DVDs with you. Also, most people don't know which program to start out with (and frequently choose the wrong one),  You have access to all of them with beachbody on demand! You have to purchase the equipment for the program separately.
If you want to wait before you purchase Focus T25, at least sign up for a free team beach body membership so that you can get community support, schedule and a lot your workouts as well as track your progress. You will still get all of the benefits of having your own personal coach for free! Make sure to sign up with me Tyler Read as your coach (and certified personal trainer) otherwise you will get assigned a random coach that is probably not as qualified, and might not even contact you. My coach ID is 1339221. I will help you on your reach your goals and provide great motivation! Here is a link to the free account.
Let me know what you guys thought of my Focus T25 review. Have you guys tried the program? What did you guys think of it? Please like this on social media, share it and leave me a comment if you have any questions on below. Now get out there and start building the body that you deserve!
If you enjoyed the Focus T25 review you may also like some of my comparison articles such as: T25 vs insanity max 30, Cize vs T25, Piyo vs T25 or P90X vs P90X3! Enjoy 🙂
Tyler Read has a Masters of Science in Kinesiology. Tyler is also a certified personal trainer with NASM, ACE, NSCA and NSCA CSCS. Tyler's main goal is to help people get started in the personal training industry and to become successful personal trainers.