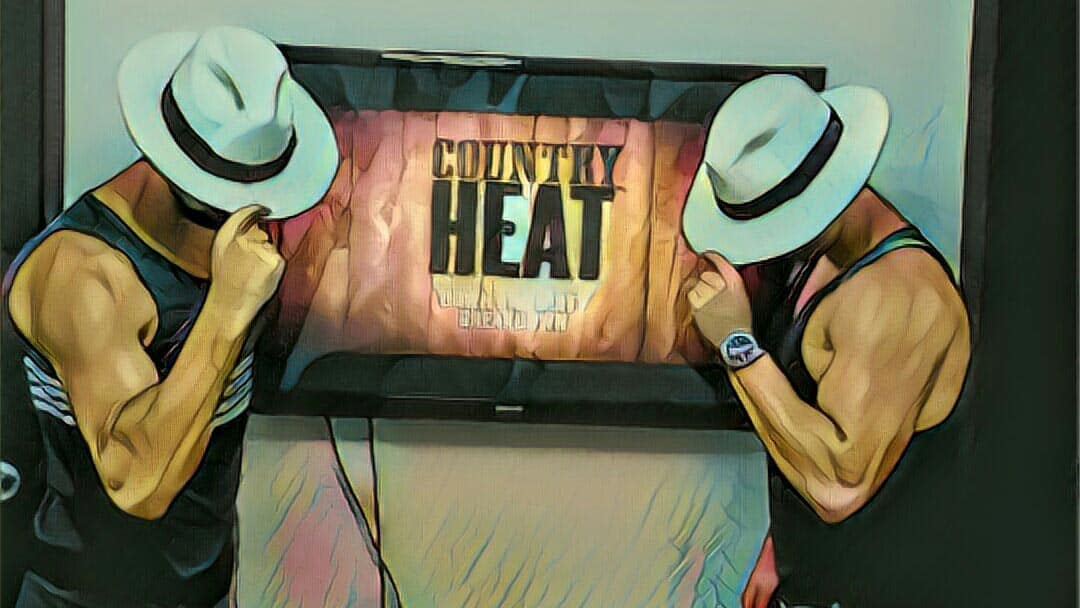 Hey guys and gals and welcome to my country heat review. This is the latest at-home workout program from the popular company beach body that brings you workouts like insanity and P90x. Country heat is based all around dancing similar to the dancing workout such as Cize.
A little bit about myself: I am a certified personal trainer through NASM, hold a bachelors degree in exercise science and am an active beach body coach! My biggest passion is fitness and helping those around me achieve their health and fitness goals as well.
One of the greatest things about workouts based around dancing is that it doesn't feel so much like work. If you like to dance and would like to increase your overall fitness, country heat might be the perfect thing for you. By the end of my country heat review you'll know whether or not this style of work out is something you should invest your time and money on.
So what is Country heat? Does Country heat work? Is Country heat worth it? I will try to answer all of these questions in my Country heat review. I will go over all of the basic information on the program as well as the Country heat results that you can expect.. I have so much to talk about in this article so was not waste any time and get right into my Country heat review.
What is Country Heat?
Just like the majority of the other at-home workout products such as P90x3, insanity Max 30 and focus T25, country heat is based around 30 min. of exercise a day. This is great for people that have very busy schedules or simply cannot muster up the energy to do a full hour of exercise everyday.
The dancing workouts are all based around country music. So if you are a fan of country music it will make this workout program much easier overall. If you are not the biggest fan of country music (like myself) they might be a little bit harder to get your hips moving. Likely there are so many pretty women that love country music, so it is easier to motivate myself to do the workouts 😉 If you much prefer dancing to hip-hop music, I highly recommend Cize.
The instructor for country heat is the popular Autumn Calabrese. Autumn is one of the most popular instructors from beach body and is the instructor of the extremely popular 21 day fix program. She is a certified personal trainer who has trained multiple celebrities, an author and choreographer. Overall I think she is a fantastic instructor!
The program lasts 30 days long, contains three DVDs with a total of six different workouts that you will be cycling through. Just like the 21 day fix, country heat comes with portion control containers in order to follow along with the diet plan much easier. It also contains a shakeology shaker cup, a nutrition guide, a quick start manual and a calendar to guide you through the workouts. Let's talk about all of these in a little bit more detail. You can see the full Country Heat calendar here.
There are three primary packages that you can choose from with country heat (besides getting it with beach body on demand). Feel free to check out of the links to learn a little bit more about each package.
You can get the Country Heat program from Amazon.com, but remember that I will not become your personal coach compared to if you bought it from the beachbody site using my coach ID! Amazon is a great place to read ton of reviews though.

The the base kit includes all six workouts (and one additional workout), the seven portion control containers, the eating plan, a quick start guide and a 30 day calendar.
The deluxe package includes everything that the base kit did as well as two additional workouts (so nine total), a second pair of portion control containers in case you lose one, A large caring container for all of your smaller Tupperware containers (I found this one very useful), a 30 day deluxe calendar(more challenging) and a results or money back guarantee!
The last option is the country heat challenge pack which combines shakeology nutrition with the workout routine.
As of 2016 my overall recommendation is to get beachbody on demand challenge pack and get the equipment for the program you would like separately. If you decide that P90X3 is right for you, use one of the links above to make me (a personal trainer) your personal beach body coach. Or if you decide to wait until later, you can still make me Tyler Read your coach by using my Coach ID number:1339221 when you sign up for a free account. Otherwise you will be assigned a random coach that is probably less qualified and might not even contact you. I will make sure that you are successful!

The six workouts that come with country heat
Country swing
Overall this is a strong cardiovascular workout that includes some pretty funny moves like pretending to write a horse and the booty shake dance. Overall the moves are pretty simple and the tempo is pretty slow but it picks up towards the end.
Down and dirty
Down and dirty include some songs such as "footloose" and "sideways". This workout includes tons of mule kicks which will set your legs on fire.
Trail ride
This workout is pretty fast-paced overall and will keep you on your heels in order to engage those quadriceps and glutes.
Giddy up
Overall the giddy up workout was more challenging to me than the previous ones. I could feel my heart rate was significantly higher during this workout due to the higher tempo and lots of jumping exercises.
Bring the heat
Bring the heat has alternating tempos but is overall pretty high energy. It feels like some sort of high-intensity interval training but with country dance moves.
Dance conditioning
In this dance conditioning workout you will learn the most essential movements for effective conditioning in toning that is used by Autumn.
The nutrition guide and Tupperware containers for country heat
The nutrition guide is basically like all of the other nutrition guides out there. It will tell you which foods to avoid in which foods are good for you to consume throughout the 30 day program.
Overall the most revolutionary thing in any diet plan recently has been the Tupperware containers. I believe these started in the original 21 day fix. Since then they have been the go to tactic for a lot of at-home workout products such as insanity Max 30 and the 21 day fix extreme as well.
The Tupperware containers make portion control and hitting your calorie requirements much easier than it was before. Before you would have to weigh out the food to measure the macronutrients which was a pain in the butt. Now all you have to do is make sure the food fits inside the containers, and your macros and calories are tracked for you. This portion control system combined with shakeology has skyrocketed the results of my clients. I suggest you check out my shakeology review here or my review on how it works here.
Combining Country heat with shakeology nutrition is the best way to see results quickly. Combining both of these is what is called "taking a challenge pack" and is what I recommend. My clients that combine both together see better results than those that don't.
Here are the Tupperware containers that are included with country heat.
The green Tupperware
This portion control containers meant to fit all of your vegetables such as carrots, broccoli, spinach, peppers, tomatoes, lettuce in any other approved vvegetables that are contained in the diet plan.
The purple Tupperware
The purple container is meant for your fruits such as, oranges, apples, bananas, peaches, watermelons, berries or any other approved for it.
The red Tupperware
The red container is meant for your proteins such as lean meats. I typically put chicken breasts, ground turkey, lean pork, lean steak, fish, eggs or any other approved protein.
The yellow Tupperware
The yellow container is for your carbohydrate sources such as brown rice, whole-grain cereals, bread, pasta, beans or potatoes.
The blue Tupperware
The blue Tupperware is for your healthy fats such as avocados, nuts, cheese or any other approved fat.
Two orange Tupperwares
There are two different orange Tupperware containers. One is for seeds in one is for salad dressings.
A Shakeology cup
Country heat also comes with a free shakeology cup. I regularly use shakology and I suggest you use it as well in order to maximize your weight loss benefits.
The quick start manual
Just like every other at-home workout product, country heat comes with a quick start manual. This will teach you all of the tips and tricks you need to know in order to be successful while using country heat. It will go over safety issues, proper form and how to warm up correctly. If you are just getting started with exercise, make sure not to skip this quick start guide!
The country heat calendar
The country heat calendar lays out what types of workouts you will be doing on which days. I highly suggest placing the calendar someplace that is visible to you on a day-to-day basis. For me the fridge is the best place because it is unavoidable and keeps me motivated. It also reminds me not to reach for the snack eat junk food and instead reach for one of my Tupperware containers!
Does Country Heat work? Country Heat results!
A lot of my clients of personal training always ask me "does country heat work?" Overall, yes country heat does work but only if you are consistent with the workouts and follow the diet program is closely as possible.
The country heat results that you can expect are to lose body fat, improve your cardiovascular fitness and have more energy overall. Depending on your starting point, you can lose between 10 and 15 pounds over the month.
And remember for the best country heat results, you could continue to repeat the program as many times as you want to continue to see results. If you are seeing fantastic results, why change something that's working?
Country Heat Calories burned
Overall you will not burn as many calories as some of the more intense program such as P90x3 or insanity Max 30(the comparison). During the 30 min. of exercise you can expect to burn between 200 to 300 cal overall would be my estimate.
How many calories you burn during country heat does not completely determine the success you will have. The biggest part of weight loss success is being in a calorie deficit throughout the day. To do this you need a combination of exercise and a good diet. If you follow the diet plan laid out by country heat, do all the workouts, are consistent and use shakeology you will see great country heat results. As a personal trainer I can promise you that!
Is Country Heat worth it?
Overall I think country heat is extremely worth it, especially if you are a beginner that is just starting off with exercise. Let's go over some of the reasons you might want to consider country heat.
If you are a beginner it is great because it is very low impact on your joints.
Country heat is great if you love to dance.
Country heat is especially great if you love to dance and if you love country music!
Country heat is great because you do not need any equipment to get started. You just need enough space to do the dance moves.
Country heat is great if you only have a half an hour to work out every single day because of your busy schedule.
Country Heat review conclusion, and the Country Heat price
Well this is the end of my country heat review everyone. I hope I helped you understand everything you need to know about the workout program and whether or not it is right for you. If you have been exercising for a while, you might want to try something a little bit more challenging than country heat if you want to see more weight loss benefits. I suggest checkout out Focus T25 or something from the P90x series if you want something more intense. On the other hand if you are just starting out with exercise, you love to dance, and you love country music, you should not hesitate one second because country heat was meant for you! I guess all that is left in my country heat review is to talk about the different package options and prices.
If you think that the country heat is right for you, make sure to sign up with me (Tyler Read) as your coach. My coach ID number is: 1339221. Let's take a look at the country heat price options.
The base package costs $59.85 (more info and current price)
the deluxe package costs $119.70 (more info and current price)
The country heat challenge package costs $140 (more info and current price)
Like I tell all of my other clients of personal training, the hardest thing about exercise is is simply getting started! Once you get going it is a lot easier build momentum and reach your goals! Your results will keep you motivated! The worst thing to do is freeze up and not choose a routine. Get Started today so that you can start seeing the results that you desire tomorrow!
The biggest three tips in order to be successful with Country Heat!
Purchase either program with a challenge pack. The clients of mine that go through either program on shakeology see significantly better results than those who don't.

Get beach body on demand instead of DVD packages. If I had this when I first started using P90x it would've saved me so much money overall over the last 12 years. No more worrying about scratched DVDs or bringing DVDs with you. Also, most people don't know which program to start out with (and frequently choose the wrong one),  You have access to all of them with beachbody on demand! You have to purchase the equipment for the program separately.

If you want to wait before you purchase Country Heat, at least sign up for a free team beach body membership so that you can get community support, schedule and a lot your workouts as well as track your progress. You will still get all of the benefits of having your own personal coach for free! Make sure to sign up with me Tyler Read as your coach (and certified personal trainer) otherwise you will get assigned a random coach that is probably not as qualified, and might not even contact you. My coach ID is 1339221. I will help you on your reach your goals and provide great motivation! Here is a link to the free account.
I hope this Country heat review helped you guys figure out if it is the right program for you. Because my also like some of my comparison articles such as: P90x vs P90x3, 21 day fix vs piyo or T25 vs insanity! Enjoy!