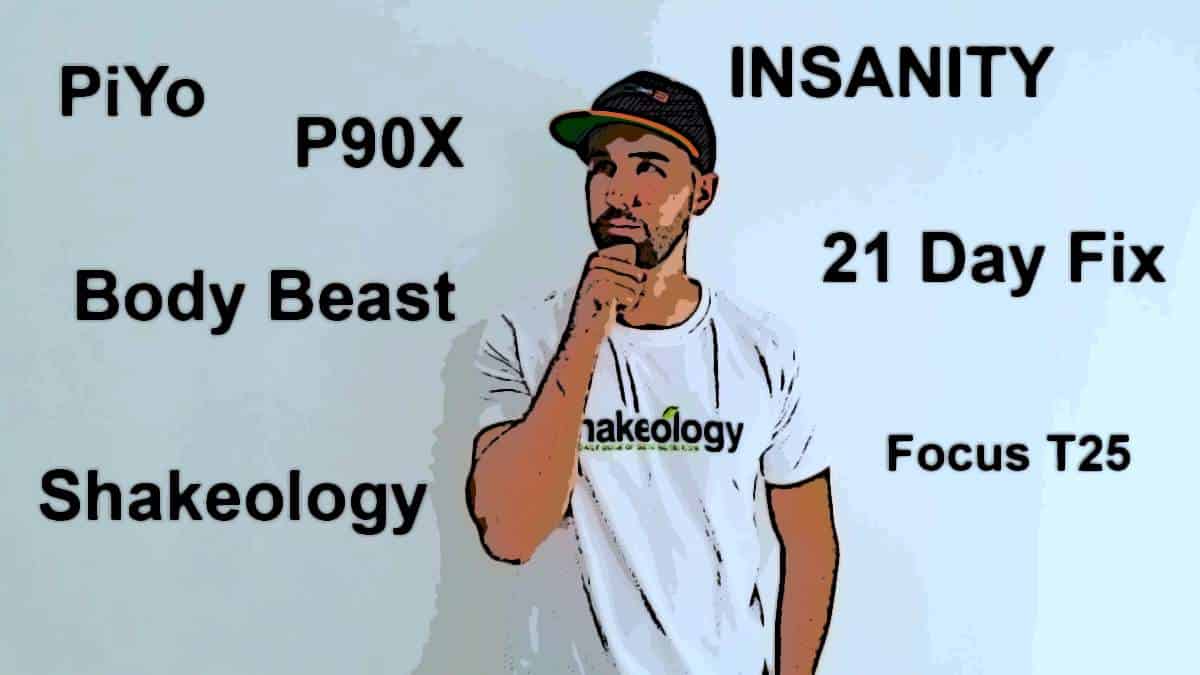 So you've made the decision to take the plunge and now you're wondering how to actually become a Beachbody coach.
First off, good call. You're about to strap yourself in to the ride of a lifetime. There will be thrills, chills and spills and I guarantee you that after your first year you won't recognize the person looking back at you in the mirror — and I mean that physically and metaphorically!
Secondly, if you want to know how to become a Beachbody coach you've come to the right place. In this article, I discuss the ins and outs of what a coach actually does, the requirements for the program and exactly how to sign up to it, what happens once you become a coach as well as the benefits and realities of life as a Beachbody coach.
Here is the link to sign up as a beach body coach. If you sign up through that link it will make me your personal coach (your coach for coaching kind of). I will teach you the tips and tricks that are helpful to be successful in this industry including how to build your own personal website just like this one 🙂
How to Become a Beachbody Coach — Program Overview
Beachbody started out selling workout DVDs such as P90X, Turbo Jam and Hip Hop Abs directly to consumers on home shopping networks. As the company expanded and experienced rapid growth, it made a decision to use a network marketing business model and sell directly to consumers. This business model utilizes "coaches" who act as brand ambassadors and distributors for Beachbody products. Coaches are rewarded for their promotional services with a 25% commission and additional bonuses.
The current coaching program has a thoroughly thought out and well-designed ranking and commission structure. The higher the rank a coach attains, the bigger their commissions and earning potential.
Beachbody coaching isn't just a program where you can sell to friends and family and make some weekly pocket money (although you can do this too!). Coaches are bona-fide business owners and there is serious money to be made, with high performing coaches earning more than $3.5 million dollars a year and coaches of even the lowest rank (emerald) earning over $80,000 a year. Check out this article to learn more about the beachbody coach levels.
How to Become a Beachbody Coach — So What Exactly Does a "Coach" Do?
A Beachbody "coach" isn't an actual coach in the strict sense of the word. You don't need personal training qualifications and you aren't dispensing fitness advice. Beachbody coaches rather act as a conduit between customers and the Beachbody brand and they also serve as promoters and distributors of Beachbody products for which they receive a 25% commission on sales as well as various other bonuses. Coaches also develop junior coaches in their team and motivate them to hit sales targets and personal development goals.
Many people get into coaching after using Beachbody products and experiencing the amazing results firsthand and while coaching is definitely a business decision, it appeals to people who want to work from home and help others achieve their health and fitness goals. Check out my full article on what beachbody coaches do to learn more.
How to Become a Beachbody Coach — Requirements to Become a Coach
Becoming a Beachbody coach is very simple and if you meet these basic requirements you can become one:
You must be at least 18 years of age.
You must be a resident of the United States, a US territory, Canada or the UK.
You need to provide relevant identification such as a social security number or applicable tax identification for the country you reside in.
Do I Need to Look Like an Instructor to Be a Coach?
This is a question I get a lot! You absolutely DO NOT need to look like a Beachbody video instructor like Tony Horton, Autumn Calabrese or Shaun T (although if you keep crushing your Beachbody workouts you just might!). Beachbody coaches come in all shapes, sizes and fitness levels from people who haven't even used the product, to lifelong converts and current users. In fact, it might even work in your favor for people to see your personal progression while using Beachbody products as a coach. Nothing screams "this product works" louder than visible results.
That being said, while Beachbody coaching is first and foremost a business opportunity, I'd recommend that you actually use the products yourself because it's hard to promote or suggest something you haven't used yourself — you can't exactly describe the "greenberry" flavour of a Shakeology shake or the P90X/Insanity workout if you haven't actually tried them. Another advantage of using your own products is that if you stick at it, you will hit your own health and fitness goals. While there are tons of people that sign up to become a coach just for the beach bodycoach discount, the majority are trying to turn into business as well.
How to Become a Beachbody Coach — Becoming a Coach
Ok, "so how do I become a coach?" you ask. Simple. You can become a coach right now by following these four simple steps:
Get your SSN or relevant Tax ID if you are from a non-US country.
Go to this website and enter your information to create an account. Signing up through this link will make me your personal coach. I have tons of strategies to help you be successful including all the steps necessary to build a website just like this one.
If you would like me to sponsor you and help you grow your coaching business, enter my coach ID (1339221) in the "Coach Referral" section. (This is another way to do it)
Pay the $39.95 Business Starter Kit fee and consent to the ongoing monthly service fee of $15.95 (if you want a detailed breakdown of what's included in this fee read this article).
You can get the $39.95 waived if you sign up for a challenge pack! This also applies if you have ever purchased a challenge pack in the past. You have to initially paid the $39.95 but you can submit this refund request form within 30 days of signing up and you will get a full refund!
And that's all there is to it. You are now officially a Beachbody coach!
What Next?
Once you've registered you will receive a welcome email that will include your coach ID which you will then be able to append to links so that purchases by customers and coaches who order from you will be credited to your account.
You can then set up your profile in the online coach's office and set up your website (don't worry it's easy to do) so you can share the address with prospective customers and coaches. You will also then be able to set up Electronic Fund Transfer (EFT) so that you can start receiving commissions for the sales you make.
You can then read over the introductory material and get in touch with your sponsor coach so they can discuss your next steps, show you the tools at your disposal and introduce you to their team and the Beachbody community (this is why it's great to have a sponsor coach).
How to Become a Beachbody Coach — The Benefits of Coaching
Now that you're a Beachbody coach you'll have access to a huge professional network and a world of opportunity. Here are some of the benefits of being a Beachbody coach:
25% discount — You'll now be eligible for a 25% discount on all team Beachbody products including Beachbody On Demand, Shakeology packs, nutritional products and workout equipment. The 25% discount is so great that many Shakeology customers with no interest in coaching sign on as coaches just to get this discount (we coaches call them "discount coaches").
Unlimited earning potential — Hitching your wagon to the Beachbody coaching program now means that you can now leverage the resources and reputation of the brand to build your own business. Your earning potential as a Beachbody coach is virtually unlimited with top earners making between $1 million and $3 million a year and many coaches regularly making over $100,000 a year (even at junior levels).
Fire your boss — Sick of working crappy per hour retail jobs or over being a corporate drone wih a long commute? Beachbody has given myself and tens of thousands of people just like you the financial security and income to ditch the grind, fire their boss and live life on their own terms. Studies show that entrepreneurs are some of the happiest people.
Flexibility — The feeling of working on your own schedule, picking the kids from school or grabbing a coffee with a friend in the middle of the day is simply unbeatable. Sure you still have to "work", but there's "traditional work" and there's working from your home office. Beachbody coaching can give you the flexibility to do what you want, when you want to do it.
Help others —  Sure, Beachbody coaching is a business but that doesn't mean you can't help people find solutions to their health and fitness issues and improve their life for the better. At the end of the day, money will only motivate you so far, and all of the most successful Beachbody coaches will tell you one thing. They absolutely love helping other people.
Meet new people — One of the best things about being a Beachbody coach is meeting other positive, inspirational and like-minded people. Many people in the Beachbody coaching program have skyrocketed their self-confidence, expanded their social circle and have made friends for life.
How to Become a Beachbody Coach — The Straight Truth, What it is and What it Ain't
There's no doubt about it. Beachbody coaching is an incredible journey on which you will change and grow as both an entrepreneur and an individual. But don't be mislead by people who only talk about the successes and the highs — there's a lot more to it than that. Here is the straight truth about what you can expect as a Beachbody coach.
What it Is
A business — Make no mistake, as a Beachbody coach you are running your own business and so you will face all of the challenges every other business owner faces. Think ups and downs, setbacks and good old fashioned hard work. Check out my article on how to be a successful beachbody coach.
Selling and network marketing — To be a really successful coach you need to build a large sales and personal network and you can't be afraid of selling yourself and recommending Beachbody products. Don't worry if putting yourself out there doesn't come naturally to you (it didn't to me!), it is a learned skill that takes time and practice. Also, don't worry that you will become the "salesperson" type that you probably dislike, Beachbody's sales culture focuses on finding solutions to people's problems and recommending products that can help them, not sleazy sales techniques.
Extremely hard work — If you think that being a Beachbody coach means you'll be living on easy street, you're sorely mistaken. Behind every success story is extremely hard work, dedication and tenacity.
An emotional roller-coaster — You will have good days and you will have bad days. You will experience exhilarating highs, painful lows and some days you may even second-guess your decision to become a Beachbody coach. It happens to us all and it's nothing to be ashamed of. This is where it pays to have a mentor coach who has been through it all before.
A massive challenge — Beachbody coaching has the potential to be the most personally and financially rewarding thing you have ever done, but it will also be one of the biggest challenges of your life. Stick at it. You are capable of achieving more than you ever thought possible.
What it Aint
Here are a few things Beachbody coaching isn't:
Easy money — Sure it might seem like easy money when you look at somebody with 1000+ coaches beneath them who is making passive income even while they sleep. Remember, people at this level worked very hard to get to where they are.
Get rich quick scheme — Sure your earning potential is virtually unlimited, but giant oak trees take centuries to grow. Fortunately Beachbody coaching doesn't take quite that long, but the people you meet who are making $10,000 plus a month spent a lot of time working on their business.
Pyramid scheme — People are quick to call organizations that use network marketing to sell direct to customers "pyramid schemes". Don't be put off by the naysayers, do the research and make up your own mind, network marketing is a perfectly legitimate form of business and many billion-dollar brands use it. If you'd like more information on Beachbody's business structure and methods, take a look at this article.
How to Become a Beachbody Coach — Conclusion
So now you know how to become a Beachbody coach! If after reading all that, you're still excited to get started and are up for the challenge, sit down and buckle up, you're in for the ride of your life. Being a coach is so much more than just being a distributor or selling a product. Every coach I've spoken to about it tells me that it's changed them for the better. Before you sign up, take one last look at the person staring back at you. However your journey goes and whatever the ending to your story might be, you can be sure of one thing. You'll never see that person again.
Here is the link to sign up as a beach body coach. Signing up through this link will make me your personal coach so that I can help you out along the way with your coaching journey. You can always request a different coach if you would like but I promise I will do my best to make you successful!
Tyler Read has a Masters of Science in Kinesiology. Tyler is also a certified personal trainer with NASM, ACE, NSCA and NSCA CSCS. Tyler's main goal is to help people get started in the personal training industry and to become successful personal trainers.